When Casey Wiegmann retired from the NFL this past summer, he was pleased to ride his tractor off into the sunset.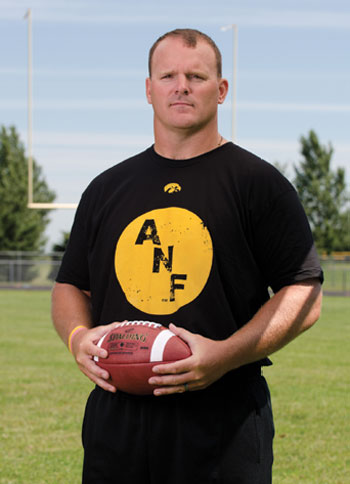 PHOTO Courtesy Iowa Farm Bureau Federation
Last fall, recently retired NFL player Casey Wiegmann returned to Kinnick to be recognized as the first America Needs Farmers honoree.
It was the perfect ending for Wiegmann, who wrote in fourth grade that he'd like to be a football player and a farmer. Twenty-one years ago, he accomplished the first dream. Now the second is starting to come to fruition.
The former Iowa offensive lineman has not only become co-owner of Pigskin Farms, but he is also the first Hawkeye to be recognized by the Iowa Farm Bureau and UI Athletics on the America Needs Farmers (ANF) Wall of Honor. A plaque in Kinnick Stadium honors former UI football players who embody the tenacity, work ethic, and character of an Iowa farmer. "Casey was a natural choice as the first inductee," says Hawkeye football coach Kirk Ferentz. "He is a role model for other student-athletes who understand the importance of persevering and always striving to do your best."
Lightly recruited out of high school, Wiegmann became a starter for Iowa (1991-95). Named team MVP his senior year, he ended his college career with a foot fracture in the Sun Bowl. "Everybody told me I couldn't play football again," says Wiegmann, who signed as a free agent after being passed over in the 1996 NFL Draft. "That just triggered me for some reason. One team gave me a shot and that's all it took."
Wiegmann spent the majority of his remarkable 16-year NFL career with the Kansas City Chiefs. He started in 175-straight games and made 11,162 consecutive snaps for the Chiefs—streaks that rank among the longest for an NFL offensive lineman.
As ANF's newest representative, Wiegmann aims to raise awareness of the farmer's role in feeding the world. He continues the work started by Coach Hayden Fry, who added the ANF logo to the Iowa helmets in 1985 to show solidarity with farmers during the farm crisis. Ferentz reinstated the ANF emblem in the 2011-12 season.
In keeping with the ANF spirit, Wiegmann and fellow Hawkeye Jared DeVries, 98BA, recently bought 1,250 acres of corn and soybeans to oversee near their hometown of Aplington. Wiegmann also plans to start coaching to carry on the legacy of his mentor and 2005 NFL High School Coach of the Year, Ed Thomas.
To inspire students who entered his office, Thomas kept the note Wiegmann wrote in fourth grade. When the coach was killed in 2009, his family returned the letter to Wiegmann. Now it hangs in his youngest son's room, where it encourages another young dreamer.
Both Wiegmann sons also cherish a written invitation from Ferentz to join the Hawkeye football team when they're old enough. If Bo and Stone decide to follow in their father's footsteps—becoming both Iowa football players and farmers—Wiegmann says, "I will love it."
For now, though, Wiegmann is content to watch his crops and children grow.