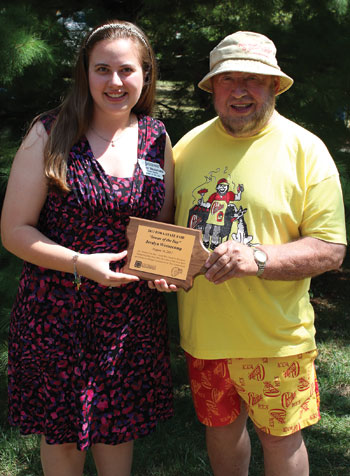 Photo: Madison Boswell
Excellent time management skills—and a colorcoded schedule—help Jeralyn Westercamp keep tabs on her UI studies, involvement with student government, and the volunteer work that recently won her "Iowan of the Day" recognition at the Iowa State Fair.
A dentist's exam room may seem an unlikely place for exuberant celebration, but Jeralyn Westercamp can now claim that distinction—along with many others.
Earlier this summer, Westercamp was at the dentist when she learned she had been named an "Iowan of the Day" at the Iowa State Fair. Her mom took the phone call and rushed into the exam room to share the exciting news. "That was just the best, the happiest feeling ever," says Westercamp, a UI senior.
Each year since 1997, the Iowan of the Day program honors 10 people who have made a difference in the lives of others, while upholding the distinctly Iowan characteristics of dependability, integrity, hard work, and a sense of community.
Although Westercamp is one of the youngest people ever to receive the honor, she is more than qualified. Community service has always been a vital part of her life, an inspiration received from her parents and grandparents—especially her Grandma Esther. "When she did something," Westercamp says, "it was to do good, not to get credit."
From Grandma Esther, a World War II army nurse, Westercamp learned a deep sense of respect and gratitude for military veterans, which she's demonstrated through more than 1,100 hours of volunteer time at the Iowa City Veterans Administration Hospital.
The Cedar Rapids native is currently completing a triple major (marketing, management, and political science) and a minor (music, concentrating on viola performance). Yet, she's still found time to establish several nonprofits, including CR HOMEWORKS, which collects items for flood victims, and Kids 2 Kids: Tools 4 Schools, which provides needy kids with school supplies. She also participates in student government and volunteers for a number of other organizations including Girl Scouts and Habitat for Humanity.
During her "day" at the Iowa State Fair, Westercamp and her parents had a blast. The Blue Ribbon Foundation provided them with free entry to the fair, VIP parking, $200 in spending money, grandstand tickets, and a golf cart for the day. The high point came when she was recognized onstage. "It meant so much to me, not for the résumé line or for the recognition, but just as an Iowan," Westercamp says.
It would be hard to find anyone more pro-Iowa. Westercamp admits her love for the state is "kind of corny," and she hopes to stay in Iowa after graduation for a career in health care management. "I'd still like to be involved in the community," she says. "Personally, I can't imagine just doing stuff for yourself when there are so many easy ways to help out people around you."