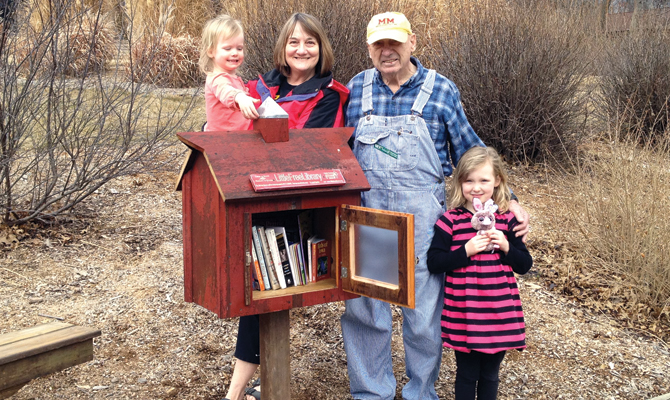 Chris Rohret is pictured by her Little Free Library in Iowa City, along with her father and granddaughters—who love to discover the new books they receive from friends and neighbors. Want to build a little library on your lawn? Anyone can visit www.littlefreelibrary.org and register.
Chris Seelman Rohret smiles when visitors approach the little birdhouse-like structure at the end of her driveway, a twinkle of curiosity and wonder in their eyes.
They peer at the inscription: A gift from friends who wanted to pay it forward. They hope you will do the same—then open the door and take out a book. Sometimes, they sit on the bench nearby and read for awhile, or add another title to the collection inside. Which is the whole point of Rohret's "Little Free Library," the first of its kind in Iowa and one of hundreds around the world.
"Once you crack that code of reading, the whole world opens up to you," says Rohret, 80MS, a longtime Iowa City educator. "I love the unique, accessible way these libraries get people interested in reading—and I love the sense of community they build."
In a technology-driven world, the international "Little Free Library" project reflects the simple pleasure of enjoying books in a tangible way. Wisconsin native Tod Bol developed the initiative in 2010, determined to promote literacy through a free book exchange and armed with a belief that an e-reader can never replicate the soul of the printed word. The libraries operate on the "take a book, return a book" honor system and the idea has spread across the country and beyond. In fact, Bol's goal is to build a network of some 2,500 libraries worldwide—more than Andrew Carnegie.
Rohret opened Iowa's first certified "Little Free Library" in her front yard last winter. Built with wood from her family's 120-year-old barn, the library stands in dedication to her father, Harry Seelman, a self-educated Iowa farmer who inspired his daughter's passion for reading. Seelman even donated the first book, Birds of Iowa, in keeping with Rohret's chosen "Iowa" theme. As the library's steward, Rohret maintains the structure and the quality of books available, such as This Little Piggy, The Burg: A Writer's Diner, The Girls from Ames, and Backroads & Byways of Iowa.
Now almost a dozen "Little Free Libraries" have popped up around the state and several more are planned for neighborhoods in Iowa City, a UNESCO City of Literature, thanks to the city council's recent financial support.
"These are books you can hold in your hands and treasure and talk about face-to-face," Rohret says. "This project really fulfills a longing for human connection."