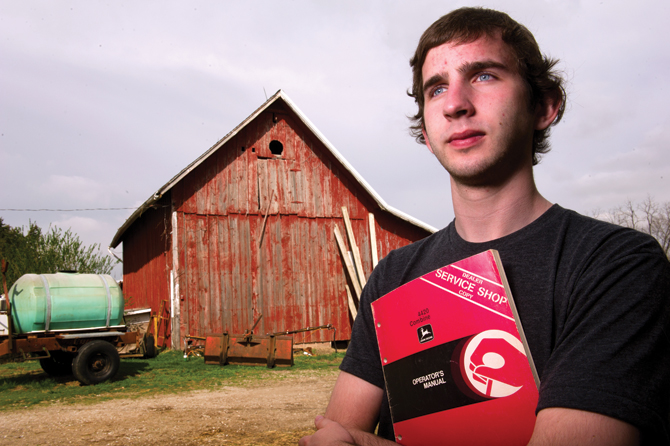 PHOTO CREDIT: TIM SCHOON/UNIVERSITY COMMUNICATION AND MARKETING
UI business student and entrepreneur Tyler Finchum, pictured here on his family's farm near Muscatine, has sold thousands of hard-to-find farm manuals through his online business.
Tyler Finchum's dad had lost another one.
The operator's manual for the combine on the family farm near Muscatine had disappeared, and the farmer turned to his son for help. Finchum hit the Internet, searching for a replacement.
It was surprisingly hard. Many manufacturers didn't make old manuals available; other corporations had long been out of business. "It stuck in my head that there had to be an easier way to find manuals," says Finchum—and a new business was born.
Farm Manuals Fast, which Finchum started in high school, sells manuals online for everything from tractors and hay balers to tillers and planters. Now based at the UI John Pappajohn Entrepreneurial Center's Bedell Entrepreneurship Learning Laboratory, the business has sold more than 5,000 manuals to customers worldwide. "I had no idea there was such a need," says Finchum, a second-year UI business student. "I started it mostly to get some experience in developing a new business."
Finchum sells manuals for nearly 500 farm implements, going all the way back to John Deere's Poppin' Johnnies of the 1930s. The manuals come from more than 20 companies, including both icons of American manufacturing (Deere and Caterpillar) and names now long gone (Allis-Chalmers and International Harvester). Most originated from his family's collection, or were borrowed from friends and neighbors. He's found others online, through dealers, or at auctions and other sales.
Once purchased from his website, the manuals (sold as PDF files) can be downloaded immediately, so farmers don't have to wait for the instructions to fix their equipment. Most of the manuals sell for $9.99, although some thicker technical manuals cost up to $100. Finchum has also started a charitable arm associated with the company, which provides free manuals to farmers in developing countries.
Manuals published before March 1, 1989, are in the public domain, but a new federal copyright law prevents Finchum from selling any after that date without the manufacturer's permission. Unfortunately, that means Farm Manuals Fast will have a fairly short shelf life.
That's fine with Finchum, who has more start-ups in mind. The self-described serial entrepreneur finds greater enjoyment in brainstorming ideas for businesses than in managing one. Since Farm Manuals Fast is fully Web-based and automated, most of his work now involves checking to see how many manuals he sells each day—and planning for his next big business.