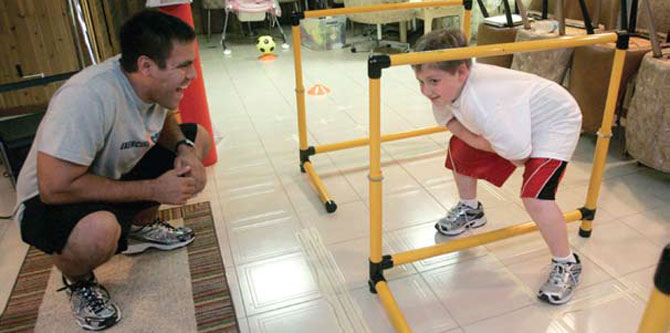 PHOTO: BUZZ ORR/SUN-TIMES MEDIA
A journey of a thousand miles begins with one step. For David Geslak, it began with a skip.
In 2004, Geslak, then owner and operator of Right Fit gym in Chicago, started working with a young boy called Joseph, who was on the autism spectrum. For six months, Joseph's occupational therapist had been trying to teach him to skip. This simple activity is important for cognitive development because it uses both hemispheres of the brain.
After four sessions, Joseph achieved his goal. "I was ecstatic," says Geslak, 03BS. "Ever since, this is what I've been doing."
Within a year of opening, Right Fit became focused on children with special needs. In 2007, Geslak sold the business to work as a paraprofessional in a local school to learn more about the children he wanted to serve. In 2009, he founded Exercise Connection, a gym for children with special needs, for which he won Crain's Chicago Business 2011 Entrepreneur Award.
Geslak's clients come to him for reasons including weight issues and behavioral problems, or simply for social interaction.
"I treat people for their capabilities, not their disabilities," he says. "Every child, special needs or not, is different. But with children who have autism, it takes a different approach and a lot more time, because just getting them engaged is a challenge itself."
To do this, Geslak uses a system he developed that includes a DVD explaining different movements, along with some 300 visual aids for specific exercises. The visual aids enable the kids to engage in activities without the excessive stimulation they often find disturbing.
Over the years, Geslak has worked to share his knowledge with other parents, teachers, and fitness instructors. In addition to national and international speaking engagements, he developed the first physical education program for Giant Steps, a school for children with autism, and in 2011, he wrote The Autism Fitness Handbook. Currently, he's working on a project to help educate lower-income and Spanish-speaking populations about how to help people with disabilities through exercise.
"As a fitness instructor, I can only help one child at a time," he says. "Writing books and making presentations is my way of reaching more children across the country and helping them achieve their goals."
For more information on Geslak's approach to helping children with disabilities improve their fitness, visit his website.