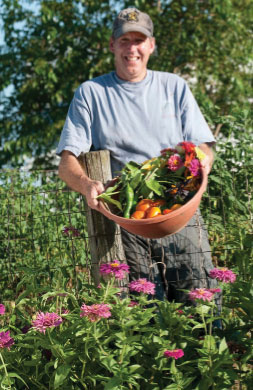 John Beasley loves to watch his garden grow. He's happy when the zinnias bloom and the first tomato ripens—but particularly when he knows the harvest benefits others.
Three years ago, Beasley jogged past an abandoned Iowa City garden in need of tender loving care. He approached landowner Doug Paul, 79MA, 81PhD, who permitted him to tend the garden and suggested that the harvests help the Ronald McDonald House of Eastern Iowa.
Beasley, 87BS, 89JD, who served on the Ronald McDonald House board of directors for ten years with Paul and still sits on the organization's grants and scholarships committee, readily agreed. Together, they dug their way through the gate into a garden overgrown with six-foot tall weeds.
With help from local institutions and a faithful band of volunteers, the duo transformed the 100-by-60 square-foot plot into a haven for vegetables, herbs, and flowers. On weekends during harvest season, Beasley delivers buckets full of produce to Blackstone, an Iowa City restaurant, which, in return, provides catered meals to Ronald McDonald House visitors.
"The meals are a favorite for families who stay here," says Kristin Roberts, executive director of the Ronald McDonald House of Eastern Iowa. "When you think about the health benefits of fresh produce—and the spiritual and mental lift from having someone else provide a delicious dinner for your family—this partnership is an amazing fit."
Beasley never imagined that a hobby that began as a respite from his busy life as an attorney would turn into a meaningful way to serve an organization dear to his heart. He and garden volunteers have since expanded their service by delivering fresh flowers to residents in local hospice, nursing homes, and neighborhood centers. They also invite the public to enjoy their produce in exchange for donations to the Ronald McDonald House or other local charities.
Winter will halt their good work for a while, but Beasley looks forward to the warmer weather that will reunite him and his fellow gardeners in the service of a greater cause. "By spring, we'll look through the seed catalogs and have fun thinking about what to plant next," he says. "We'll have cabin fever and be ready to get back in the garden."