Work begins on replacements for the UI's flooded music, art, and performing arts venues.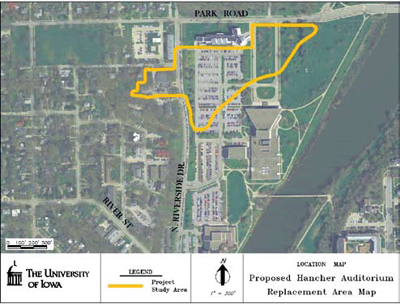 Almost two years after a flood devastated its arts campus, the University of Iowa has begun the painstaking process of rebuilding several core facilities.
The timelines for a new Hancher Auditorium, School of Music, and Art Studios building are still imprecise, as the projects depend on approval from the Board of Regents, State of Iowa, along with the Federal Emergency Management Agency (FEMA), which will meet 90 percent of the costs to replace some damaged facilities.
This past spring, though, university officials began the search for an Iowa-based architect to manage all consultants for the Hancher project, as well as a construction management agency to work as an extension of the university's own construction management team. Once FEMA approves these selections, the university can select a top-notch design firm with extensive experience in the challenges of performing arts centers.
Rodney Lehnertz, 02MBA, director of the UI's planning, design, and construction department, anticipates that it will be at least five years before a new auditorium welcomes theater- and music-lovers. It will be built on university-owned land, slightly north and west of Hancher's original location. In accordance with federal requirements and the recommendations of the UI's Flood Mitigation Task Force, it will sit at least two feet above the 500-year flood level.
A similar process for a new School of Music administrative, academic, practice, and recital space is about two months behind the Hancher project. University officials are still trying to procure the land for a new location downtown along Clinton Street, which they believe will benefit music students through its proximity to the core of the undergraduate campus. If that option falls through, the school will likely be built close to, but separate from, the new Hancher site.
A consultant team has already been selected to replace the original 1936 art building. Internationally acclaimed architect Steve Holl, who created the award-wining Art Building West that opened on Riverside Drive in 2006, will design the new Art Studios facility close to that site. Again, the new structure will be built beyond the flood plain.
"With great challenges, there are also opportunities," says Lehnertz. "The re-creation of these important facilities provides the chance to address severe overcrowding and multiple program changes that have developed over the years."