UI Assistant Professor travels to Haiti after a devastating earthquake.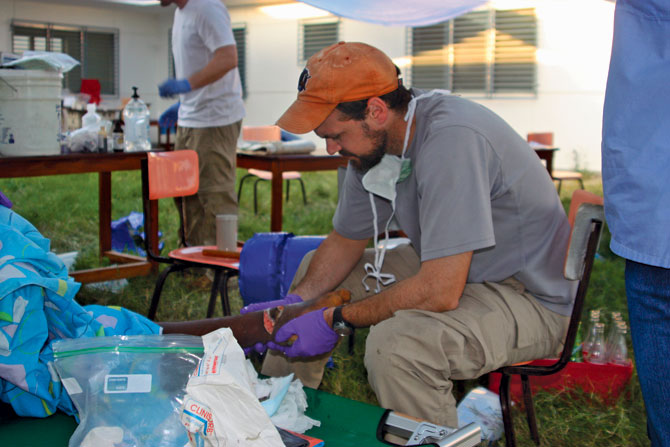 After the 7.0 earthquake that recently devastated Haiti, Christopher Buresh*, 01MD, 06R, knew he would never forgive himself if he didn't rush to help. With a seven-year history of serving this impoverished Caribbean country, the UI assistant professor of emergency medicine traveled with a medical team to Leogane—a town near the quake's epicenter—to establish a makeshift hospital for the wounded.
Buresh worked with disaster response teams from Japan and Doctors Without Borders—as well as other domestic and international emergency personnel, orthopedic surgeons, anesthesiologists, and nurses. Since the earthquake, and as this magazine went to press, doctors at Buresh's facility have treated some 8,000 patients, completed more than 100 surgeries, and delivered about 50 babies. Buresh has also helped get a 50-bed field hospital up and running to better serve the critically ill.
What did he see?
For the first several days, Tylenol was the only pain medicine Buresh had to offer patients with bones sticking out of their legs. He treated many scalp and extremity injuries, particularly bad leg fractures, all infected. Without amputation, such wounds are often fatal, yet many Haitians turned down surgery for fear that losing a limb meant losing their livelihood and becoming a burden to their families. Even when they could operate, surgeons had to perform amputations with few anesthetic options and no monitors or supplemental oxygen—and still only with Tylenol to alleviate excruciating post-operative pain.
On how he didn't fall apart in the face of such despair, Buresh says: "I was buoyed in large part by the way the patients handled themselves. They'd spent the last week walking around on broken bones, living under bed sheets stretched across sticks, drinking dirty water, and not knowing from day to day if they'd be able to eat. I'd love to say I was strong enough to keep myself from coming emotionally undone, but the truth is I got a lot of support from the people I was treating. I thought I was helping them, but I often wonder if they weren't helping me more."
What should we know about Haiti?
The Haitian people, Buresh says, are humbling to be around—tough, resourceful, and full of faith. Not one patient complained about the dire circumstances. Haiti has impacted Buresh's life in large part due to what he considers the incredible injustice of the situation—how such desperate conditions can exist so close to the United States. He finds it insane that it only takes about 90 minutes to get from Miami, home of the South Beach Diet, to the huts of starving children.
Still, Buresh credits the famous American generosity that prompted people to collect supplies, raise money, and get medical assistance to Haiti.
"Iowans have been amazing in the way they've responded to this disaster," he says, "and it makes me proud to live here."