Iowa puts the squeeze on Georgia Tech for a monumental bowl victory.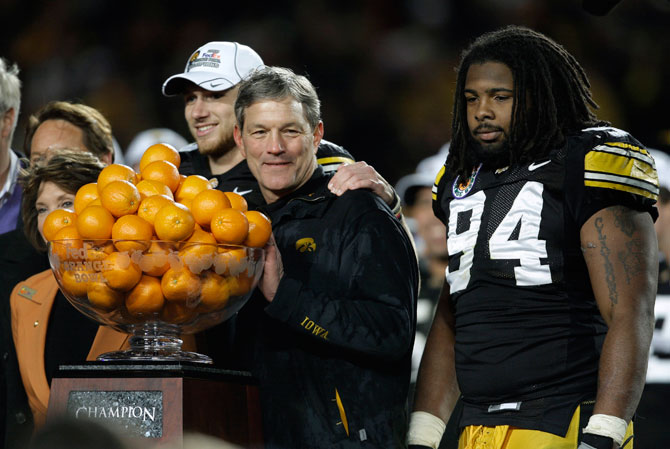 In the chilliest Orange Bowl on record, Iowa turned up the heat on Atlantic Coast Conference champion Georgia Tech for the Hawkeyes' first-ever Bowl Championship Series win.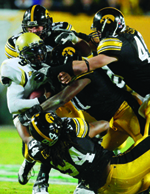 In the January 5, 2010 game, the Hawkeye defense stifled the Yellow Jackets' celebrated rushing offense for a 24-14 finish in Miami. The last time Iowa earned a victory this prestigious, Kirk Ferentz was three years old, Dwight Eisenhower was president, and Alaska and Hawaii weren't yet states. With their first major bowl game triumph since the 1959 Rose Bowl, the Hawkeyes matched the school record for most wins in a season (11), received their highest final ranking in a half-century (No.7), and earned national respect for their team and conference.
Though Iowa played as the visiting team, the 49-degree temperature at kickoff was more akin to Kinnick Stadium than Land Shark Stadium. "It was Hawkeye weather," said Ferentz. "We felt right at home."
Iowa not only felt at home, but also played like it. Quarterback Ricky Stanzi threw two touchdowns in his first start since his November 7 injury, passing to wide receivers Marvin McNutt and Colin Sandeman for an early 14-0 lead. Kicker Daniel Murray contributed a 33-yard field goal to the Hawkeyes' score. Although Georgia Tech trimmed Iowa's lead to 17-14 during the final quarter, true freshman running back Brandon Wegher ended the Yellow Jackets' run when he dashed down the sideline for a 32-yard touchdown, sealing the Hawkeyes' victory with 1:56 left on the clock.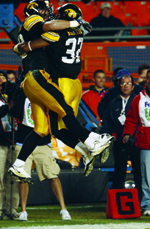 Defensive end Adrian Clayborn, responsible for two sacks and nine tackles, was named the game's most valuable player and excited Hawkeye fans with his promise to return to the team next season. Also contributing to Iowa's impressive performance were linebacker Pat Angerer with ten tackles, McNutt, who made his eighth touchdown reception of the season to tie for the fourth-highest total in Hawkeye history, and Wegher, who enters the school record books as the freshman with the most rushing touchdowns.
Doused in Gatorade and holding a trophy full of oranges after the game, Ferentz recognized the perseverance and dedication of a team that nearly lost to Northern Iowa in its season opener. "You flash back to our first ballgame," said Ferentz. "Coming off the field I don't think anybody envisioned us sitting here tonight with our 11th win."
Nobody except all those faithful Hawkeye fans who followed their team to Florida, packed the stadium with black-and-gold, and witnessed a historic victory.