Players like Payton Sandfort thrive as both students and athletes thanks to Iowa's supportive team of mental health experts.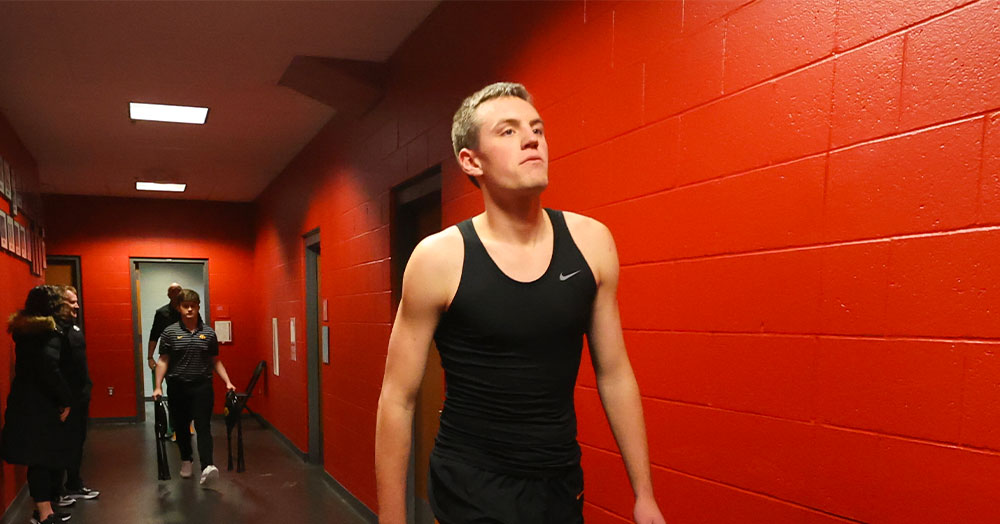 PHOTO: STEPHEN MALLY/HAWKEYESPORTS.COM
UI sports psychologists help Hawkeyes like Payton Sandfort, last season's Big Ten Sixth Man of the Year, have a healthy mindset as they navigate the challenges of being a student-athlete.
It's a basketball player's worst nightmare: a shooting slump.
That's where Iowa men's basketball sharpshooter Payton Sandfort found himself last season. Three games into Big Ten Conference play—where the Hawkeyes started 0-3—Sandfort was 0-for-19 from the field.
"It was a mental block—the yips or the shanks in golf," says Sandfort. "Once I was able to rediscover who I was and find happiness and joy off the court, it all started to come back to me."
Sandfort reclaimed his shooting prowess thanks, in part, to Iowa's team of psychologists and mental health professionals. Sandfort, a junior from Waukee, Iowa, talks with a sports psychologist throughout the season about a myriad of topics.
"There are a lot of stressors as a student-athlete—school, basketball, relationships, and just daily life," he says. "It's challenging to put that away while you're playing, and it's hard to play well if your mind is cloudy and distracted."
PHOTO: HAWKEYESPORTS.COM
"The demands and time constraints student-athletes face are much different than your typical college student."—Patricia Espe-Pfeifer
Patricia Espe-Pfeifer, director of sports psychology and student-athlete mental health, leads a dedicated team of sports psychologists and clinical therapists who work with Iowa's 600 student-athletes—and their unique needs—through sports performance support and mental health services.
"The demands and time constraints student-athletes face are much different than your typical college student," says Espe-Pfeifer. "They have team practices, travel schedules, and classes—and, like other college students, they're also away from home for the first time. Young adults all navigate it differently."
Recent data, according to Espe-Pfeifer, shows that 11–12% of student-athletes face some type of mental fatigue, anxiety, and depression. These concerns were exacerbated during the COVID-19 pandemic, and the need for expanding mental health services continues to be a topic of discussion across college campuses.
"Our student-athletes are more willing to talk about mental health concerns and be open to seeking services when needed," she says. "While there is more of an emphasis and willingness to talk about mental health concerns, it also means even more are reaching out with concerns."
"Everyone is so good at the Division I level, and at times, you're going to get beat," says Sandfort. "I've learned how to work through a lot of challenges. I've also learned a lot about myself and know when I need to take a little time for myself."