From public art to regional marketing strategies, UI students and faculty team up on nearly 20 community projects to bolster Clinton, Iowa.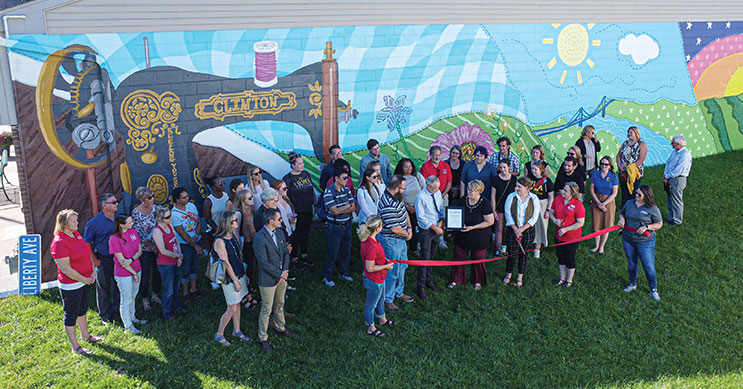 PHOTO COURTESY TRAVIS KRAUS
University of Iowa students and faculty celebrate their partnership with Clinton community leaders in front of a mural created by UI art graduate student Sean Tyler.
A University of Iowa artist recently added a splash of color to a historic community along the Mississippi River.
Sean Tyler (22MFA), a graduate student in the UI School of Art and Art History, designed and installed a mural on the exterior wall of Keeping You Sewing in Clinton that featured a large sewing machine stitching vibrant patterns into the grass and sky. The public art display is part of a larger partnership between the City of Clinton and the Iowa Initiative for Sustainable Communities at the UI.
More than 100 UI faculty and students are teaming with Clinton city officials this academic year to complete around 20 community projects. These collaborations include a housing needs assessment and policy recommendations, a development plan for a vacant area, a regional marketing strategy, engineering and design to expand Clinton's trail network, an exploration of the city's Underground Railroad history, and local strategies to address the opioid epidemic.
PHOTO COURTESY TRAVIS KRAUS
UI School of Planning and Public Affairs grad students are helping the city of Clinton, Iowa, create a master plan for the use and development of its Liberty Square District.
Each project offers teachable moments for students in a variety of disciplines, ranging from business and law to civil and environmental engineering. "Clinton proposed challenging, substantive projects that provide University of Iowa faculty and students with opportunities for hands-on teaching, learning, and collaboration," says IISC director Travis Kraus (99BA, 13MS), an associate professor in the UI School of Planning and Public Affairs. "Through the partnership with Clinton, students will gain valuable experiences that enhance their learning while also helping to create lasting, meaningful change to benefit the lives of Iowans."
Since 2009, IISC has worked with more than 20 Iowa communities, including previous collaborations with Clinton on an area economic development plan, downtown mural, and site redesign for the former YMCA building. Clinton City Administrator Matt Brooke says, "The shared energy and enthusiasm for the City of Clinton by the University of Iowa team will assuredly result in projects that help grow and shape Clinton for years to come."