A retired teacher and coach cheered on his alma mater at all home games, meets, and matches in 2021-22.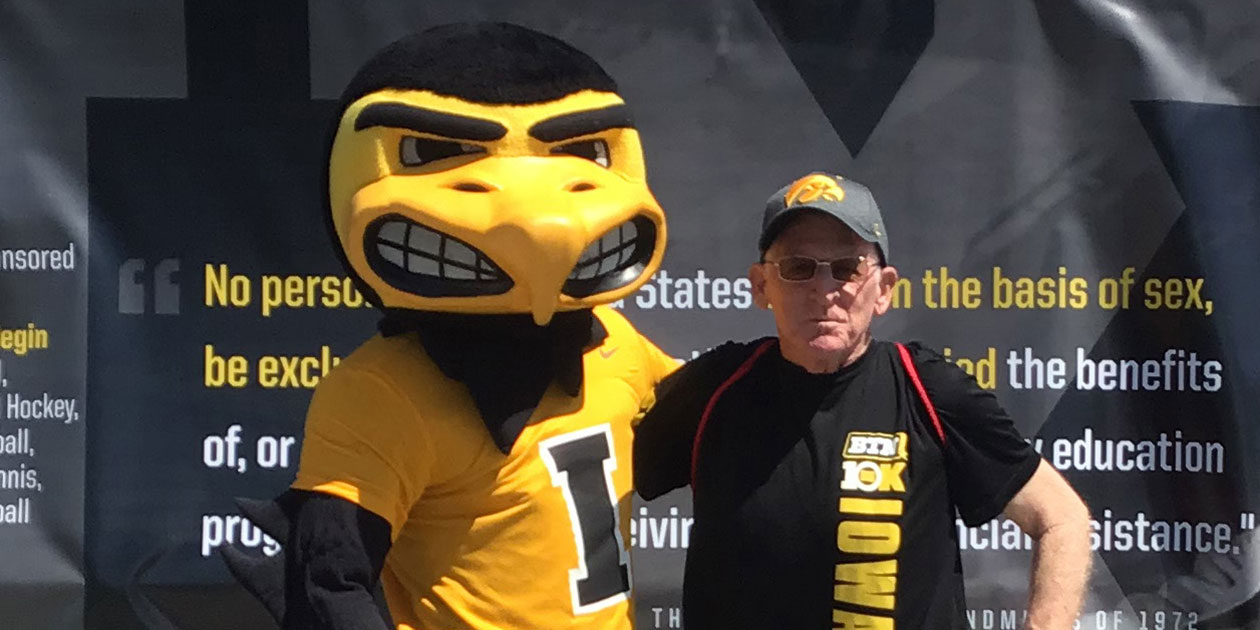 COURTESY DAN SCHLEISMAN
Dan Schleisman is pictured with Herky at the HERkys Hawk Walk, celebrating the 50th anniversary of Title IX and Iowa women's athletics.
Dan Schleisman (72BS) is the ultimate Hawkeye sports fan. To celebrate the 50th anniversary of his University of Iowa graduation last spring and honor his late father who was a big Hawkeye supporter, Schleisman attended every home UI sporting event in 2021–22. He braved a snowstorm at the Midwest regional cross-country meet, witnessed a record-setting 30-16 victory for the baseball team, and completed a rowing-swimming-volleyball trifecta in one day—totaling nearly 175 competitions for the year.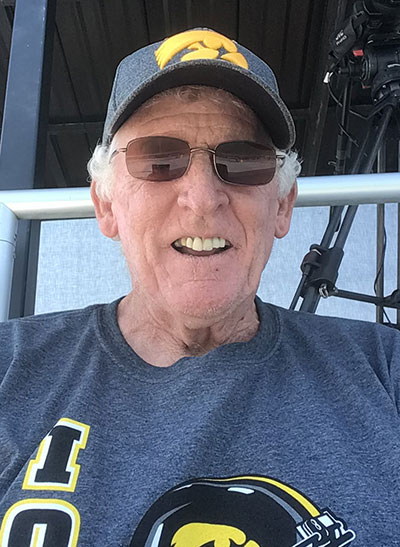 COURTESY DAN SCHLEISMAN
Dan Schleisman
Schleisman, who grew up listening to Hawkeye basketball on his transistor radio and purchased football season tickets as an Iowa student, also avidly enjoys the less-publicized sports. "I wish more people would attend those because they're missing some really good teams," says Schleisman, who taught physical education, health, and math and coached several sports for 47 years in western Iowa.
Schleisman relocated to Iowa City in 2020 for retirement and to be closer to family and Hawkeye events. While he isn't attempting his 2021–22 feat again, Schleisman has season tickets for football, volleyball, wrestling, and men's and women's basketball and will attend more than 100 Hawkeye athletics events this academic year.
Although he no longer coaches, Schleisman can still be found with a scorebook at baseball and softball games, a stopwatch at track and cross-country meets, and an attentive interest in strategy. Says the former physical education major, "I always watch like I'm a coach."
---
Do you know a Hawkeye superfan? Email your stories to uimagazine@foriowa.org.