The donor-funded program helps first-generation college students learn and thrive at Iowa.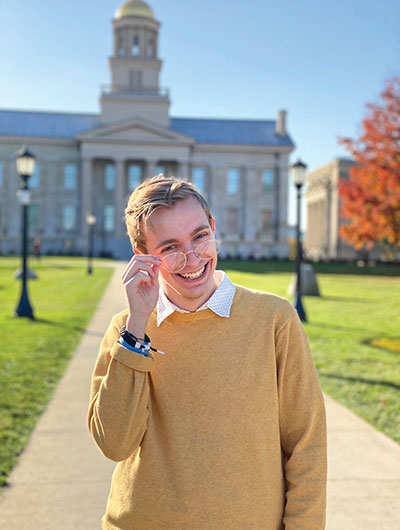 PHOTO COURTESY MITCH WINTERLIN
After finding support through the program, first-generation college student Mitch Winterlin now volunteers as a peer mentor for First Gen Hawks.
Mitch Winterlin has aspired to become a teacher since the first grade.
"I've always enjoyed helping others and seeing them grow," says the Bettendorf, Iowa, native.
Winterlin's intellectual curiosity allowed him to excel in school, and it also helped him navigate the college search process as the first member of his family to seek higher education. "There were a lot of barriers that I had to figure out when applying to schools," he says. "I was fortunate to have a really good high school counseling system that helped me along the way."
After being accepted to the University of Iowa, Winterlin—an education and psychology major—found additional resources through the First Gen Hawks program. Approximately 20% of Hawkeyes are first-generation college students—meaning that a family member has not completed a bachelor's degree. First Gen Hawks, which is 100% donor funded, provides first-generation students with a high-touch network of support—including academic coaches, course instructors, peer mentors, a graduate assistant, and on-campus employment.
In the first three years of the program, First Gen Hawks participants have earned higher grade point averages than other Hawkeyes on campus, and 44% of participants have made the dean's list. 
"Coming to Iowa, the First Gen Hawks program helped me feel very supported," says Winterlin, a junior who is now a peer mentor with the program. "I was able to connect with other people in seminar classes and having a dedicated peer mentor, I was able to understand what resources were available to me at Iowa."
---
Learn more about the UI's support for first-generation students.