After earning the competitive title of Golden Girl for the Hawkeye Marching Band, sophomore Ella McDaniel has now been crowned Miss Majorette of America.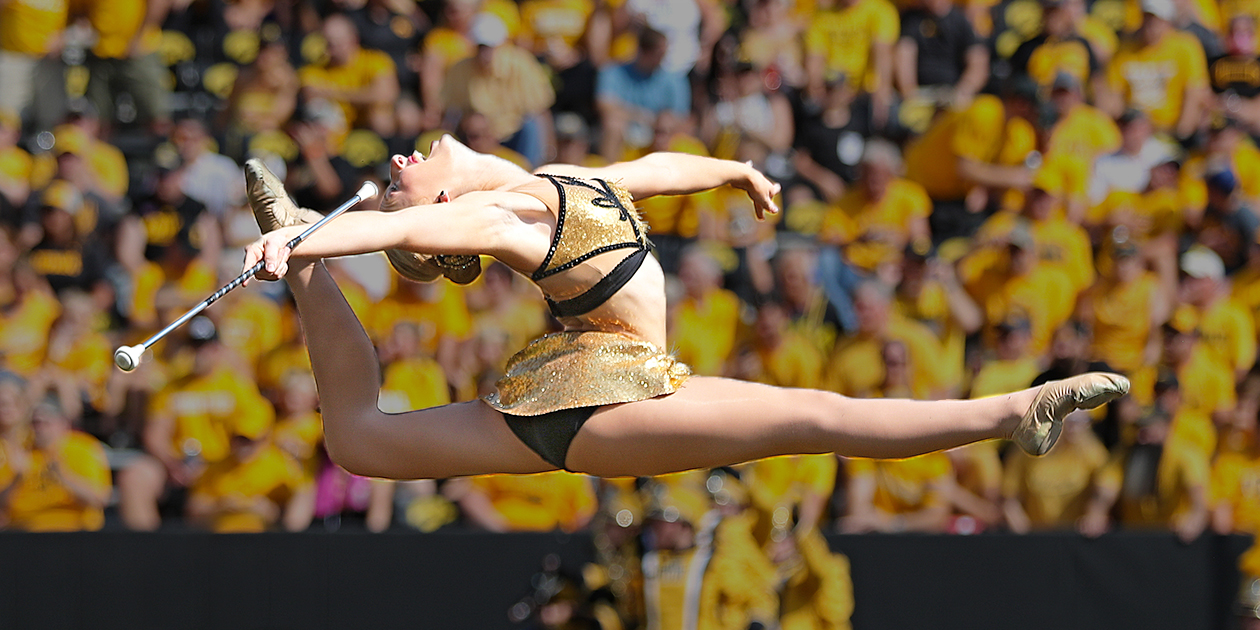 Photo: hawkeyesports.com
Ella McDaniel, Hawkeye Marching Band Golden Girl, before the start of a fall 2021 game at Kinnick Stadium.
Within one year of starting at the University of Iowa, Ella McDaniel has realized two of her childhood dreams: to become Iowa's Golden Girl and to be crowned Miss Majorette of America.
The New Hampshire native started twirling when she was 5 years old. In 2011, she attended nationals for the first time and watched Golden Girl Chelsea Russell (11BA, 13MAT) from the packed stands.
"Ever since," McDaniel says, "I've strived to be a Golden Girl."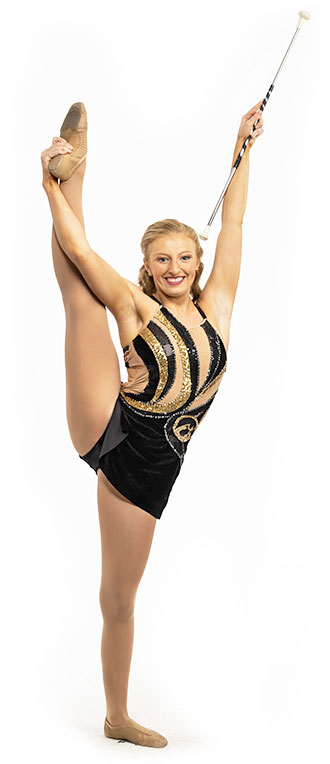 Photo: hawkeyesports.com
But it's not an easy dream to achieve. The Hawkeye Marching Band typically recruits one twirler for a four-year term. To be considered, McDaniel sent a video audition in the fall of her junior year of high school, then received an invitation for an in-person audition with two other applicants a few weeks later.
"We had private interviews as well as a training portion for an 11-person panel," she says, "so it was pretty intense."
After becoming Iowa's Golden Girl, McDaniel began working on her next big goal—the Miss Majorette of America Pageant.
The pageant took place over four 10-plus hour days at the end of July, and participants competed in a variety of categories like solo, two baton, and extra. "We spent eight hours a day just drilling our routines again and again and again," she says, "all for this one week of competition."
That training paid off.
On July 24, McDaniel was crowned Miss Majorette of America.
"It was honestly surreal," says McDaniel, a sophomore majoring in exercise science in the Department of Health and Human Physiology. "Once they didn't call my name for third or second, I was completely shocked."
Watch Ella perform with the Hawkeye Marching Band this fall at Kinnick Stadium and at the Iowa Homecoming parade on Friday, Oct. 28.