Red Danielson was laying driveways not long ago. Now he's an up-and-coming poet who graduates this month from the nation's most prestigious writing program.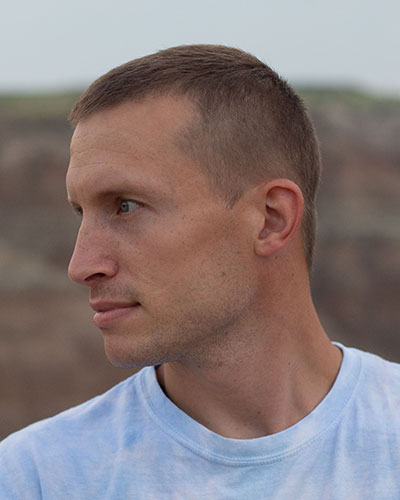 PHOTO: BARB DANIELSON
Ryan "Red" Danielson took an unconventional route to the famed Iowa Writers' Workshop, with support from the family of the late poet Hamode "Sam" Hamod.
Just a few years ago, Ryan "Red" Danielson (22MFA) was working 60-hour weeks for a blacktop company running pavers and skid loaders. The Muscatine, Iowa, native had been in construction for more than a decade, and the grueling work was taking a toll on his body. His back hurt. His hands hurt. Even his heart hurt, he says.
But Danielson, an aspiring writer, kept a pen and notebook with him on jobsites to take his mind off his aches and pains and the often-brutal Iowa weather.
"My bosses and I would always butt heads, and a lot of it was because I was focused on other things," says Danielson. "While I was finishing a driveway or basement, I'd have to drop my trowel and grab that notebook."
Danielson turned his idea-filled notebooks into poems he would eventually use to apply for the prestigious Iowa Writers' Workshop, where he'd dreamed of studying ever since he googled "how to become a writer" as a teenager. One of the nation's most selective graduate programs, the workshop only admits up to 50 students each year—about 25 each in its fiction and poetry programs—which is less than 5% of applicants.
"Sitting in every backhoe or paver, or anytime I finished a driveway or poured concrete, I knew the thing at the end of it was the workshop," says Danielson.
Danielson, 31, began taking night classes in English at the University of Iowa four years ago. At first he was starstruck by the workshop students teaching his undergrad classes, but he ultimately found mentors like Andrew David King (19MFA), who encouraged him to apply to the MFA program despite not having a degree.
If Good Will Hunting was set in Iowa, it would have starred Danielson. In 2020, he received his admission letter from the workshop. He was determined to bring his workman-like approach to his new craft and make the most of the opportunity. During the pandemic, when he and his wife, Barb (12BA, 12BFA), welcomed their third child, Danielson woke up before dawn each morning to write. He churned out more than 170 poems and a novel based on his life story during his two-year workshop residency. Ahead of his graduation in May, Danielson has been shopping around his work, including a television script he co-wrote with his brother and wife about a Las Vegas bagman who gets caught up in an affair and flees for Mexico.
Danielson's time at the workshop was, in part, made possible by the legacy of Iowa alumnus Hamode "Sam" Hamod (73PhD). One of the most prominent Arab American poets of his time, Hamod died in 2021 at age 85. Hamod's family established the Hamode Samuel Hamod Memorial Scholarship to support an Iowa Writers' Workshop student from a nontraditional background, and Danielson was its first recipient.
Danielson struck up a friendship with Hamod over email in the final months of the poet's life, and Hamod's son, David (81BA), invited the new family friend to the funeral in Cedar Rapids. "He was just so sweet and honest and kind," Danielson says of Sam Hamod, who donated his papers to UI Special Collections. "It was like we were speaking in a secret language, with both of us being two poets at heart. I was glad to be able to communicate with him before he passed because I just wanted him to know I was so grateful."
David Hamod said the time Sam spent in Iowa City in the 1970s "represented some of the most transformative years of his life." He hopes that the scholarship will help do the same for Danielson and other writers. "My father was very committed to creating these 'second-chance' scholarships, designed for people like Red, who followed an unconventional path to poetry. Our family is very pleased that these two poets got to know each other during Dad's final months."
Says Danielson: "My hope is to be able to hang that hammer up. If I never sell anything, I'm not going to stop writing. I was writing before this anyway. But I sure as hell would like to sit and be able to do that 40-plus hours a week."