Former Major League Baseball player Jim Sundberg reflects on the 1972 Hawkeye squad.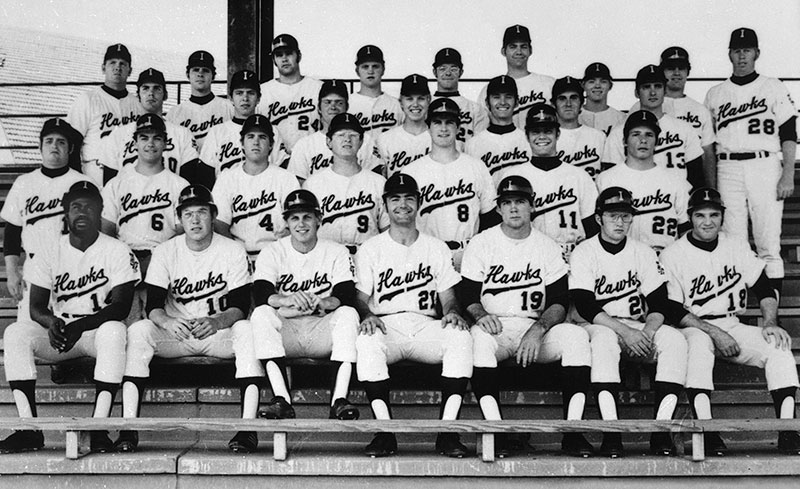 PHOTOS COURTESY HAWKEYESPORTS.COM
The 1972 Iowa baseball team
Jim Sundberg, who was a Major League Baseball catcher for 16 seasons and won a World Series title with the Kansas City Royals, says he learned a lot during his time as a Hawkeye.
"I've always been grateful to have had three years under Duane Banks, who was a former catcher and taught me so much," says Sundberg of his former coach, who led the Hawkeyes from 1970 to 1997 and has the Iowa baseball field named after him.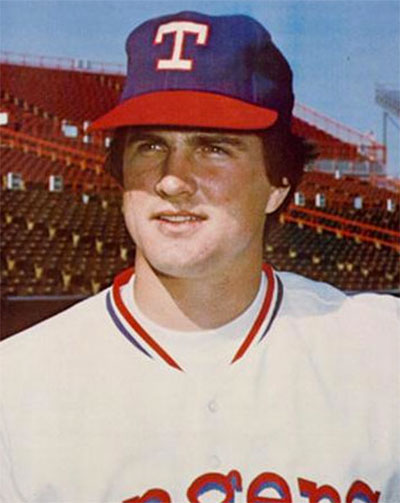 Jim Sundberg
Sundberg was an instrumental member of the 1972 Iowa baseball team that won the Big Ten Conference title and made it to the College World Series—Iowa's only appearance to date. After a slow start, the Hawkeyes won their final 11 Big Ten games to capture an outright league title for the first time in 33 years. A total of eight Hawkeyes signed professional contracts from that team, which finished 25-17 and 13-3 in the Big Ten. Iowa won four-straight elimination games in regionals to earn the berth to the College World Series in Omaha, Nebraska, where it fell to top-seeded Arizona State in the opener and Temple in the consolation bracket.
"We had a good team—David Blazin (72BS), Fred Mims (72BA, 77MA), Larry Schutzius, Mark Tschopp (72BS), and a whole array of guys who had tenure and experience," says Sundberg. "We had team chemistry. Everyone was passionate about their job, but we also supported one another. It was a team that had strong leadership, which got us all the way to the College World Series."
The 1972 team will return to Iowa City for a 50-year reunion in May that will include recognition at an Iowa home baseball game against Indiana. Members will also return to Iowa City this fall for a Hawkeye football game. We asked Sundberg about his time at Iowa and playing at the sport's highest level.
---
How did you decide to play baseball at the University of Iowa?
After finishing high school in Galesburg, Illinois, I was drafted by the Oakland A's. I hadn't thought about attending college, but my second-grade teacher, Mrs. Johnson, was an Iowa graduate and wrote a letter to [former Iowa coach] Dick Schultz and Coach Banks asking them to consider me for a scholarship. They came out to see me in a game in Iowa City and ended up offering me a scholarship. I happened to have one of the best single games I'd ever had—a couple home runs, scored nine runs in a doubleheader, and threw out a couple guys.
---
What led you to turn pro after your junior year at Iowa?
After the College World Series, I was drafted by the Texas Rangers. The scout came in and said, "You can't hit. You can't catch. You throw everything into center field, but I'll give you a chance." At that time, the goal of a scout was to make the player feel as bad as possible so that they could get them to sign for as little as possible. It's changed a lot since then! I went and played that summer in Peoria, Illinois, ended up being the MVP of the league, and the Rangers drafted me again that winter. The same scout came out and his tune had changed. I ended up signing with the Rangers and, within one year, I was on the major league roster.
---
You had a tremendous professional career with the Rangers, Kansas City Royals, Milwaukee Brewers, and Chicago Cubs, and your honors include six Gold Glove awards, a World Series ring, and induction into the Texas Rangers Hall of Fame. What lessons did you learn at Iowa that helped you throughout your career?
I really learned more about the game, because Duane Banks was the first coach I had who was also a catcher. I also got stronger both physically and emotionally, which really prepared me for the big leagues.
---