UI student develops color-changing sutures to detect infection—and make health care more equitable.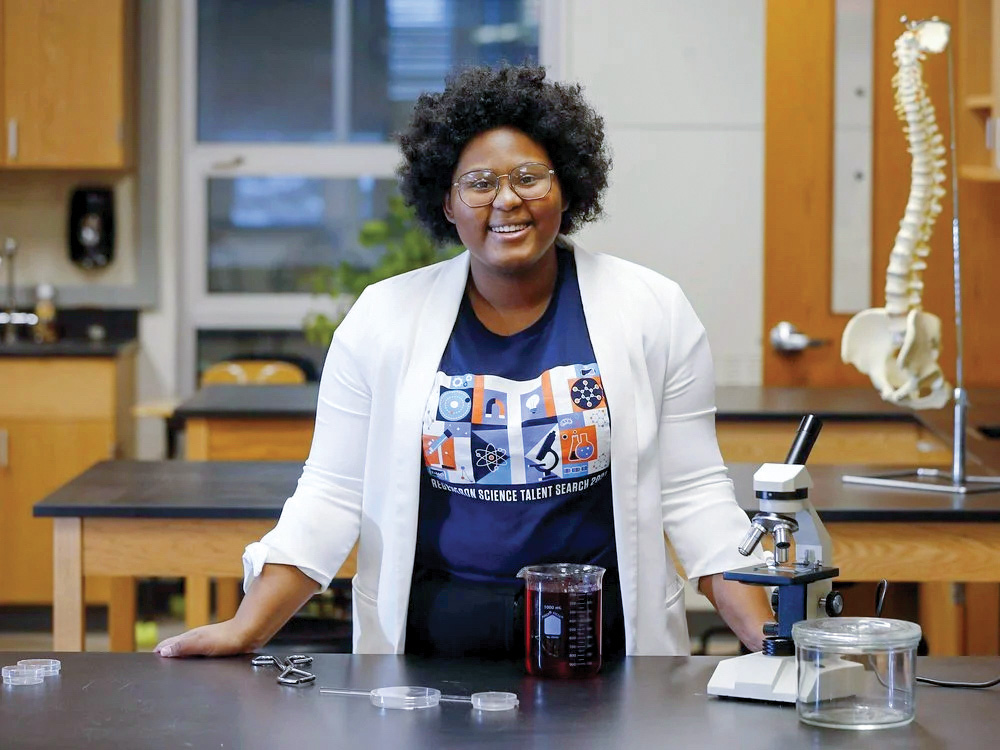 PHOTO: The Gazette
Beet juice is the key ingredient in University of Iowa student Dasia Taylor's color-changing surgical sutures, which could possibly improve wound care in developing countries.
---
WHY WAS SHE IN THE NEWS?
University of Iowa student Dasia Taylor discovered a new use for beet juice that could improve health care in developing countries.
Two years before coming to the university, she developed surgical sutures that change from bright red to grayish-purple when a patient's skin is infected.
Human skin is naturally acidic, but infected wounds have a higher, basic pH level. Taylor found that a natural indicator like beet juice—applied to the surgical suture—would change color based on a patient's skin pH level, revealing infection. "I found a list of vegetables and their corresponding pH levels," says Taylor, "and beets were the first one that I found that I thought might work."
---
WHERE DID SHE GET THE IDEA?
Taylor, now a first-year student majoring in global health studies at Iowa, has always had an interest in health care and medicine. When she started looking into research projects as an Iowa City West High School student, she came across an article citing that up to 20 percent of women in African nations who give birth by C-section develop surgical site infections.
After reading another article about researchers creating high-tech sutures that could be monitored from smartphones and computers, Taylor thought she could do it better to offer more economical and equitable health care.
---
WHAT'S BEEN THE PUBLIC REACTION?
Taylor has garnered national and worldwide attention for her color-changing sutures. She's had success at state and regional science fairs, and she was a top finalist in the Regeneron Science Talent Search—one of the nation's most prestigious science and math competitions for high school seniors.
While she's been featured on PBS, NBC's The Today Show, and was a special guest on The Ellen DeGeneres Show, Taylor hopes her work inspires a specific audience. "I hope it's shown younger generations—especially younger generations of color—what can be done when you put your mind to something," says Taylor.
"That's something my mother taught me."
---
WHAT'S NEXT?
In 2021, Taylor applied for a utility patent, which would cover the way her color-changing sutures work and are used. The process could take anywhere from two to 10 years, and if successful, Taylor will start on the next phase of her research.
"The end goal is to get these sutures to people who need them in developing countries, and that's what I'm working on every day," says Taylor.
---