With legacy Hawkeyes Keegan and Kris Murray, the McCaffery brothers, and another Kingsbury on the roster, this year's Iowa men's basketball team feels like family.
Battered by the Wisconsin Badgers' bruising frontcourt, a frustrated Keegan Murray jogged over to the Carver- Hawkeye Arena sideline last year and sought the advice and counsel of someone who himself had once been a source of annoyance: twin brother Kris.
The two, now forwards for the Iowa Hawkeyes, had shared a basketball baptism 18 years or so earlier around a Little Tikes hoop in the basement of their home. Keegan jokes that he focused on his shot as a toddler. Kris preferred to dunk and was often in the way.
"We'd fight over balls. It was just a mess," recalls Keegan, who is now 6-feet-9-inches tall with a nearly 7-foot wingspan and can treat a regulation rim like a toy. "We have a bunch of videotapes about it. There's a lot of crying going on."
By now those fights are long forgiven if, thanks to VHS, not forgotten. Kris, who largely spent his freshman year on the sidelines while Keegan emerged as a budding star, was waiting that game against Wisconsin, as always, with words of encouragement. He told his brother to not try to go shove for shove but to use his agility to counter their physical play. In the end, Keegan accumulated 13 points, six rebounds, and three blocks for the game, a stacked stat sheet that helped put him on the All-Big Ten freshman team last year.
"During games when I would get subbed out, I'd go talk to Kris and ask him what he sees off the court compared to what I see on the court," says Keegan. "He was a really big key to my success my freshman year." Kris, though he may have wished for more playing time, never sulked over the circumstance. "I was happy for Kee the whole time," he says.
This season, both brothers have assumed greater roles on a team that lost three of its starters from last year.
Get to know the superstar twins of Iowa basketball, Kris and Keegan Murray.
VIDEO: OFFICIAL VIDEO OF UI ATHLETICS
---
Family History
Coaches often talk about building a family-like atmosphere to reassure parents who may be anxious about sending their kids off to school, sometimes hundreds of miles away. With Iowa, the family dynamic is more than metaphor. Blood bonds run throughout the program and tie the team to those of the past.
As any Iowa fan knows, the Murrays are second-generation Hawkeyes. Dad Kenyon (97BA) was Michigan's Mr. Basketball and a McDonald's All-American as a star at Battle Creek Central High School. His decision to play for head coach Tom Davis prompted headlines with font sizes typically used for elections and small invasions.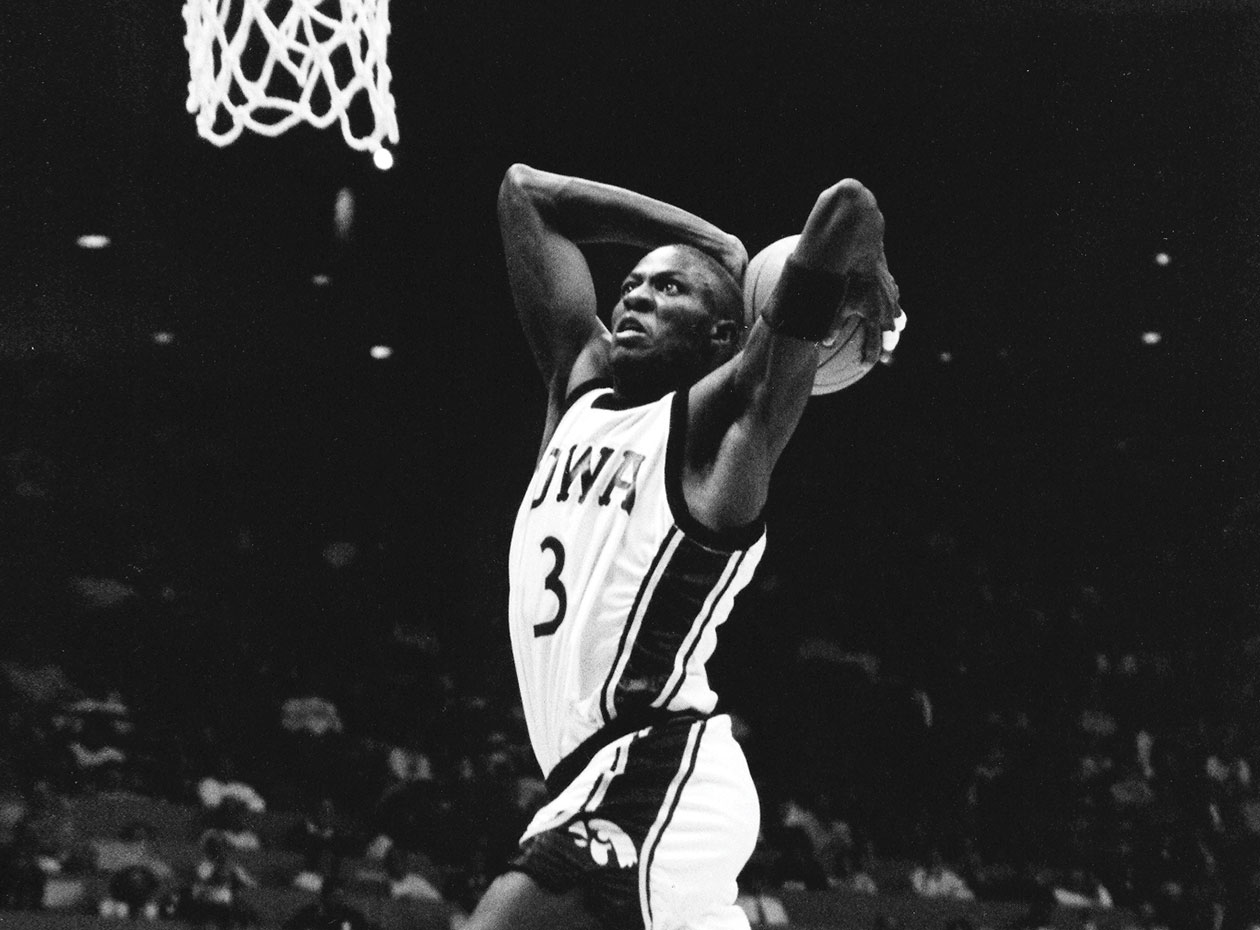 PHOTO: HAWKEYESPORTS.COM
Before he was a dad cheering on his sons from the stands at Carver-Hawkeye Arena, Kenyon Murray was a high-flying playmaker at Iowa from 1992 to 1996.
Then there are the McCafferys: Head coach Fran and sons Connor, a 6-foot-5 plug-and-play guard/forward who is one of the best passers in the country, and Patrick, a 6-foot-9 slasher whose athleticism began to emerge in the second half of last season.
Another familiar name was added to the team this summer. Carter Kingsbury, a shooting guard out of Nebraska, signed as a preferred walk-on. Dad Chris Kingsbury, who was also a McDonald's All-American in high school, drew a large and loyal fan base in Iowa for his ability to pour in faraway threes that a fairer system would have counted as fours or fives.
Playing at a parent's alma mater can help ease a student-athlete's transition to college, with connections and familiarity breeding a greater level of comfort. For programs like Iowa, which has a solid tradition but is not among the blue bloods of the sport, family relations can help with recruiting—an early in to a small subgroup of people on Earth who grow higher than 6-feet-4, have quick feet and long arms, and can toss a rubber sphere into a metal hoop 10-20 feet away.
"It's just huge. It's kind of your lifeline," says Jess Settles (98BA, 05MA), who played with both Kenyon Murray and Chris Kingsbury at Iowa and is now a Big Ten basketball analyst and commentator. "If your former players have kids who are Division I level, you obviously want them to come."
Greg Stokes (87BGS) was a smooth lefty with a great jump hook when he played for Lute Olson and George Raveling in the early 1980s. Son Darius (14BA) walked on at Iowa under McCaffery before earning a scholarship his senior year. Matt Gatens (12BBA), who pledged himself to Iowa as an eighth-grader, helped McCaffery turn the program around, earning second team All-Big Ten in 2012. His father, Mike (76BBA), played for Iowa from 1972 to 1976.
Unquestionably, the greatest father-son combo was Roy (91BA) and Roy Devyn Marble (17BS). The son was a 2014 first team All-Big Ten player. Roy Marble starred at Iowa from 1985 to 1989, leaving as Iowa's all-time leading scorer, a record that stood until Luka Garza (21BBA) bested it on his way to becoming 2021 National Player of the Year.
McCaffery says his staff works hard to stay connected to former players, inviting them to football and basketball games and other campus events. It's not always transactional: the connections McCaffery maintains are fundamentally about treating the former players with respect. But sometimes the apple really doesn't fall far from the tree.
"We've had a lot of great players who've come here and had unbelievable careers, and a lot of them have sons who are good," says McCaffery. "We try to make sure that we know who they are, and we stay on top of it."
---
Growing Up Hawkeye
McCaffery's relationship with Kenyon Murray predates his relationship with Iowa. As an assistant at Notre Dame, McCaffery recruited Kenyon, who later attended McCaffery's first press conference as Iowa's head coach. McCaffery saw Keegan and Kris grow up as basketball players because they often competed against son Patrick.
But while the McCafferys and Murrays knew one another, it wasn't a sure thing that Keegan and Kris would follow in their father's footsteps. They were All-State players at Cedar Rapids Prairie and thin as cornstalks. Most of their offers were from Division II schools.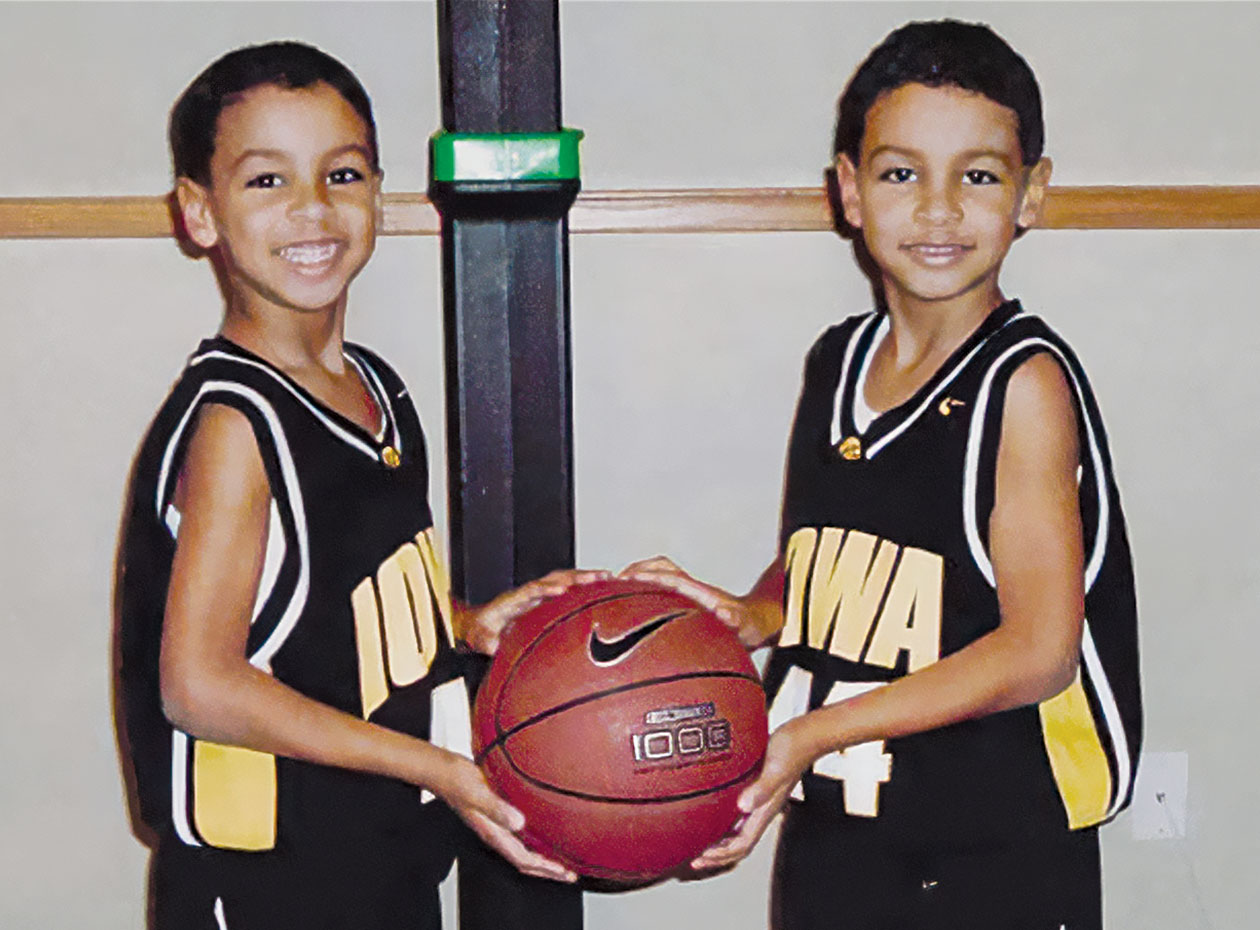 PHOTO COURTESY KENYON MURRAY
Keegan and Kris Murray have donned black and gold since their early days.
"I always thought they were D-I players, but in terms of being able to play at this level, I would say they were somewhat late bloomers," says McCaffery. McCaffery suggested the twins spend a year in prep school. So, after high school they moved to Daytona, Florida, to attend the DME Sports Academy, with mom Michelle tagging along for support. They had graduated and could just concentrate on basketball and getting bigger.
And bigger they've gotten. In high school, they stood 6-feet-6-inches tall. Kris weighed about 175 pounds. Keegan was a slightly bigger 185. Now they both are 6-feet-9, weigh 225 pounds, and look like they could keep Iowa defensive end Zach VanValkenburg out of the backfield if they wanted—for a few seconds anyway.
Carter Kingsbury also decided to go to prep school for a year after not receiving the offers he wanted at Ponca, Nebraska, where he graduated as the school's all-time leading scorer. He spent a year at Brewster Academy, a powerhouse that churns out NBA talent like Donovan Mitchell, the Utah Jazz star guard. Brewster also produced current Iowa center Josh Ogundele and four-star prospect Dasonte Bowen, who will join the team next year.
Chris Kingsbury contacted Settles, his old teammate, to see if McCaffery would consider Carter. Settles instead gave him the coach's number, assuring his old teammate that McCaffery remembered him.
"Carter is excited at the opportunity, and we're excited to have him," says McCaffery. "He's a really good shooter. He's got a great frame to play the game at this level."
---
Long on Talent
Keegan and Kris' talents emerged for the college basketball world to see at a DME jamboree in October 2019. They turned in solid performances against top talent from across the country and began to receive interest from schools in the SEC and ACC. They weren't on the open market for long, however, choosing Iowa after making an official visit that fall.
They said they liked the way the Hawkeyes played, which reminded them of the up-tempo style that had attracted Kenyon to Tom Davis' program 30 years earlier. And while they wanted to go to school together, they also valued the fact that McCaffery treated them as individuals, explaining how he saw each one contributing to the team in his own way.
There's crossover between their games. They are tall and long-armed and possess a jumping ability that, given their heights and wingspans, seems excessive. But generally, Kris, who shoots left-handed, is viewed as more comfortable on the perimeter, while Keegan, who shoots with his right hand, is a little stronger in the paint. It was Keegan's rebounding ability that earned him court time last year. Iowa had Joe Wieskamp and CJ Fredrick firing from three, so Kris' game was less in demand. Now both those players are gone— Wieskamp to the NBA and Fredrick to Kentucky. Forward Jack Nunge transferred to Xavier to be closer to his family following the death of his father during the season last year. Garza was drafted in the second round by the Detroit Pistons.
Those four players accounted for about 64% of Iowa's scoring last year. To compensate, this year's team has been the embodiment of positionless basketball—with guards who can play inside and bigs comfortable on the outside. Iowa's rotation features inexperienced but long, athletic talent— aided, as ever, by the steady stroke of Jordan Bohannon (20BA), who came back as a shooting guard for a sixth year thanks to an extra year of eligibility the NCAA gave student-athletes to compensate for the COVID pandemic.
Perhaps no one on the team epitomizes the do-everything style more than the Murray twins.
"Their versatility gives me a lot of flexibility," says McCaffery. "You can stretch the floor because they can both shoot. But they can both bring it down. They can guard smaller guys. They can guard bigger guys."
---
A Lasting Legacy
By the time Kris and Keegan were born, Kenyon Murray had finished a pro career that included stints in the CBA and overseas and was then working as a coach at Indian Hills Community College in Ottumwa, Iowa. Kenyon says he knew basketball would be part of his sons' lives, but he and Michelle made a conscious effort not to force the game on them.
"It was always something that we wanted them to control, as far as the amount of time they put into it," says Kenyon, who is a regional manager at Henry Schein Dental, a major dental supplier. Michelle works as senior compliance officer at University of Iowa Hospitals & Clinics. Keegan and Kris also played baseball growing up and were both on the golf team in high school.
"It's like a dream come true to see them play."—Kenyon Murray on his twin sons competing with the Hawkeyes
"We just wanted them to be well-rounded [in sports] because it put them around different kids and different coaches," says Kenyon.
Kris credits his parents' no-pressure approach for helping to grow his and Keegan's affection for basketball, and the sons sought their dad's help and support along the way. They all battled it out in one-on-one games in the driveway until Kenyon retired while his sons were still in middle school, around 6 feet tall, and could not yet beat him.
"I was protecting my legacy," he says.
Kenyon worked out Keegan and Kris in the gym and joined their high school team as an assistant coach. The twins also learned the game and their father's legacy by watching old videotapes with him in the basement of their Cedar Rapids home.
"We'd always watch his good games," says Kris. "He'd always say, 'Wait for this! Wait for this!' for him to do something cool."
---
Brotherhood Beyond Blood
Kenyon and Michelle also told their sons about the Hawkeye Kris is named after, Chris Street. Street hosted Kenyon on his recruiting visit to Iowa City and welcomed him during his first year there, when Street was a junior. Midway through the season, Street died in a traffic accident.
"Chris loved Kenyon, and Kenyon loved Chris. ... When Chris and Kenyon were on the court together, Kenyon played at a different level."—Jess Settles
"As I grew up, I learned more and more about Chris and the type of person he was and the mentality he had on the basketball court and his relationship with my dad, which was really cool," says Kris. "He just took him under his wing, and they became really close with each other."
One tape they've seen is the first home game against Michigan—which Kenyon had turned down to come to Iowa—after Street's death. Going up against the Fab Five, Kenyon performed spectacularly: 13 points and 7 rebounds in 21 minutes of play.
Both Murray twins have met Chris' parents, Mike and Patty Street. Kris says he talked to Mike at the Chris Street Memorial Golf Tournament in August, another example of how legacies linger in the Iowa program.
"Chris loved Kenyon, and Kenyon loved Chris," says Settles, who viewed Kenyon as a mentor when he joined the team the following year. "Those two had such a brotherhood together. When Chris and Kenyon were on the court together, Kenyon played at a different level."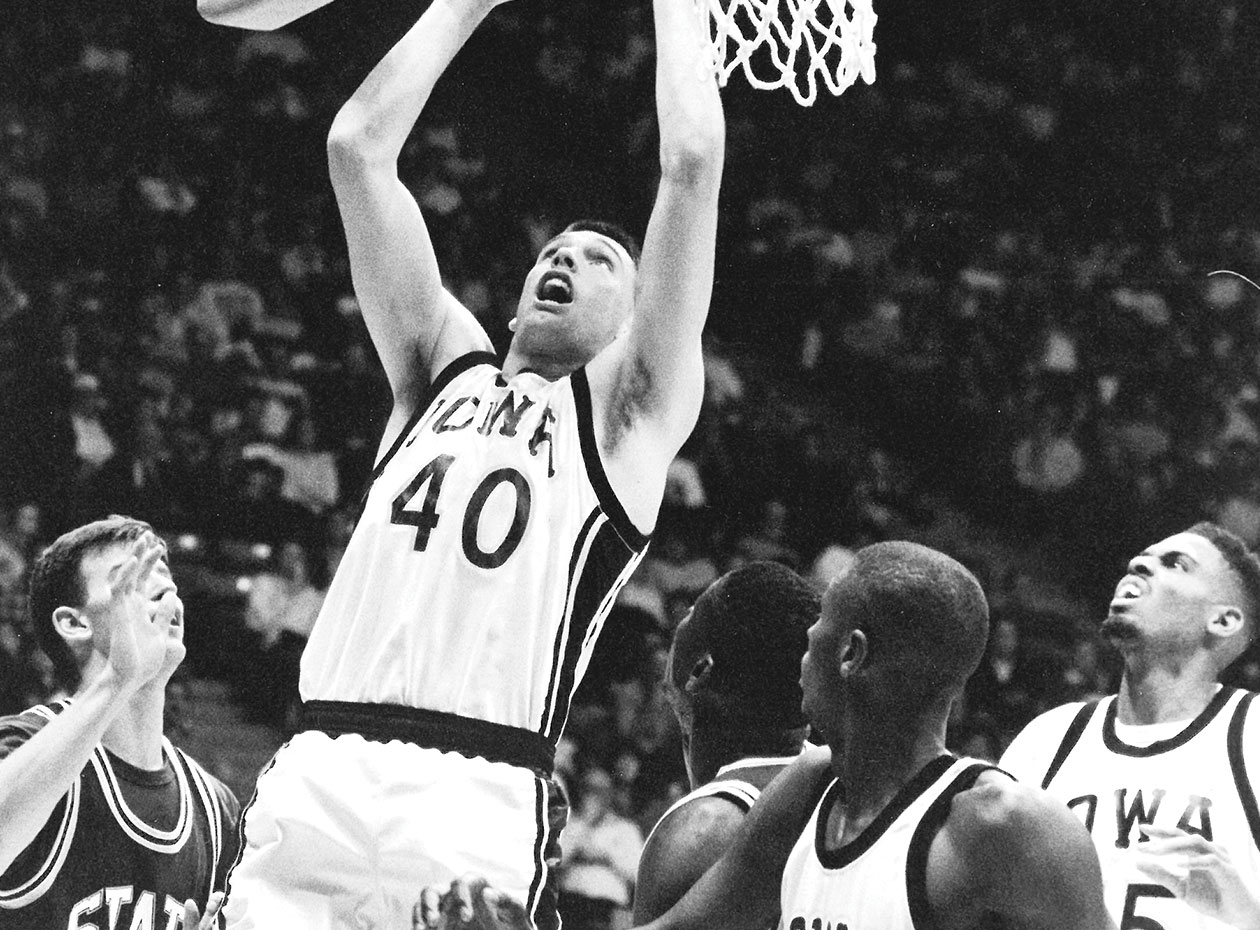 PHOTO: HAWKEYESPORTS.COM
Chris Street was a fan favorite and a budding star for the Hawkeyes when he was killed in an auto accident in 1993. Kenyon Murray named son Kris in honor of his teammate and friend.
Hawkeye fans will be happy to know that Kris and Keegan think they also elevate one another's games.
"He knows where I'm going to go at all times, and I know where he's going to go. It's really just like having a like-minded person on the court with you," says Kris, who plans on being a sports commentator after playing professionally.
---
Living in the Moment
That's not to say that they don't, on occasion, still get under one another's skin, though the tears have turned to trash talk. Kris says he's been on a "little bit of a hot streak" in their one-on-one games, prompting this dead-serious response from Keegan: "I get my fair share of wins, so I'm not sure what he's talking about."
Mostly, though, Keegan and Kris say they appreciate the time they get to spend together and with their teammates. Some sports analysts predict Keegan could be a first-round draft pick after the season, meaning this year could conceivably be his last with his brother on the basketball team.
"We're kind of living in the moment right now," says Keegan, who after playing professionally would like to be a sports agent. "We're glad that we're on the same team in college and able to play with each other."
One downside of legacies is they come with an assumption that success is inevitable, and certainly the odds of being a D-I basketball player are greater if your father was a 6-feet-6 former star.
But to view Keegan and Kris as purely a product of their genes is to diminish their own accomplishments, and all the hours shooting and dribbling and lifting weights. Kenyon remembers how his sons would come back from weekend baseball tournaments in junior high school and ask that he take them to the gym to work on their games. They graduated from Cedar Rapids Prairie with much less fanfare than their father received coming out of Battle Creek. But they shared a belief that they were better than their rivals.com rating and took a chance on themselves that seems to be paying off.
"It's like a dream come true to see them play," says Kenyon. "Not that it's Iowa, but the fact that all their hard work has led them to this point."
---
Jim Snyder (01BA) is a freelance journalist based in Washington, D.C.