A new library exhibit offers a glimpse into 175 years of student life at the University of Iowa.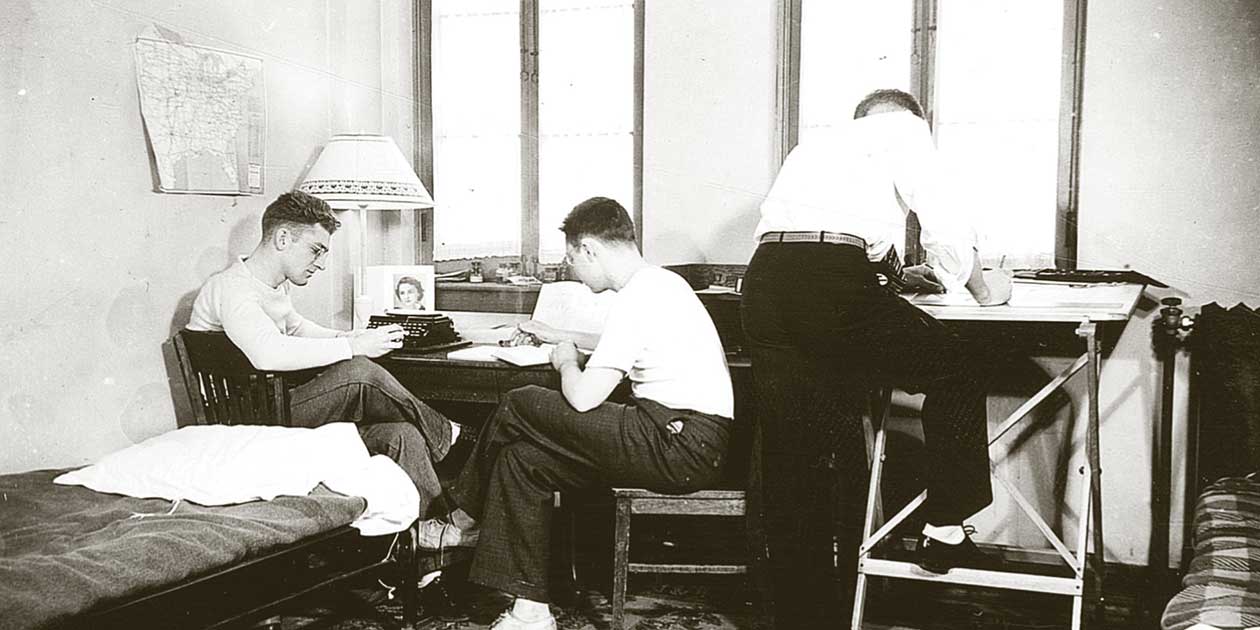 PHOTO: FREDERICK W. KENT COLLECTION, UI LIBRARIES UNIVERSITY ARCHIVES
Students study in March 1937 in a dorm room at the former Quadrangle Residence Hall. Quadrangle closed in 2016 to make way for the new UI College of Pharmacy Building.
For many of us, it's a fall rite of passage: leaving home to attend college for the first time. Old Gold experienced it several times, first as a freshman, then as a transfer student, and later to attend graduate school. Each episode had its challenges, though in hindsight Old Gold never regretted any of these moves.
Indeed, leaving home for the first time, whether for marriage, college, military service, or a new job, can be an opportunity for personal growth. For many, it's one of the first times we can define our own space and assert our identity.
The dorm room serves an important function in this ritual. By virtue of its contents and design, it can be an extension of ourselves, expressing to our cohort up and down the hall a bit about who we are, or at least pretend to be.
Old Gold, 18 and pretentious, had his own checklist enumerating the needed accoutrements of the time, circa 1975:
Sleeping bag for a friend from Madison who might stay over
House plants, including spider and English ivy
Stash of tea and other consumer goods
Books, mostly paperback, some quite profound
Bookshelf, consisting of two or more concrete blocks with planks
Stereo with assorted LP records, including Carole King, Creedence Clearwater Revival, John Prine, Leo Kottke, Linda Ronstadt, Sly and the Family Stone, and Miles Davis
Royal electric portable typewriter
Tapestry and posters
Wardrobe, including a free T-shirt advertising the bank where Old Gold opened a checking account during registration week
Lime green shag rug
Ashtray advertising a bar in Toulouse
Lamp made in shop class
Old Gold and his roommate, a nice guy from Des Moines named Chris, worked out ahead of time who would bring what. Chris' contributions included a wall hanging depicting a cartoonish frog with the words, "Welcome to MY PAD." So there you are.
The dorm Old Gold moved into began housing both male and female students, by floor, four years before. Coed dorm life was still new, and the preceding decade saw the repeal of many rules of conduct following years of student protest. By contrast, the University of Iowa's Code of Student Life for the 1953-54 school year sternly spelled out rules pertaining to housing, social regulations, and off-campus visits. The rules disproportionately applied to women, with a 10-page chapter devoted exclusively to them, while the remaining chapters were addressed to both men and women.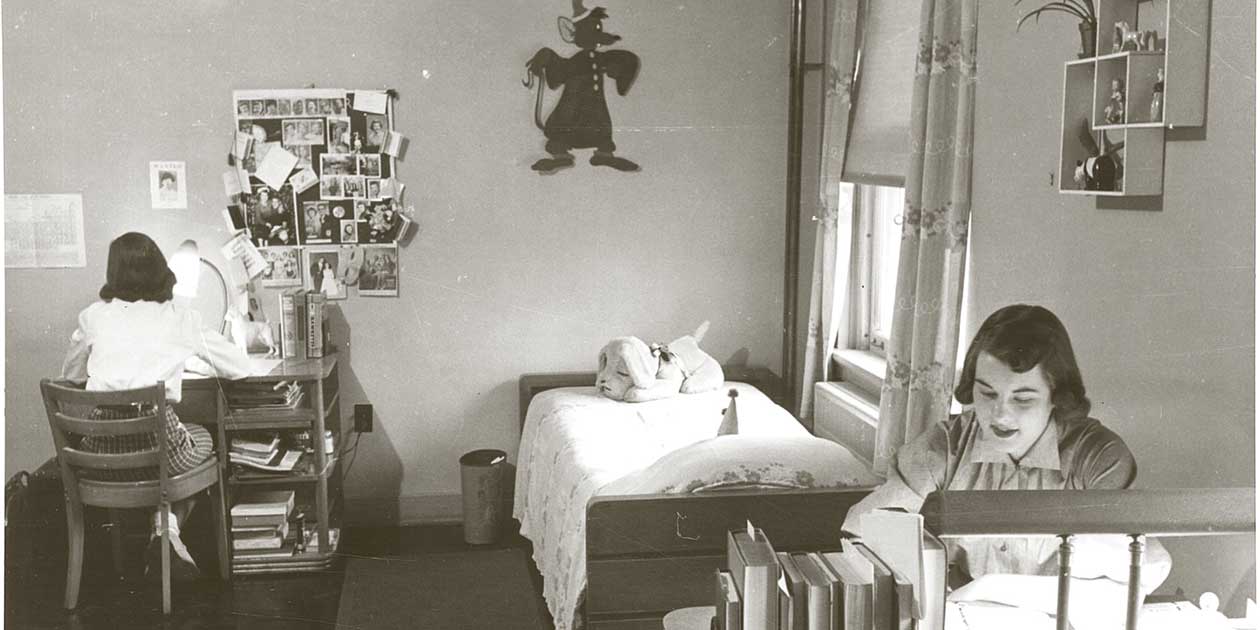 PHOTO: FREDERICK W. KENT COLLECTION, UI LIBRARIES UNIVERSITY ARCHIVES
Roommates work at their desks inside Currier Hall in the 1950s. Curier was Iowa's first residence hall, opening in 1914.
Permissions, for example, were granted sparingly to women, but not men, for off-campus overnight visits: "Sign-outs to private homes in Iowa City are discouraged; permission will be granted only at the discretion of the house director. Such permission is given for Friday and Saturday nights only. Householders must see guests and personally sign overnight permission." By 1969, these visitation rules were largely revoked.
Such changes over time, and more, are chronicled in the exhibit, We Are Hawkeyes: Celebrating 175 Years of Student Life at the University of Iowa, in the North Gallery of the Main Library. Open from Jan. 18 until July 3, the exhibit is one of many events celebrating the university's 175th anniversary throughout the year. Go to 175.uiowa.edu for more information. A slice of Old Gold's life is in there, somewhere.
What are your memories from the UI residence halls? Email uimagazine@foriowa.org.