The student-run organization reaches at-risk populations facing barriers to COVID-19 vaccination.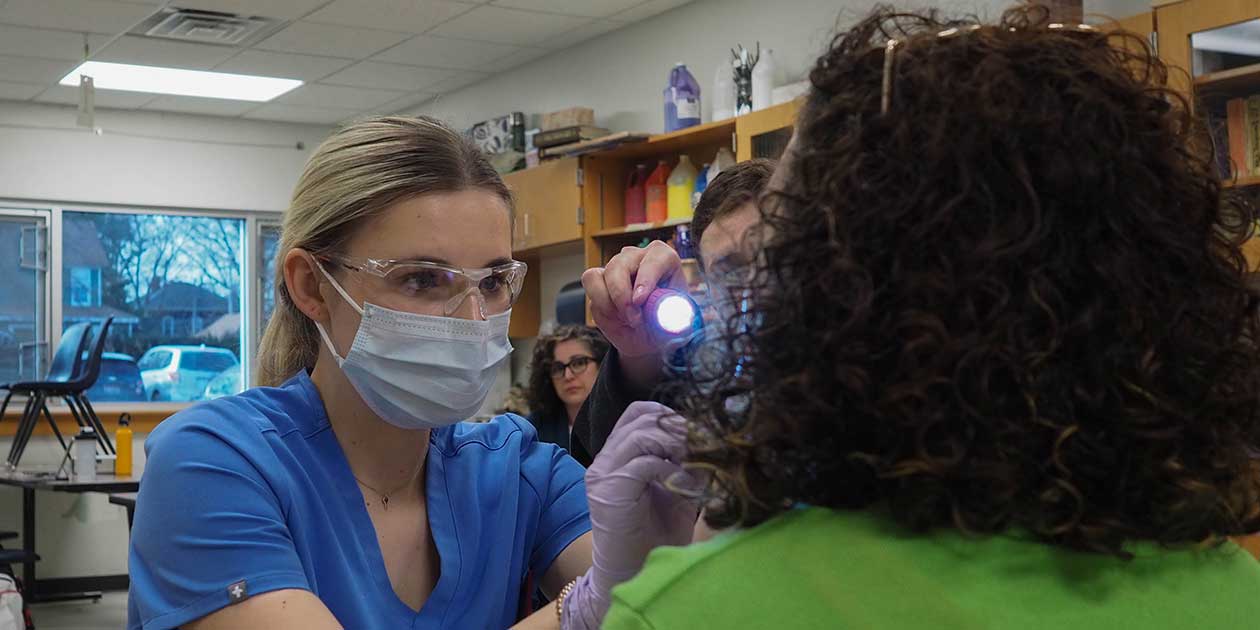 PHOTO: UI MOBILE CLINIC
UI Mobile Clinic volunteers work with patients during the pandemic in West Liberty, Iowa.
For two decades, the University of Iowa Mobile Clinic has provided basic health services like blood-pressure checks, flu shots, and routine dental treatment for underserved and uninsured Iowans. In early 2020, however, the student-run organization was forced to temporarily halt its free community clinics.
"As soon as COVID hit, we knew that life was going to change," says UI Health Care physician Denise Martinez (11R), a faculty adviser and co-director of the nonprofit clinic. "And we were also scared because we knew that the most marginalized populations might likely be affected the most. Stopping our clinics was hard for the communities we serve, so that was really disheartening to us."
Unable to meet with patients in person, the Mobile Clinic instead pivoted to offering free telehealth services and virtual counseling sessions during the early stages of the pandemic. Then, when the COVID-19 vaccine rollout began earlier this year, the clinic hit the road once again, this time teaming up with Johnson County Public Health to offer vaccinations in its partnering communities. By mid-fall, the Mobile Clinic had vaccinated more than 1,000 people and conducted 250 hours in virtual counseling sessions with about 40 clients, including those who had lost loved ones and endured other hardships during the pandemic.
Offering vaccination clinics at local churches, schools, and community centers, Mobile Clinic volunteers answered residents' questions about the vaccine and helped dispel myths. Student translators overcame cultural barriers by speaking with residents in Spanish, French, Arabic, and other languages to provide vaccine information. "We're going into places where people might have vaccine hesitancy or don't trust the system," says Martinez, UI Health Care's interim associate vice president for parity. "So it's about relationship building, especially among the leaders of these communities. When they endorse us, it's huge."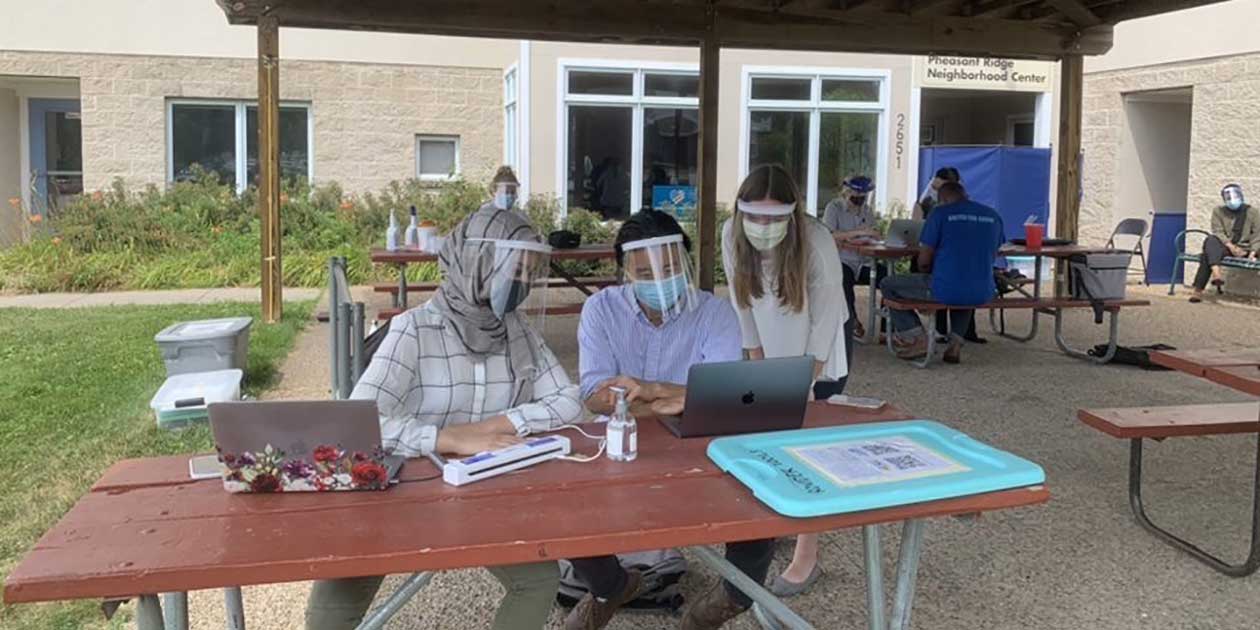 PHOTO: UI MOBILE CLINIC
Members of the UI Mobile Clinic team host a clinic in August 2020 at the Pheasant Ridge Neighborhood Center in Iowa City.
The Mobile Clinic, which marks its 20th year in 2022, offers free health care services at 14 sites in Iowa City and the surrounding areas. Its patient populations include the elderly, immigrants and refugees, homeless people, those who are returning from incarceration, migrant workers, and low-income residents. More than 60 health sciences students currently serve on the organization's board, and hundreds more student volunteers provide interdisciplinary clinical services ranging from eyeglasses fittings to physical therapy.
Fourth-year medical student Omar Shaban (17BS) is a clinic volunteer who serves as the recruitment chair on the organization's executive board. An Iowa City native, Shaban remembers the Mobile Clinic coming to his Pheasant Ridge neighborhood when he was a kid. "It's very rewarding to be on the other end of that now," says Shaban, who has worked as an Arabic translator and clinic coordinator at Pheasant Ridge in past years.
Andrea Arthofer, a fourth-year medical student from Dubuque, Iowa, came to med school knowing she wanted to work with underserved populations. At the UI, she didn't have to wait. "A big part of why I chose Iowa over the other schools I applied to was because they had a mobile clinic for students to be involved in," Arthofer says. "I'm not waiting to use the knowledge that I'm learning—I get to use it right now."
Data showing that underserved communities are more likely to be affected by COVID-19 has added an even greater sense of urgency and importance to the Mobile Clinic's mission this past year. By offering clinics on nights and weekends in familiar community spaces, along with partnering strategically with nonprofit groups and religious organizations, the Mobile Clinic has reached Iowans who may have otherwise faced barriers to vaccination. "We worked with a lot of groups we hadn't worked with before, so it's been fun to forge new partnerships," Arthofer says. "A lot of what we've been able to do has been because of those community partners."