As the UI's performing arts auditorium approaches its 50th anniversary, we're collecting memories of Hancher.
PHOTO: JUSTIN TORNER/UI OFFICE OF STRATEGIC COMMUNICATION
Hancher cut the ribbon on its current home in 2016 after the original auditorium was destroyed by the flood of 2008.
I was 16 years old when I first set foot in the then-new Hancher Auditorium during its premiere 1972-73 season. My parents and I made the nearly three-hour drive from our home in northern Iowa to visit the venue, named for Virgil Hancher (1918BA, 24JD, 64LLD), the university's 13th president.
The newly dedicated concert hall was like nothing I had seen before. In the years to follow, Hancher established itself as a center of innovative and diverse entertainment. Even the devastating flood of 2008 didn't deter Hancher staff from continuing to offer events at other venues while the new building was under development.
Indeed, whether hosted in Iowa City or in another Iowa community, Hancher-sponsored events have made memories for nearly 50 years. The golden anniversary of this unique Iowa treasure is in September 2022, and Hancher would love to hear your personal stories.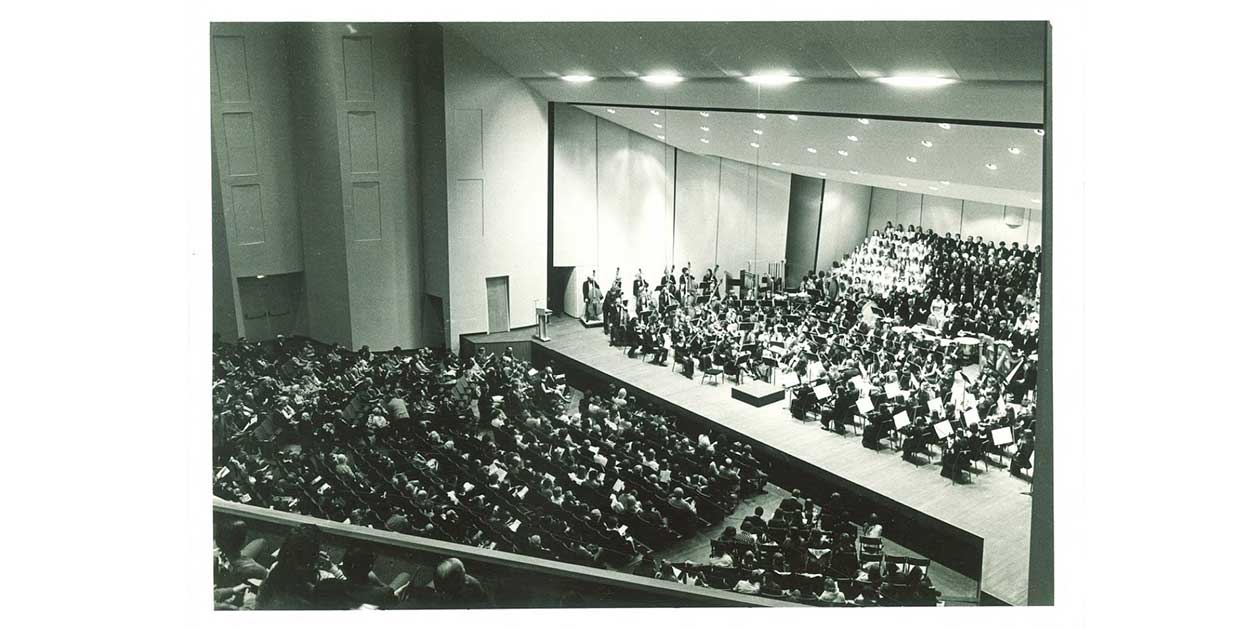 PHOTO: FREDERICK W. KENT COLLECTION OF PHOTOS, UI LIBRARIES UNIVERSITY ARCHIVES
An orchestra and choir perform in the original Hancher Auditorium in 1972, the year it opened on the University of Iowa campus.
Scott Buchanan (84BGS, 86JD) of Algona, Iowa, has many to share. His northern Iowa community, about an hour west of my hometown of Charles City, has partnered with Hancher many times over the years. While performances are part of Hancher's "traveling curriculum," it's the weeklong community engagement that makes its partnership with Algona particularly remarkable.
Let's hear it in Scott's own words:
"The Hancher-Algona collaboration [made possible by the Algona-based Haggard-Twogood Charitable Trust] has enriched our community in countless ways—from delighting health care providers with a string quartet in their lobby, to the energetic and captivating performance of zydeco musician Terrance Simien for elementary students, most of whom sat wide-eyed and enchanted by this large smiling angel of a man who charmed and entertained them with a show they will never forget.
"Our trust's collaboration with Hancher is precisely what the research shows will help sustain our community and attract next-generation residents to live and work here in the new economy. I will be forever grateful to [Hancher director] Chuck Swanson (75BBA, 76MBA) and his staff for the generosity, insight, and affirmation. It helps to shape the future of our community using the arts and the University of Iowa as vital resources."
The University Archives houses records of Hancher Auditorium, many of which are now online. Go to the Iowa Digital Library at digital.lib.uiowa.edu and search "hancher auditorium." You'll find thousands of images, including photographs of construction of the original Hancher, event programs, posters, and more. Who knows? Maybe you'll find your own Hancher memories included. If you have any to share, we'd love to hear them.