Holden Comprehensive Cancer Center clinical trials study a mental fog familiar to many cancer patients.
For more than 20 years, Laurie Zollinger had mentally prepared herself for the possibility.
Still, when the news hit, she sat in her living room, stared out the front window, and thought, "Oh, my God, what if this goes bad?"
Zollinger's grandmother was diagnosed with breast cancer in her early 50s, and Zollinger knew her genetics put her at higher risk for the disease.
"I always just felt like I was going to hear those words someday," she says of a breast cancer diagnosis, "and that day happened July 1, 2020."
After a routine mammogram—delayed a few months due to the COVID-19 pandemic—Zollinger was diagnosed with stage 2A triple-negative breast cancer. In the year following her diagnosis, Zollinger and her wife, Andrea Brenner, logged more than 10,000 miles between their home in Sterling, Illinois, and the University of Iowa Holden Comprehensive Cancer Center for what Zollinger describes as a "higher level of care."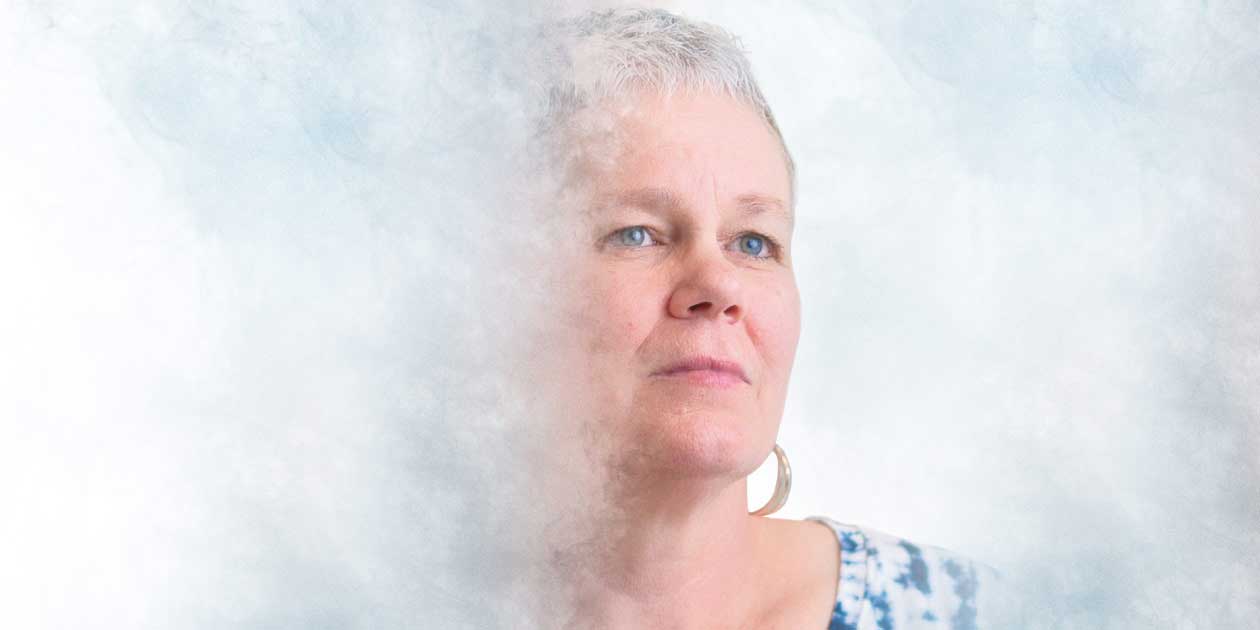 PHOTO: JUSTIN TORNER/UI OFFICE OF STRATEGIC COMMUNICATION
After her second chemotherapy treatment, Laurie Zollinger began to experience the symptoms of "chemo brain"—a mental fog that causes difficulties in thinking, focus, and memory.
Zollinger knew to expect side effects from the cancer treatments such as nausea, vomiting, and hair loss. But one side effect she was unfamiliar with until her own experience was "chemo brain"—the lay term for a mental fog associated with cancer and its treatment that can cause difficulties in thinking, focus, and memory.
Doctors don't know exactly what causes chemo brain. It may be a side effect of some chemotherapy drugs that pass through the blood-brain barrier or the result of physical and psychological stress on the body related to cancer and its treatment.
According to recent studies cited by Iowa researchers of women with breast cancer, up to 60 percent of participants reported neurocognitive symptoms after undergoing chemotherapy, with the effects lasting anywhere from six months to more than a decade. In Zollinger's case, she started noticing symptoms of chemo brain after her second chemotherapy treatment, struggling with short-term memory loss, word retrieval, and slow reaction times. "I wasn't good for driving," she says about handing the car keys over to Brenner to make the two-hour drive to Iowa City for appointments.
Patients like Zollinger have shared concerns with their physicians about cognitive impairments during and following cancer treatment, but little research had been done on chemo brain to be able to help—and to objectively tie their symptoms to what was happening inside the brain. Over the past few years, a multidisciplinary team of Iowa researchers have collaborated to understand the understudied phenomenon and find possible treatments for patients through two new clinical trials. Both studies peer into the inner workings of the brain through cutting-edge neuroimaging, and one of the trials takes a novel approach to treatment with transcranial magnetic stimulation (TMS), a noninvasive procedure that uses magnetic fields to stimulate nerve cells in the brain.
"It's important because it's really shining a light on treating a whole person and not just treating a disease," says Dr. Sneha Phadke (16F, 18CER, 20MPH), a UI medical oncologist and clinical assistant professor of internal medicine involved in the collaboration. "We want someone to live as long as possible, but we also want that to be a high-quality life."
Where Research Meets Practice
For many of the UI researchers who study chemo brain, the drive to help patients is deeply personal. Kanchna Ramchandran (11PhD, 14CER), an associate research scientist in the UI Department of Internal Medicine at the Roy J. and Lucille A. Carver College of Medicine, remembers the helplessness and heartbreak she felt after losing her mother in India to gynecological cancer while she was a graduate student at Iowa halfway across the world.
PHOTO: SETH FRIEDMAN
Carver College of Medicine associate research scientist Kanchna Ramchandran
"As she went through her treatment process, I watched this bright, sharp lady go through these periods of confusion and fog, and it was very unlike her," says Ramchandran. "This research is my way of saying thank you to my family for taking care of her, but also for me to do something for anybody who's going through a cancer diagnosis. It's a way of giving back."
Ramchandran chose Iowa for its historic leadership in neuroscience and gained expertise under mentors such as Daniel Tranel (81MA, 82PhD), the F. Wendell Miller Professor of Psychological and Brain Sciences and Neurology who helped create one of the largest brain lesion registries in the world, and Dr. Nancy Andreasen (70MD), the Andrew H. Woods Chair of Psychiatry who is an internationally renowned expert on schizophrenia and a pioneer in neuroimaging. "I received full intellectual, academic, and scientific freedom to pick any questions that came my way," says Ramchandran, "and then they would help me curate that into a good study design and help find funding support to actually execute that."
Ramchandran says she's "always been happiest at the intersection of research and practice," so in honor of her mother, she helped assemble an expert team of UI faculty, staff, and students to discover potential causes of and treatments for chemo brain. The group has specialists in neuroscience, oncology, psychiatry, radiology, and statistics. It also includes undergraduate research assistants who receive academic research credit through the UI Center for Research by Undergraduates to collect and score data, process scans, and help with data analysis. Among these students is Kesten Anderson, a UI senior who has worked with Ramchandran since high school and became fascinated by neuroscience after her father had a massive stroke. Now with six years of research under her belt, Anderson says, "The skills I have acquired in Dr. Ramchandran's lab have provided me with a firm foundation in research that I will be able to use in the years to come."
Since 2018, the Iowa Fraternal Order of Eagles' Art Ehrmann Cancer Fund has provided annual support for the UI team's research. The funding helped launch a pilot study to identify brain-based biomarkers that might be associated with chemo brain and a second study to explore an innovative treatment. In 2019, the UI team also secured a $20,000 Institutional Research Grant from the American Cancer Society through the Holden Comprehensive Cancer Center to support the second chemo brain study.
On Trial
Zollinger felt strangely empowered as she watched clumps of her hair fall to the ground. Shaving her head outside her home in September 2020, Zollinger says she relished the opportunity to control the inevitable hair loss caused by chemotherapy—and she also liked her bold new look. Two weeks after her first chemotherapy treatment, she posted photos on Facebook, sharing her story in hopes that it would motivate others to get their annual mammograms. Shortly after, two friends told her the post inspired them to schedule their first mammograms.
From sharing her journey with others to making gratitude lists on the way to doctor appointments, Zollinger saw her cancer diagnosis as an opportunity to practice positive thinking. So, when Dr. Mark Karwal (84MD, 94F), a UI clinical professor of internal medicine and an oncologist and hematologist at UI Hospitals & Clinics, approached her about participating in Iowa's pilot study to better understand chemo brain, Zollinger eagerly volunteered. "I felt like if they could learn something from me to help the next woman going through it, it could give me peace to know something good was going to come out of the struggle," she says.
Ramchandran and Phadke call clinical trial participants "the real heroes" of medicine. During a particularly difficult moment in their lives, these volunteers devote their time and energy to a study, and although they may never benefit personally from the results of the research, their participation can spark medical breakthroughs that could help future patients. "Patient advocates have really changed the course of how we as physicians and investigators see this disorder, so if it wasn't for the dedication of those people, there probably wouldn't be funding for studies like this today," says Phadke. "I think we owe a lot of gratitude for those people who didn't give up, who were told that nothing's wrong with them."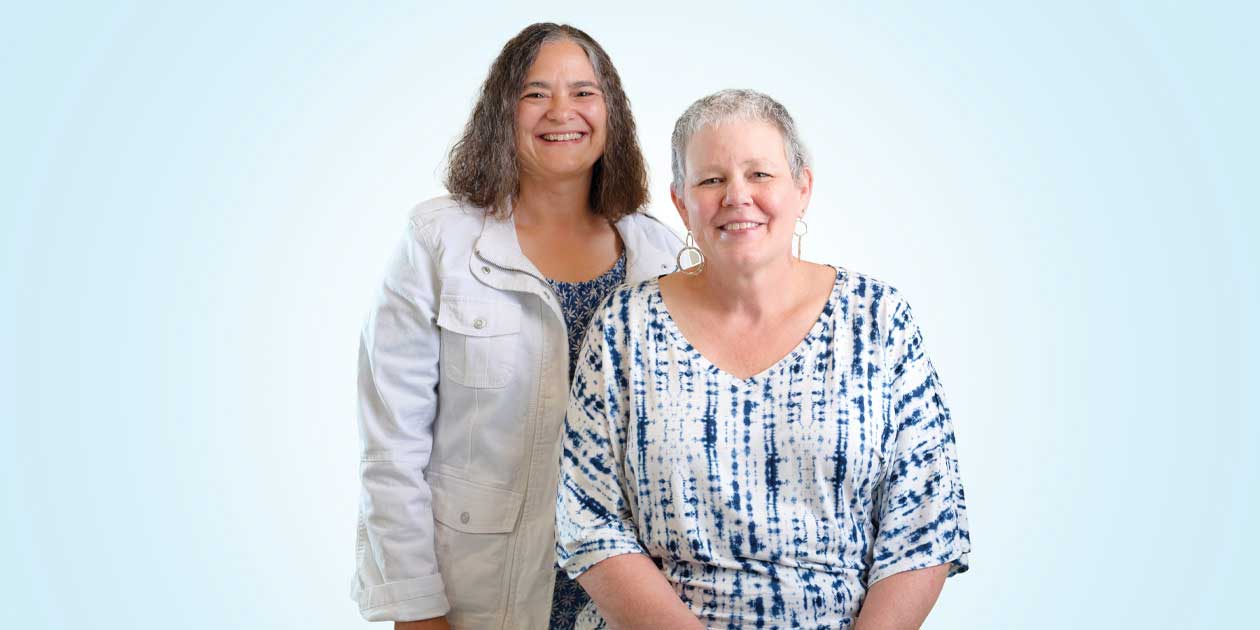 PHOTO: JUSTIN TORNER/UI OFFICE OF STRATEGIC COMMUNICATION
Laurie Zollinger (right) found support throughout her cancer journey from the UI Holden Comprehensive Cancer Center team and from her family, including wife, Andrea Brenner (left).
Before Zollinger received her first chemotherapy treatment, Ramchandran and Anderson led her into a room at the UI Magnetic Resonance Research Facility at the Pappajohn Biomedical Discovery Building, where they conducted a series of neuropsychological tests and did a brain scan. Open to breast cancer and lymphoma patients, the study evaluates patients' problem-solving and thinking skills. Patients may play a memory game, take a basic math quiz, or rearrange cards with pictures on them into a logical series of events. The puzzles provide researchers with a baseline from which to compare the patients' cognitive performance during and after cancer treatment.
In addition to the puzzles, Zollinger filled out a weekly online questionnaire that helped track her mood, sleep, pain, cognitive functioning, and levels of anxiety and depression throughout the treatment process.
Undoubtedly the most revealing part of the study came when Zollinger laid still in a cold, white scanner for an hour as the technician took photos of her brain activity. Vince Magnotta (94MS, 97PhD), director of the UI Magnetic Resonance Research Facility and a professor of radiology, biomedical engineering, and psychiatry, helped design this portion of the study using the 7Tesla scanner. The state-of-the-art brain imaging tool for researchers not only captures detailed pictures of the regions of the brain associated with executive functioning but can also measure concentrations and ratios of various brain chemicals in those areas. Zollinger says she's done MRI scans in the past, but none like this one where the researchers could examine the brain at a molecular level.
"I felt like if they could learn something from me to help the next woman. going through [breast cancer], it could give me peace to know something good was going to come out of the struggle." —Laurie Zollinger on joining a UI clinical trial
About six months after her first visit to the lab, Zollinger returned following her final chemotherapy treatment to retest and do a second scan for comparison. With the effects of chemo brain setting in, Zollinger says she noticed the same tests felt more challenging the second time. Words didn't come as quickly as they used to.
Although researchers are still in the process of collecting data from the pilot study, Ramchandran says they have noticed patterns within individuals that suggest their overall turmoil from cancer and chemotherapy may be at least temporarily affecting their cognitive functioning. Some of these individuals show significant changes in their concentration of metabolites in the brain regions of interest following chemotherapy. While it's too early to draw any implications or definitive scientific conclusions, Ramchandran says she is cautiously optimistic these leads may hold hope in providing physicians a proper method of assessing and diagnosing chemo-induced cognitive deficits in the future.