In memory of her dad who died of COVID-19, Iowa soccer player Courtney Powell starts a hospital fund to help families with loved ones in the ICU.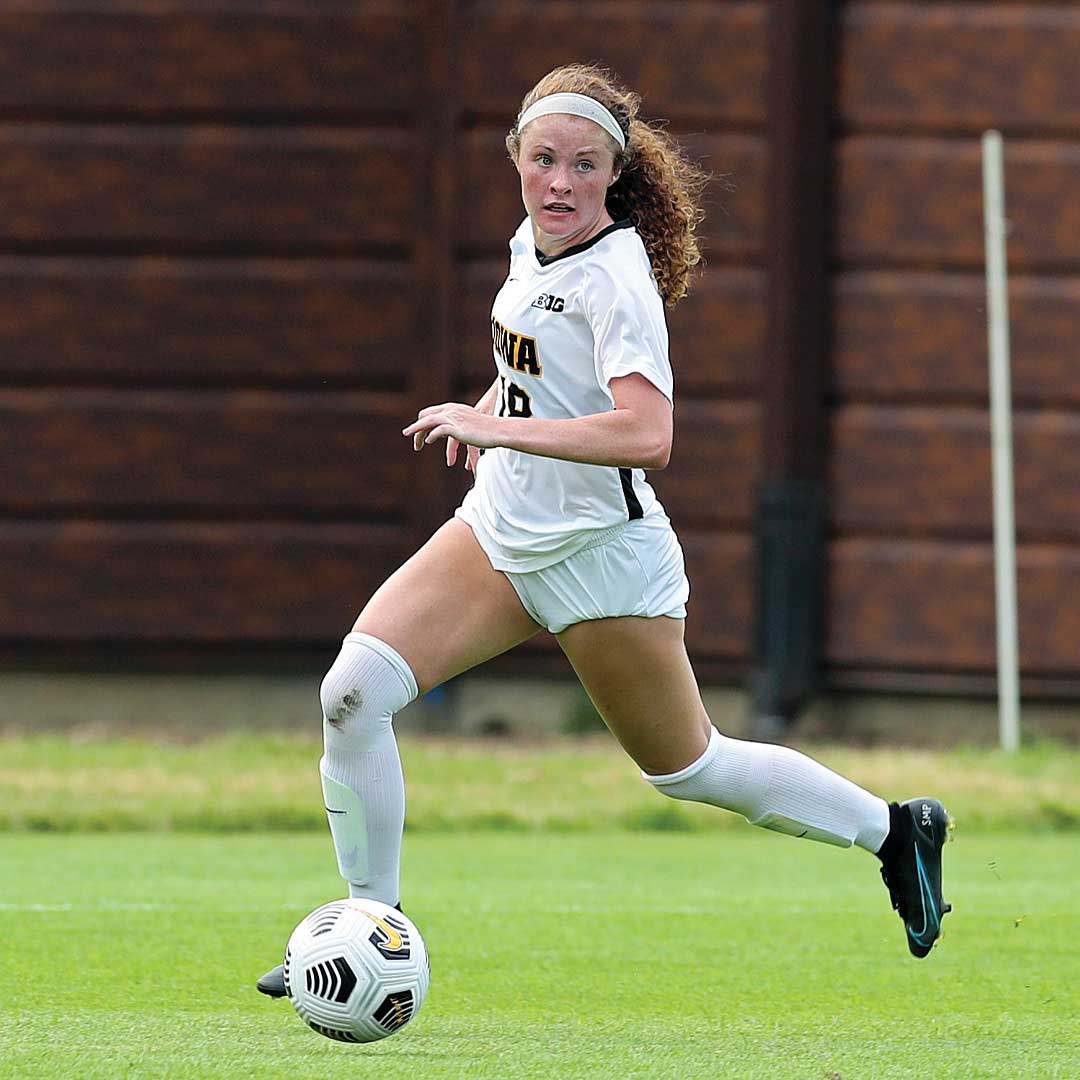 PHOTO: STEPHEN MALLY/HAWKEYESPORTS.COM
Courtney Powell became a Hawkeye this season as a tribute to her father.
Courtney Powell was ready to hang up her cleats.
After scoring the game-tying goal in her final soccer match as an Iowa State senior this past fall, she thought she was done, but her father hoped to watch her play one more season. He suggested she use the NCAA blanket waiver that grants an extra year of eligibility to student-athletes whose seasons were affected by the pandemic. A few months later, Powell's father died from COVID-19—and his words of encouragement resonated more than ever. This fall, Powell is fulfilling her father's wish as a transfer forward at Iowa.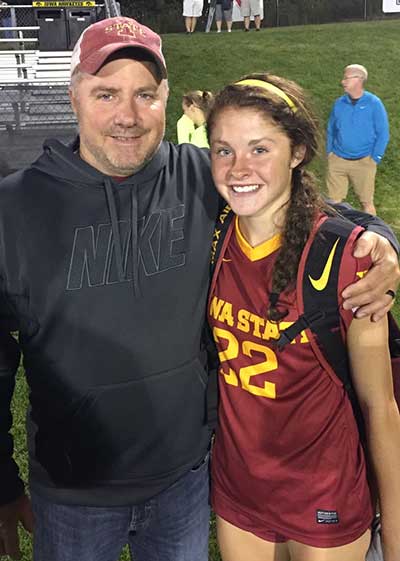 PHOTO COURTESY COURTNEY POWELL
Courtney Powell with her father, Scott.
EXTRA TIME
Powell was raised a Hawkeye fan, attending football and basketball games with her father and twin brother. "Growing up, it was my dream to play for Iowa," says the La Porte City, Iowa, native. However, Powell ultimately committed to Iowa State in hopes of pursuing a career in agriculture with interests in sales, marketing, farm management, and agronomy.
After a condensed soccer season this past fall, Powell shifted her focus to completing her agricultural studies degree and finding a job. Her priorities changed in mid-December when her parents contracted COVID-19. While her mother quickly recovered, her father went on a ventilator and was transferred to University of Iowa Hospitals & Clinics. He received treatment for a month before dying in February at age 56. "He was the rock of our family and the picture-perfect dad," says Powell. "My faith is what is getting me through this time."
After the initial shock of her father's death, Powell began noticing signs pointing her back to the pitch—this time as a Hawkeye.
Her fiancé was accepted into Iowa's physical therapy program, and she began planning to move to Iowa City with him. When Powell's job search stalled, she decided to lace up her cleats again. "I took that as a sign that I need to play once more and dedicate the season to my dad," says Powell. "I think this is going to be my best season—I have so much more to play for."
FREE KICK
Inspired to help others who face the same challenges her family experienced, Powell is also partnering with UI Hospitals & Clinics to start a foundation in her father's memory called Scott's Army. The foundation will support families who have a loved one in the intensive care unit facing a life-threatening condition.
"When you're grieving, it's so easy to crawl into a dark hole and not want to do anything," says Powell. "But I'm trying to find the positives and use soccer as a place to go that I don't have to get into that dark place. It's a saving grace for me."
---
Support Scott's Army with a gift to the UI Hospitals & Clinics Extenuating Circumstances Fund.