An Iowa associate professor of law offers insight into what the NCAA vs. Alston case could mean for the future of college athletics.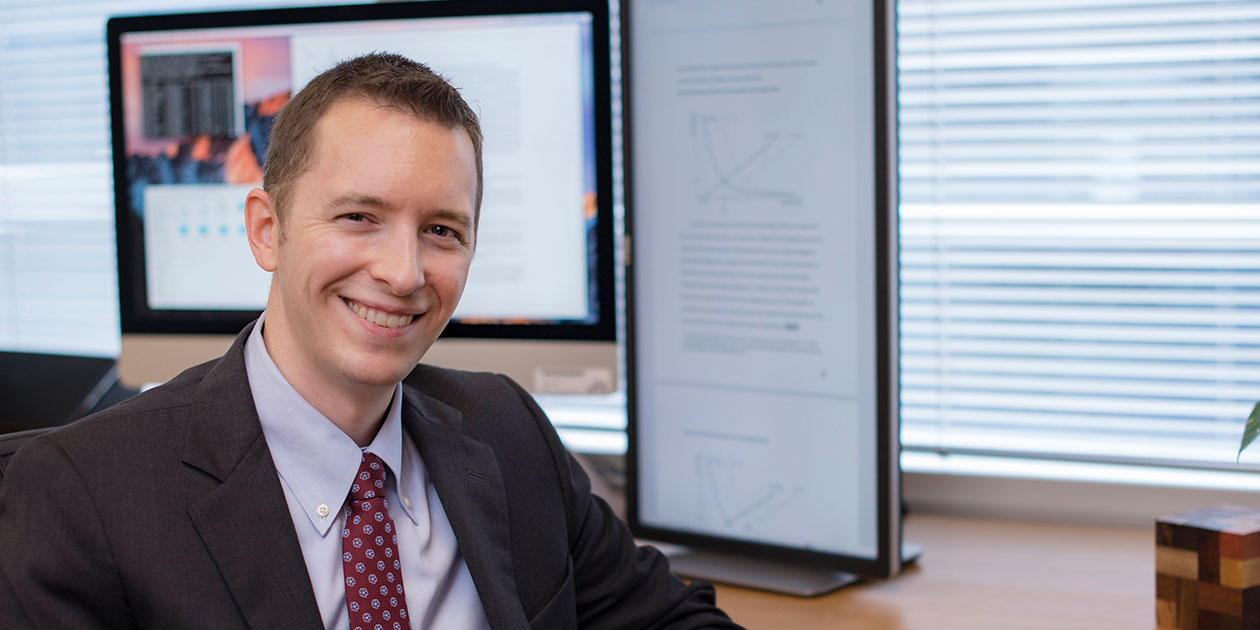 Photo: UI College of Law
Before joining the University of Iowa College of Law faculty, Sean Sullivan served as an antitrust attorney for the Federal Trade Commission.
On June 21, the U.S. Supreme Court ruled unanimously in NCAA vs. Alston that the NCAA violated antitrust law by restricting its athletes from receiving education-related, non-cash compensation, such as laptops and paid internships. Effective immediately, the decision allows college athletes to receive up to $5,980 in academic-related benefits and annual awards—potentially opening the door for challenges against other NCAA restrictions related to student-athlete compensation.
With its practices in question, the NCAA announced an interim policy on June 30 that allows athletes to profit off their name, image, and likeness (NIL). The decision, which enables athletes to earn money from autograph signings, endorsements, and personal appearances, came just one day before NIL laws in several states were set to take effect.
Iowa Magazine interviewed Sean Sullivan, an associate professor of law and antitrust law expert at the University of Iowa College of Law, to learn how the NCAA vs. Alston ruling could affect college athletics.
What does the Supreme Court's ruling mean for student-athletes, colleges, and the NCAA?
The decision confirms that the NCAA is not exempt from review in an antitrust suit, and that its rules are not categorically entitled to deferential treatment. The decision of the district court is also upheld with finality. That means that the NCAA is prohibited from restricting certain education-related benefits—things like scholarships for graduate school and payments for tutoring. For now, though, the NCAA's freedom to impose other compensation-related restrictions remains undisturbed.
What future challenges do you anticipate on NCAA restrictions on compensations that aren't education-related?
That's the billion-dollar question. Some people are reading this decision as an open invitation for plaintiffs to bring another case challenging non-education-related restrictions. The opinion makes clear that the NCAA is exposed to these challenges. In a concurring opinion, Justice Brett Kavanaugh goes further in commenting that "there are serious questions whether the NCAA's remaining compensation rules can pass muster under ordinary rule of reason scrutiny" and remarks that "the NCAA's business model would be flatly illegal in almost any other industry in America."
But not all signposts point that way. Over several pages, the opinion lays out the many restrictions that the NCAA is still free to implement under the district court's order.
While the district court did prohibit the NCAA from restricting certain education-related benefits, it left open to the NCAA the option of developing its own rules defining when benefits are and are not related to education. One tends to think that this definition will soon become an important and contested issue.
What impact will this ruling have beyond the realm of sports?
The opinion is narrowly confined to the NCAA. That said, it is an important opinion that will likely change the way the NCAA operates. And any change in the way the NCAA operates will likely have follow-on effects for many universities, sports, athletes, and students. It can be difficult to predict all the ways that a change in one area of commerce will spread to other areas. That is one reason why antitrust intervention often takes place carefully and incrementally, not as sweeping changes.
What are your main takeaways from the ruling?
The opinion makes a few important contributions to antitrust law. One concerns things like three-step, burden-shifting frameworks—which have grown increasingly popular in antitrust over the past few decades. The Supreme Court, here, provides needed clarification that these frameworks "do not represent a rote checklist" and "may [not] be employed as an inflexible substitute for careful analysis."
Another contribution concerns the standard to which companies are held. The Supreme Court affirmed that "antitrust law does not require businesses to use anything like the least restrictive means of achieving legitimate business purposes" but also affirmed that a restriction could violate the rule of reason if "evidence shows that substantially less restrictive means exist to achieve any proven procompetitive benefits." Exactly what separates "least restrictive" from "substantially less restrictive" alternatives remains unclear, but at least we have some boundary markers to work from.