The lanes were a campus hot spot for more than 30 years.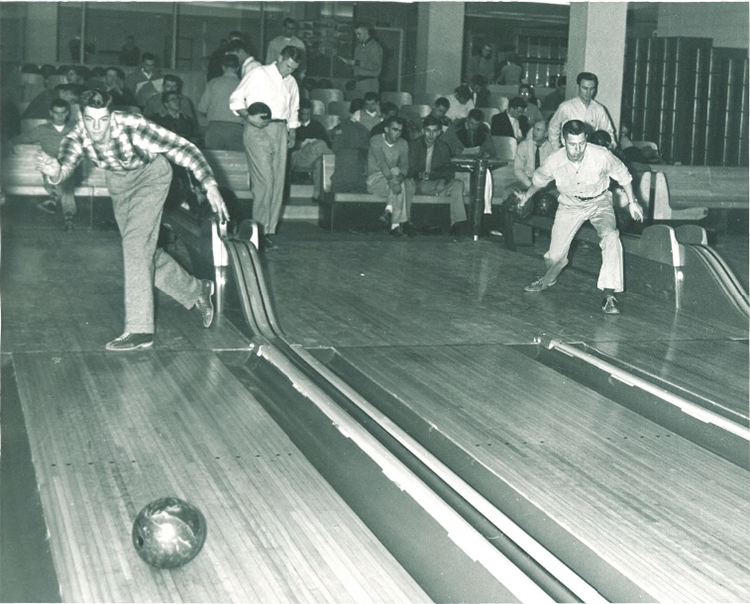 Photo: Frederick W. Kent Collection of Photographs, University Archives
Men bowl in the Iowa Memorial Union in the 1950s.
Earlier this spring, we asked readers of Iowa Magazine and Iowa Newsletter to share their memories of the former campus bowling alley, which was a fixture in the Iowa Memorial Union from 1955 to 1988. Here's what you had to say:
---
I was a freshman at Iowa in fall 1976, and I fondly remember the bowling alley at the IMU. I even took a physical education bowling class that was held there. I think there were six or eight lanes, all of which had seen better days. The bowling ball selection was quite limited, and the challenge was to find a ball that fit your fingers and only had a few chunks missing. The sound of clunk, clunk, clunk was the norm for the balls rolling down the lanes. In addition to the bowling, there were pool tables and a new phenomenon—video games. The line was always long for Asteroids, but a little shorter for a nuclear war game. Of course, to pay for this fun you had to go upstairs and cash a check for up to $15 at the IMU store. After an evening of bowling, pool, or video games, one could walk to the other end of the building and listen to live music, eat popcorn, and get a beer at the Wheel Room.
I work with UI college students as CAMBUS manager, and they question my mental state whenever I share my memories of the IMU.
Brian McClatchey (80BA, 82MA)
Iowa City
---
During my undergraduate days, bowling at the IMU lanes was an option for our required PE course. I elected to take Bowling I for one semester and fencing for another semester. The young women in my bowling class and I had a great time and fulfilled our PE requirement.
Susan Burden Leonard (71BA, 74MA)
Windsor Heights, Iowa
---
I used to bowl there during chemistry lab class, while waiting for reagents to heat in the oven. No sense in standing around waiting for phthalates to heat! - Robert Chapman (85BSPh)
---
As a sophomore in 1960-61, I was a member of the intramural bowling team and worked a few days after class at the check-in desk to offset some expenses living off-campus. Bob Froeschle was the facility manager, and "Hank" (as we knew him) oversaw alley maintenance. There was a trophy case at the entrance that housed bowling and pool trophies, but I don't know what happened to it after the flood. In addition to the alleys, the IMU had several billiard tables and four or five standard pool tables. Our job after closing was to walk a polishing mop down each alley and brush-sweep each table's felt. After finishing up, there was occasionally pie waiting for us in the adjoining dining area, where we and the food staff shared stories of our day. I miss those times!
David Mikesh (63BA, 65MS, 68PhD)
Littleton, Colorado
---
I was born and raised in Iowa City and went to school at Central Junior High. The bowling alley was a regular stop on my way home from school and on weekends when they were open. I was into pool back then, and they had nice tables. They also had pinball machines, table tennis, and vending machines. It was a one-stop shop. For us kids, it was a big deal to mingle with the college students. Back then, the IMU was the place to go. There was also a bar on the north end where you could see bands, along with a movie theater upstairs.
Counting the IMU alley, there were three others in town, and now we only have one. It shows how things change over time. I wish the good old days would come back. The day they closed was a sad one for me.
David Larsen
Iowa City
---
I bowled for the Iowa bowling team in the '70s (still have my team shirts). Lots of practicing in the union in between tournaments.- Denise Bloomquist (76BGS)
---
In my senior year after taking an incredibly difficult final, I went to the union to relax and decided to bowl a game. I was the kind of bowler who might have traded my golf scores with my bowling scores. Alone, with no witnesses, I surprisingly bowled a 238—the best of my life. Of course, telling my friends was fruitless since they knew how poor a bowler I was, but it remains my happy IMU memory.
Martin Waldinger (61BBA)
Scottsdale, Arizona
---
I took bowling for one of my required recreation activity credits. I realized I need glasses when I couldn't see the pins well enough to count for my score.
Joseph McDonald (76BS, 80JD)
Albia, Iowa
---
I bowled in the University of Iowa Staff Bowling League at the IMU in the mid-1960s. I don't recall what night of the week that occurred, but I was on the University Business Office team. Leonard Brcka (47BSC), university controller, was on the team, as was Wayne Pietsch (49BSC), head of payroll. I also recall Data Processing (now Information Technology) and Physical Plant (now Facilities Management) teams. It was a competitive but friendly competition. The league lasted until the bowling alley conditions deteriorated from neglected maintenance to the point where we couldn't get through three games without extensive delays. The league then moved to Colonial Lanes, by the Iowa City airport.
George Klein (65BBA)
Oxford, Iowa
---