Sanjena Sathian examines the second-generation immigrant experience in her debut novel, Gold Diggers.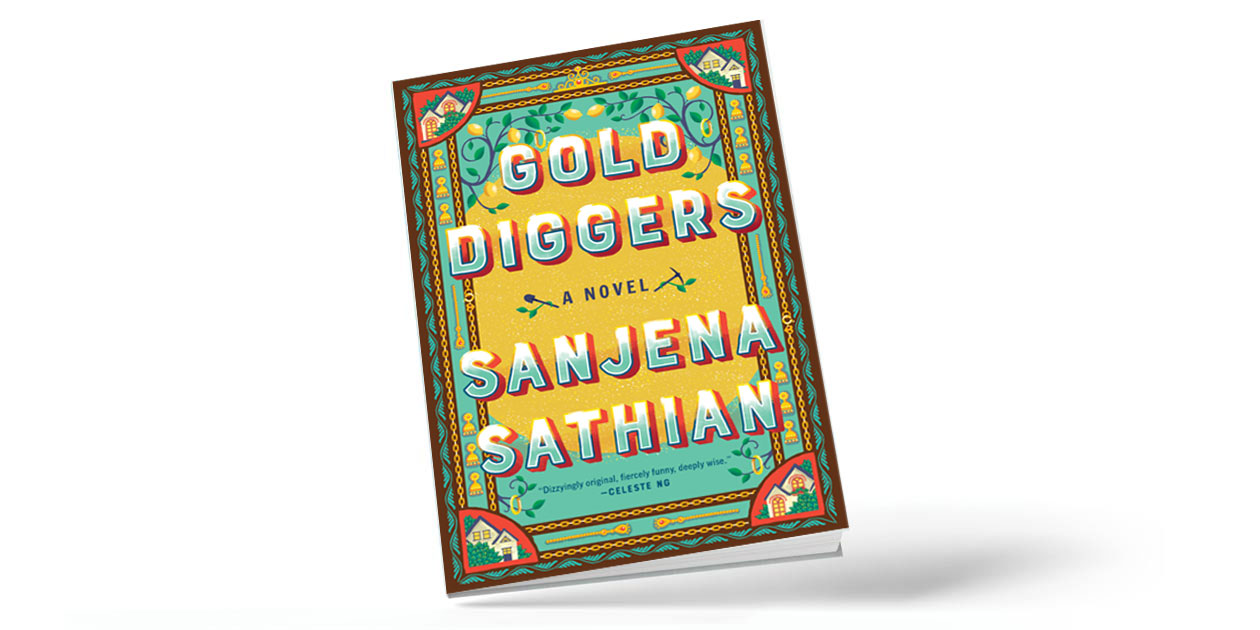 Gold Diggers by Sanjena Sathian (19MFA), Penguin Press, 352 pp. Published April 6, 2021.
Raised in a Georgia suburb as a second-generation immigrant, Sanjena Sathian (19MFA) heard frequent stories of gold theft occurring in Atlanta's middle-class Indian majority neighborhoods. Her mother believed the robberies were aided by community members who knew of the gold's whereabouts. These occurrences sparked the vision for Sathian's debut novel, Gold Diggers, a coming-of-age story blending social satire and magical realism to explore a community's pursuit of the American dream.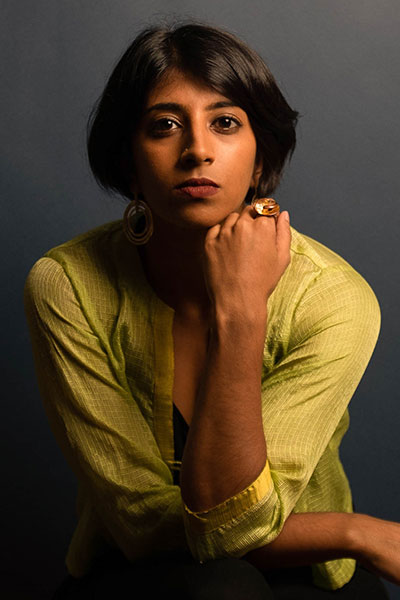 PHOTO: Tony Tulathimutte
Sanjena Sathian
"For years I'd imagined what it might be like for Indians who were part of a community but also sufficiently apart from it," says Sathian. "Feeling like they were pariahs or outsiders that would make them want to steal from others in the community."
Set in a fictional Atlanta suburb, Gold Diggers follows the journeys of Neil Narayan and Anita Dayal. Narayan, an underachiever, learns he's not so different from the aspiring Dayal when he discovers that she's been melting stolen gold to brew an ancient potion that transfers the ambition of the gold's original owner to the drinker. Narayan and Dayal become partners in crime and reunite 10 years later for one final heist.
Mindy Kaling's production company, Kaling International, recently purchased the rights to adapt the critically acclaimed novel for TV. Iowa Magazine recently spoke with Sathian, an Iowa Writers' Workshop graduate, who will serve as a co-writer for the TV adaptation.
What inspired the characters Neil and Anita, and how do you identify with them?
On the outside, a lot of people who knew me in high school would have guessed I was more like Anita. I was pretty intense, super-ambitious, and had a single-mindedness that came from being in a family, a school, and a community where it could feel cutthroat. A lot is staked on a very narrow definition of achievement, like getting into an Ivy League school and getting a good, upwardly mobile job that pays well.
But inside I always felt a lot more like Neil. I felt the pressure of the community I was in. It injured me mentally, and it injured a lot of people I knew emotionally. The inner life I had was the version of me that liked to read and didn't want to be in competition all the time. I gave a lot of those aspects to Neil. I chose to narrate from his perspective because I think that's the more interesting side of me.
What led to the nonrealism elements of this novel?
Salman Rushdie wrote an essay about magic realism and the forces of memory that work in conjunction with migration. He refers to this phrase, "India of the Mind," and talks about how when you're a product of migration, reality itself becomes unstable in your new country. You start to think differently and conjure a picture of the place you come from—and all your experiences and realities become mediated and mutated, and magic and the fantastic can spring up to fill those gaps.
My parents immigrated to the U.S., and I felt like I could see with people their age this need to invent the idea of home, because they left a home and were missing something that never was. Nonrealism has always felt essential to describing the immigrant experience. It's not a separate choice I had to make; those two things are entwined in the subject matter for me.
Though the TV adaptation is in its early stages, what has it meant so far to have Kaling involved in the process?
It was surreal to be told by my agent that we had a phone call scheduled and Mindy was going to be on the call. She has really changed the way South Asian and Asian American women can tell our story. Before her there were so few people who were being funny or daring or irreverent who looked like me on TV. Mindy and [Kaling International president] Jessica Kumai Scott understood that this book is both comedy and drama, and they had a clear emotional connection to it.