Pro wrestling's Big E uses his platform to spotlight groundbreaking Black figures.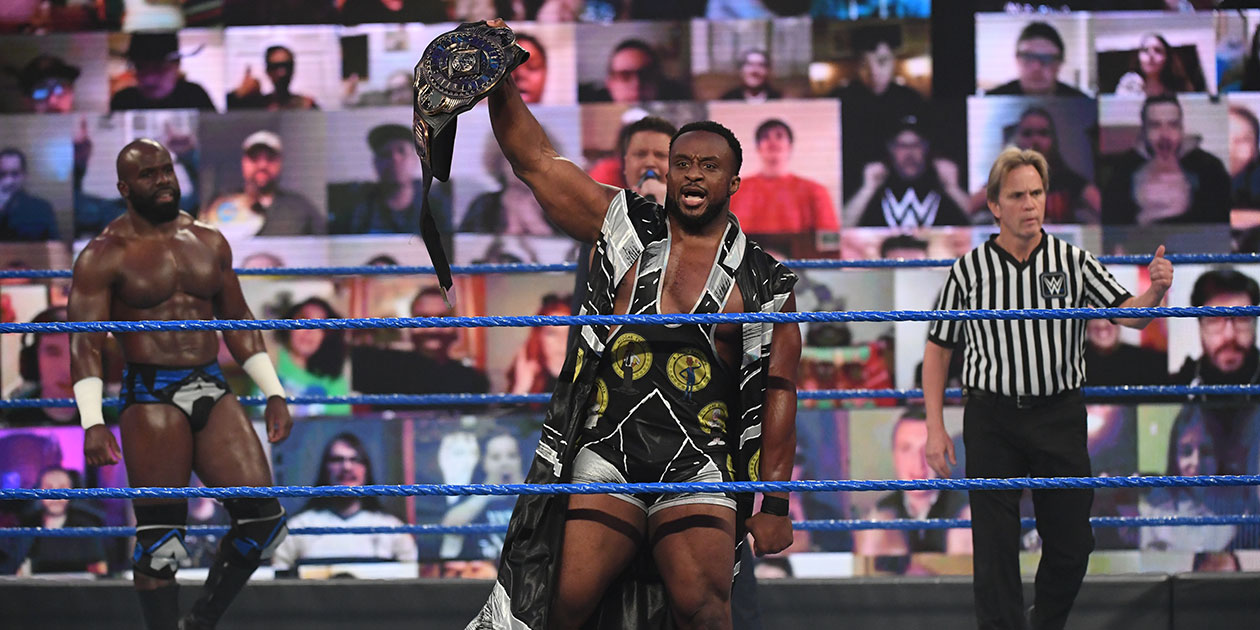 Photo Courtesy WWE
Big E, currently the WWE's Intercontinental Champion, has used his wrestling attire to celebrate historical Black leaders this past year and is developing a new animated show called Our Heroes Rock!
Ettore Ewen (08BA), better known as Big E to millions of professional wrestling fans, has spent his career thrilling crowds around the world with his ebullient charisma and Herculean power. But everything changed this past year for the WWE superstar and former Hawkeye football player. With his usual jet-setting schedule cut to just one TV appearance a week because of the pandemic, Ewen had plenty of time to reflect on events beyond the ring—particularly this past year's national reckoning with racial injustice and inequality.
"The murder of George Floyd was the first death of a person who I'd never met and never known that affected me in a deep and profound way," says Ewen about the 2020 killing of a Minneapolis Black man by police. "I remember having these conversations with my Black friends and family members. It was really this visceral feeling ... Inequality is just so profound because it extends through so many different facets of our country, our laws, our housing, employment. It felt very overwhelming, but I kept thinking I needed to do something."
Following Floyd's killing, Ewen took a knee with his fist raised alongside his tag-team partner on WWE SmackDown. He also used his wrestling attire to highlight the names and images of historical Black figures and sold gear to raise money for the NAACP Legal Defense Fund. But Ewen wanted to take his activism a step further. An idea came to him on one of the long walks he began taking during the pandemic near his Florida home: What if there was a show, similar to Schoolhouse Rock! in the 1970s and '80s, that highlighted those pioneering Black Americans?
Ewen soon teamed up with a group of animators and musicians to develop a new animated series titled Our Heroes Rock!, which they describe as a hip-hop infused tour of Black history with a sci-fi twist. Sparked by a successful Kickstarter campaign that raised more than $100,000 this past spring to fund the pilot episode, the show will feature Big E as the voice of E-TOUR, a robot who guides kids through the futuristic Hall of Heroes and teaches them about Black figures like Ruby Bridges, Medgar Evers, and Ida B. Wells.
Ettore Ewen discusses the production of his new animated project.
Ewen hopes the project will bring new attention to unsung African American heroes beyond Black History Month. "One of the things I love about Schoolhouse Rock! is that years later, people still know the jingles," says Ewen, who has done past voiceover work for Adult Swim's Lazor Wulf and appeared on several Disney and Nickelodeon shows. "That's the beauty of music, especially hip-hop, which is so much a part of the language of our culture, and not just Black culture but American culture. It's such a perfect vehicle to tell these stories to young people and parents who sit down to watch these programs with their kids. It starts with education—letting people know that Black history is American history."
From Kinnick Stadium to WrestleMania
Ewen's road to international stardom can be traced, in part, back to his University of Iowa days, where he grew into a 275-pound Big Ten lineman playing for coach Kirk Ferentz. But that transformation from a mild-mannered college student into the larger-than-life Big E wasn't without its twists and turns.
A Tampa, Florida, native and son of a preacher, Ewen was a state champion high school wrestler known for his superhuman strength, which earned him the Big E nickname from classmates. He didn't play football until his senior year, when he transferred from a prep school without a gridiron team to Wharton High School. As an undersized defensive lineman (Ewen was 5-foot-11, 235 pounds at the time) with no football experience, he drew little recruiting attention that season. One day in 2004, however, Iowa defensive coordinator Phil Parker, then the Hawkeyes' defensive backs coach, was on a visit to Wharton when he noticed Ewen in the weight room knocking out a dozen reps on the bench press of 315 pounds. Parker asked about Ewen, who, coincidentally, was being mentored by Wharton assistant Vincent Davis, a former protégé of then-UI defensive line coach Ron Aiken. When a scholarship came open for the following spring, Ferentz's staff took a chance on Ewen, who had planned to attend the University of Florida on an academic scholarship.
"I hadn't traveled much so I wanted to leave the state and try something new," recalls Ewen. "As soon as I got interest from Iowa, it felt right. Things in many ways were lined up for me—whether you call it fate, or God, or the universe."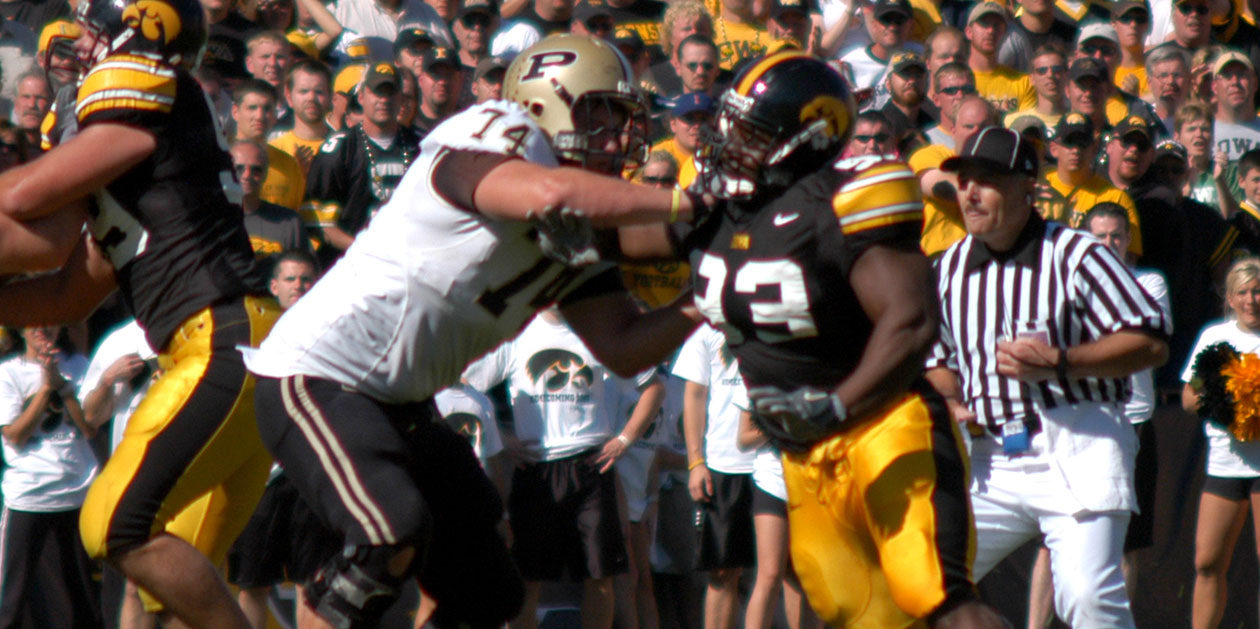 Photo: University of Iowa Athletics
Ettore Ewen, right, lettered for the Hawkeyes in 2006, but ultimately had his football career cut short by injuries.
Fate, however, took a heel turn for Ewen at Iowa, where a string of devastating injuries derailed his promising football career. Ewen tore his ACL in practice ahead of his freshman season, then tore his other ACL during preseason camp the following year. If that wasn't enough, he also suffered a torn pectoral muscle and broke his patella. Ewen lettered in 2006, when he saw action in 11 games and recorded 14 tackles, but his Hawkeye career was otherwise short-lived.
The physical setbacks didn't keep Ewen from succeeding academically. Ewen earned a degree in health and sports studies and particularly relished the electives he took studying African American literature. "Those were some of my favorite classes because I really enjoyed learning about Black art and culture," he says. "For me, it's something I've always been interested in, but at times, it is painful to delve into the history of Black people in this country."
Ewen was in graduate school at Iowa when some serendipitous Hawkeye networking introduced him to the WWE. As Ewen tells it, longtime Iowa wrestling supporter Mike Doughty was on a flight sitting next to former WWE announcer Jim Ross, who asked if any former Hawkeyes would be interested in pro wrestling. Doughty was friends with former Hawkeye linebacker and NFL player Mike Humpal (07BA), who had just the right teammate in mind for the WWE.
"I always tell people that if you asked me to list 300 jobs at the age of 22 of things I wanted to be, as much as I loved pro wrestling as a kid, I wouldn't have put it on that list," Ewen says. "But I felt this big void when I was done playing football. I had this itch that I wanted to do more. If I had the opportunity to finish out my career or even have a cup of coffee in the NFL, maybe that would have been enough to satisfy me."
Hawkeye Work Ethic Fuels WWE Rise
Embracing the unexpected opportunity, Ewen joined the WWE's developmental division in 2009, and by 2012, he had worked his way up to the main roster under the moniker Big E Langston. With his booming voice, preacher's delivery, and fun-loving ring persona, Ewen became a fan favorite and one of pro wrestling's biggest names. Big E won the Intercontinental Championship in 2013 and teamed up with stars Kofi Kingston and Xavier Woods to form The New Day, which has claimed multiple tag team championships. This past winter, Big E reclaimed the Intercontinental belt in a lumberjack match on SmackDown!
While Ewen is known for his energetic and free-spirited wrestling persona, outside the ring he's a self-described introvert. "I live alone, and I like my alone time," he says. "I'm pretty quiet and docile in my off time. But there's something about performing for people and knowing you're the reason they smile and laugh—it's something I really enjoy and find fulfilling."
Watch some of Big E's most memorable moments in the ring.
Beyond the long hours Ewen logged in the Hawkeye weight room, the work ethic instilled in him by Iowa's coaches helped prepare him for the rigors of pro wrestling. "Doing things the right way is a big part of being a football player at Iowa," Ewen says. "Not cutting corners, doing the work every single day, and not expecting a pat on the back or an 'attaboy.' That blue-collar, lunch-pail attitude was a big part of what I learned playing football at Iowa."
Ewen still considers Iowa City a second home, and he keeps in touch with several former teammates, including college roommates Mike Sabers (08BA, 19MA), Lucas Cox, and Rashad Dunn (08BA). "Those guys and the bonds we built—we lived together, went to classes together, went to training table together—we spent so much of our lives together," says Ewen. "I love those three men, and that's a gift I'm thankful for."
Gratitude is a common theme for Ewen when he gives interviews. Gratitude for the coaches and mentors who took a chance on him. Gratitude for the Hawkeye alumni who connected him with the WWE. And gratitude for the Black leaders who came before him.
Now, he hopes to use his platform to make a difference, beginning with the Our Heroes Rock! project. "You don't make it on your own," Ewen says. "I had so many people give blessings to me on the way. I'm extremely fortunate at 35 to be doing something I truly love doing, and I now feel it's my obligation to give back and be a blessing to others."