The Hawkeye sports legend helps a young wrestler win state.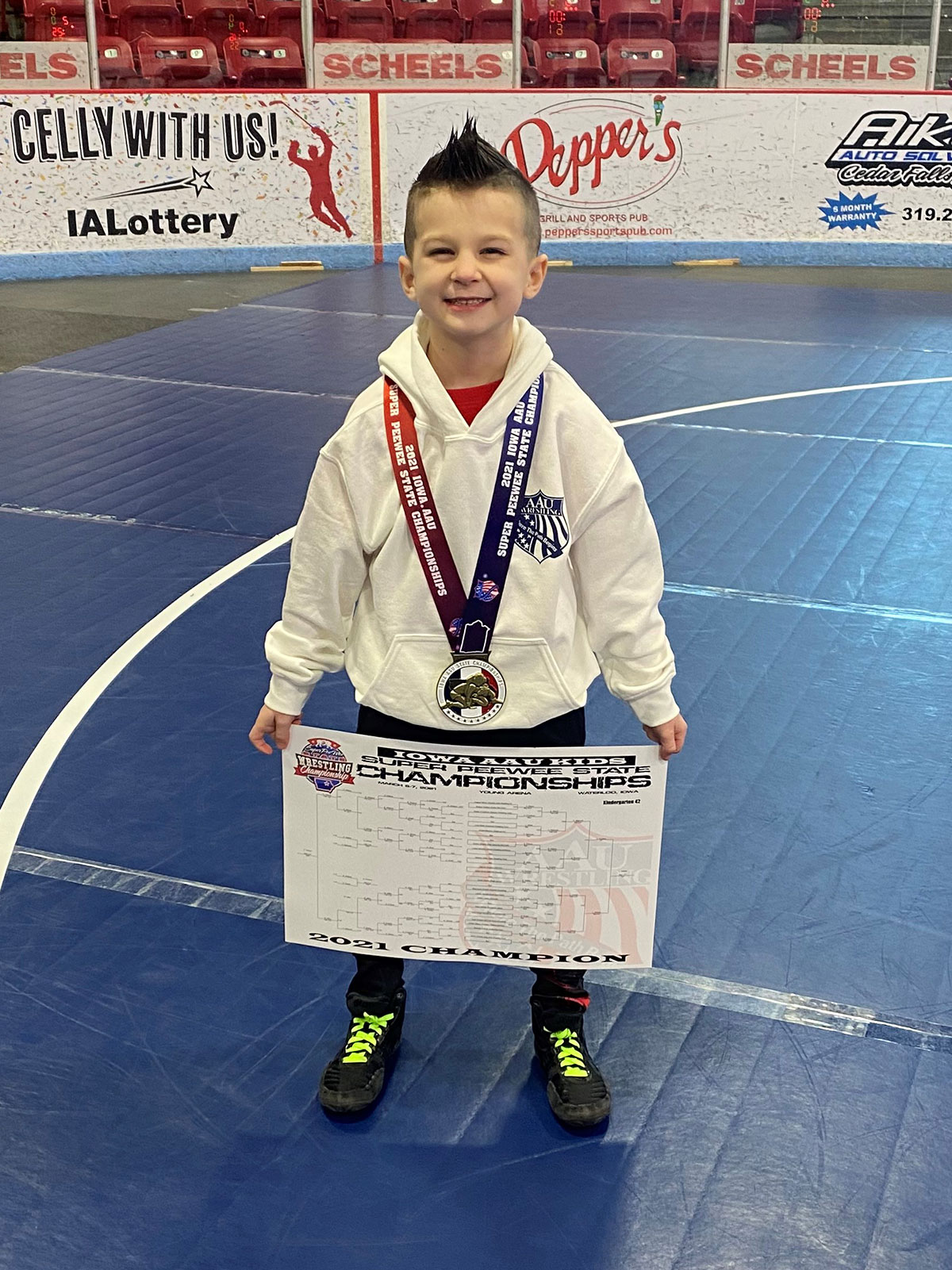 PHOTO: EMILY SCHADT
After a pep talk from former Hawkeye wrestling coach Dan Gable, 6 1/2 year-old Landyn Schadt won first place in the Iowa AAU Super Pee Wee State Wrestling Championship.
Dan Gable doesn't believe in luck.
So, when Gable was asked to encourage a young Iowa wrestler watching him this past March on the University of Iowa's virtual talk show, Chat from the Old Cap, Gable didn't wish him good luck. Instead, the Olympic gold medalist and former Hawkeye wrestling coach told the boy to "do well."
Blue Grass, Iowa, kindergartener Landyn Schadt got the message and placed first at the AAU Super Pee Wee State Wrestling Championship later that month in Gable's hometown of Waterloo. "Gable's message helped Landyn know that if he works hard, he can do anything he wants," says Landyn's mom, Emily. "He had someone tell him good luck before one of his matches, and he told them he didn't need luck; he was just going to do well."
More than 400 Hawkeye fans joined Landyn on the largest-ever online Chat from the Old Cap, which featured Gable sharing memories and stories from his time at the University of Iowa. Standout Iowa wrestlers Lou Banach (83BGS) and Mike DeAnna (81BBA) co-hosted the event.
During the conversation, Gable emphasized the importance of attitude in wrestling—advice that Landyn took to heart. Said Gable: "When you develop that mental edge, you have a bigger chance of winning before you even step foot on that mat."
---
Landyn Schadt shares his wrestling journey and what Dan Gable's encouragement meant to him.