How a call from Sarah Jessica Parker helped launch an Iowa Writers' Workshop grad's debut novel to the bestseller list.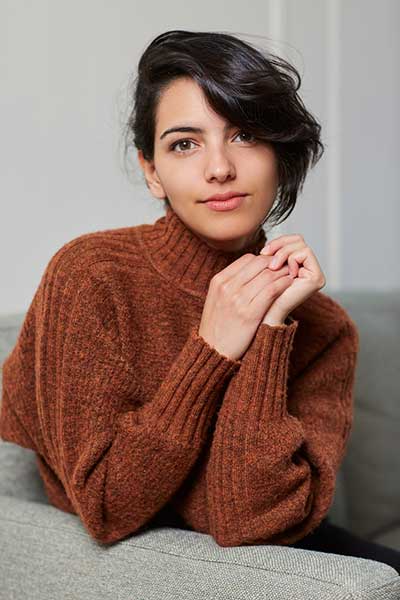 Fatima Farheen Mirza
Fatima Farheen Mirza (15MFA) had just stepped off a New York City subway when her phone rang. She ducked into a crowded McDonald's and heard a familiar—yet unexpected—voice on the line.
It was actress Sarah Jessica Parker, and she was eager to talk with the young writer. Parker had acquired the rights to Mirza's debut novel, which would be the inaugural title for her new line of books, SJP for Hogarth, a part of the Crown Publishing Group.
Mirza began her novel, A Place for Us, eight years prior as a freshman at the University of California-Riverside. Then a pre-med student, Mirza took a creative writing class in which she developed several characters during a weekly writing prompt exercise. She soon realized her characters were related, and she began crafting a larger story about an Indian-Muslim family and its three siblings, who are caught between cultures when they reunite for a wedding in California. Mirza dove headlong into writing and ultimately found herself at the Iowa Writers' Workshop, where she was able to devote herself to her novel.
When Mirza's agent sent out the manuscript in 2017, it landed on the desk of Parker, a literature lover who had recently launched a new book club through the American Library Association. "She captures your mind and heart with an urgency that defies you to stop reading," Parker says of Mirza. "I guarantee you will be different when you close the book."
In fall 2017, Iowa Magazine interviewed Mirza about her debut novel.
What was that phone call like with Sarah Jessica Parker?
She said, "Hello, is this Fatima?" And my first reaction was, "Oh my God, I recognize your voice from my childhood." From there we had a very thoughtful and generous conversation about what she responded to in the book. I knew then that it had found the right hands and home. It had been important for me to feel that the publishers understood what I considered the heart of the book.
What is at the heart of the book?
One of the themes is the individuality of faith. Because the parents of the family are religious, the novel explores the ways we approach faith as a group, and how that is sometimes at odds with how it is experienced as an individual.
The parents want their children to uphold the same culture and faith that they grew up with, and each child absorbs or rejects that in their own way. Whether they choose or deny the path their family wanted for them, it affects their relationship with everyone else in their family, as well as their own destinies.
What's it like to see your book finally taking shape after your time at Iowa?
It's been an extremely moving experience. I remember exactly where I was when I wrote certain sentences. Just yesterday I returned to a sentence and thought, "I was in Prairie Lights when I wrote that." Or, "I was still an undergrad when wrote that; I should probably cut it."
My teachers at Iowa were such wonderful mentors. I worked with Sam Chang (93MFA), Marilynne Robinson (17LHD), Ethan Canin (84MFA)—their teaching styles and approach to fiction really complemented each other. It was a magical time. I really miss it.