Health care workers, public health experts, and researchers spearhead latest pandemic responses.
PHOTO: SUSAN McCLELLEN
After his COVID-19 vaccination late last year, UI Health Care nurse David Conway told the press, "It was fast, it was painless, and it's the right thing to do."
HEALTH CARE
A Shot of Hope
On Dec. 14, David Conway, an emergency department nurse with University of Iowa Health Care, gave a thumbs up after becoming the first person in the state of Iowa to receive the Pfizer-BioNTech vaccine against COVID-19.
The vaccine was authorized for emergency use by the Food and Drug Administration on Dec. 11 and prioritized by the Centers for Disease Control and Prevention for health care workers and residents of long-term care facilities. Shortly after, on Dec. 22, UI Health Care received its first shipment of the Moderna vaccine.
These milestones were especially meaningful to UI Health Care researchers, who played a role in testing the Pfizer-BioNTech vaccine during clinical trials. Suresh Gunasekaran, chief executive officer of UI Hospitals & Clinics and associate vice president of UI Health Care, said of the start of vaccinations: "This is a historic moment to change the course of the pandemic, and we are proud of our role as leaders in this process." —JENNIFER BROWN
---
PHARMACY
Pharmacy Students Aid Vaccination Effort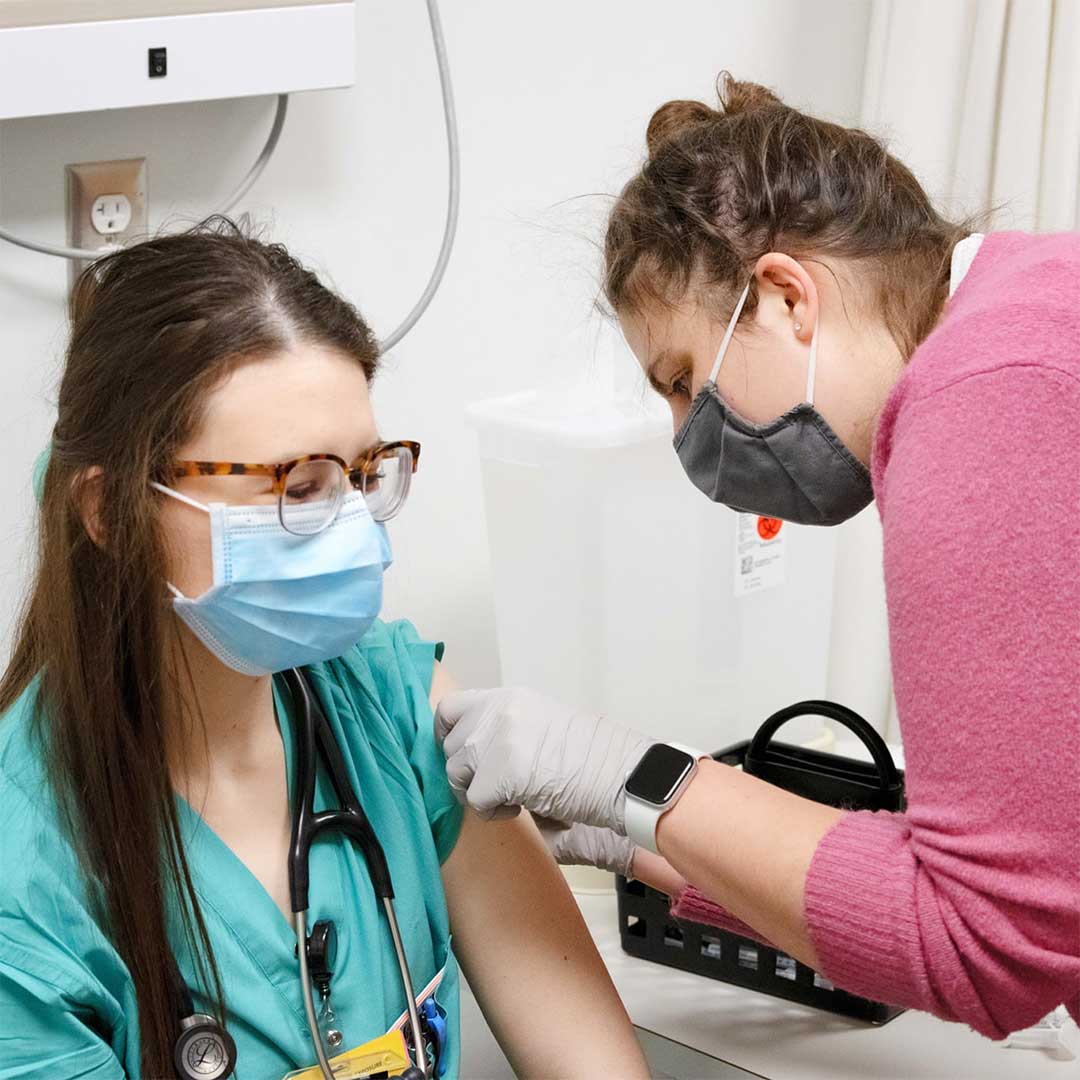 PHOTO COURTESY UI COLLEGE OF PHARMACY
P4 student Jaelyn Pulkrabek administers the COVID vaccine to University of Iowa College of Nursing and Carver College of Medicine students.
As community pharmacists move to vaccinate the state and nation against the COVID-19 virus, University of Iowa College of Pharmacy faculty, graduate students, residents, and alumni are helping lead the charge.
Earlier this year, UI College of Pharmacy students administered COVID-19 vaccines to frontline workers while on experiential rotations and internships in health care settings throughout the region. Multiple pharmacies have contacted the college for more coordinated assistance as the vaccine becomes available to the public-at-large.
All students issuing immunizations receive thorough training and certification through the college. Laura Knockel (05PharmD, 06R), the clinical assistant pharmacy professor who oversees the training, says, "The workload in these pharmacies is already extremely high, and our students can take some of the burden off our pharmacists and technicians on the frontlines through administering vaccinations. I think they will be an integral part to win this fight against COVID-19." —SHELBI THOMAS
---
PUBLIC HEALTH
UI Experts Help State Make Vaccine Decisions
The Iowa Department of Public Health selected four University of Iowa experts to serve on its Infectious Disease Advisory Council. The council, which brings together more than 20 experts from across Iowa, assists the state in developing COVID-19 vaccine distribution guidance and prioritization of populations for early in the response when vaccine supply will be limited.

PHOTOS: OFFICE OF STRATEGIC COMMUNICATION
The UI experts named to the council include (from left to right above):
Brooks Jackson, vice president for medical affairs and dean of the Roy J. and Lucille A. Carver College of Medicine
Edith Parker, dean of the UI College of Public Health
Jorge Salinas, infectious disease specialist in UI Hospitals & Clinics
Lauris Kaldjian, bioethicist in UI Hospitals & Clinics
---
PATIENT CARE
Nurse Recalls Toughest Moment of COVID-19 Crisis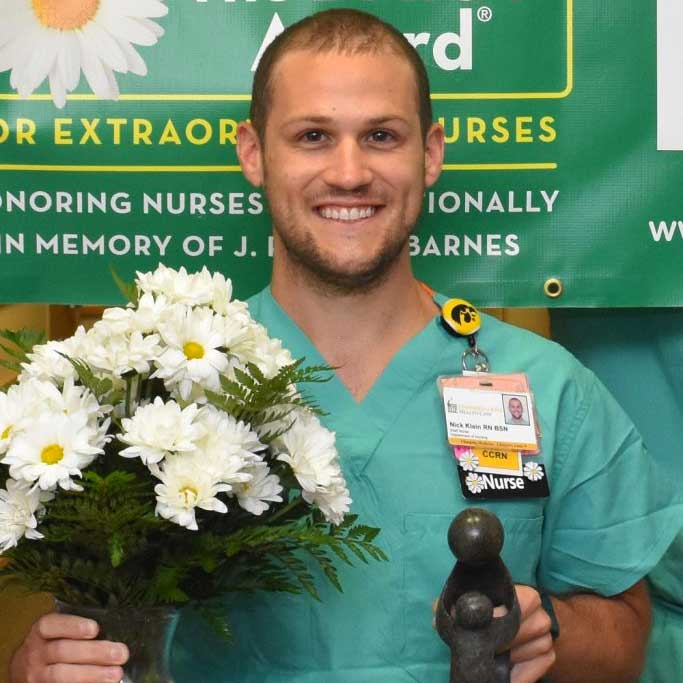 PHOTO COURTESY UI HEALTH CARE
Nicholas Klein
Early in the pandemic, in the quiet minutes just after midnight, University of Iowa Hospitals & Clinics registered nurse Nicholas Klein sat beside a bed and squeezed the hand of a patient with COVID-19 in the Medical Intensive Care Unit.
"He was actually the same age as my mom," says Klein. "I kept thinking to myself, what if it was my mom or another family member? I couldn't imagine them passing away alone."
In the patient's final moments, Klein held a phone up to the man's ear so he could hear the voices of loved ones unable to hold him or kiss him one last time. Klein made the decision to stay with the patient and hold his hand until the end.
"I stayed in the room with him because it broke my heart," Klein says. "At the end, he suddenly opened his eyes and looked at me as I sat beside him, me all gowned up and with gloves and with a full face shield so that he could only see my eyes. I told him, 'It's okay. Your family loves you very much.' He nodded and closed his eyes. As I squeezed his hand one more time, he took his last breath."
The patient died at 12:10 a.m. "I sat there for a while after that and grieved about everything," Klein says. "It was the toughest moment in my nursing career."
While Klein was sitting beside his patient, colleagues took over his other responsibilities and brought him supplies, with everyone understanding compassion should be the highest priority.
"Our nurses learn to carry each other, whether we pick up physical tasks when a nurse is busy or we help each other when our emotions just get too hard," says Caitlin Cross, the charge nurse for the MICU. "We go through things together that our families at home will never understand and most of the time will never hear about." —CRYSTAL HARDINGER AND STEPHANIE STEMMLER
---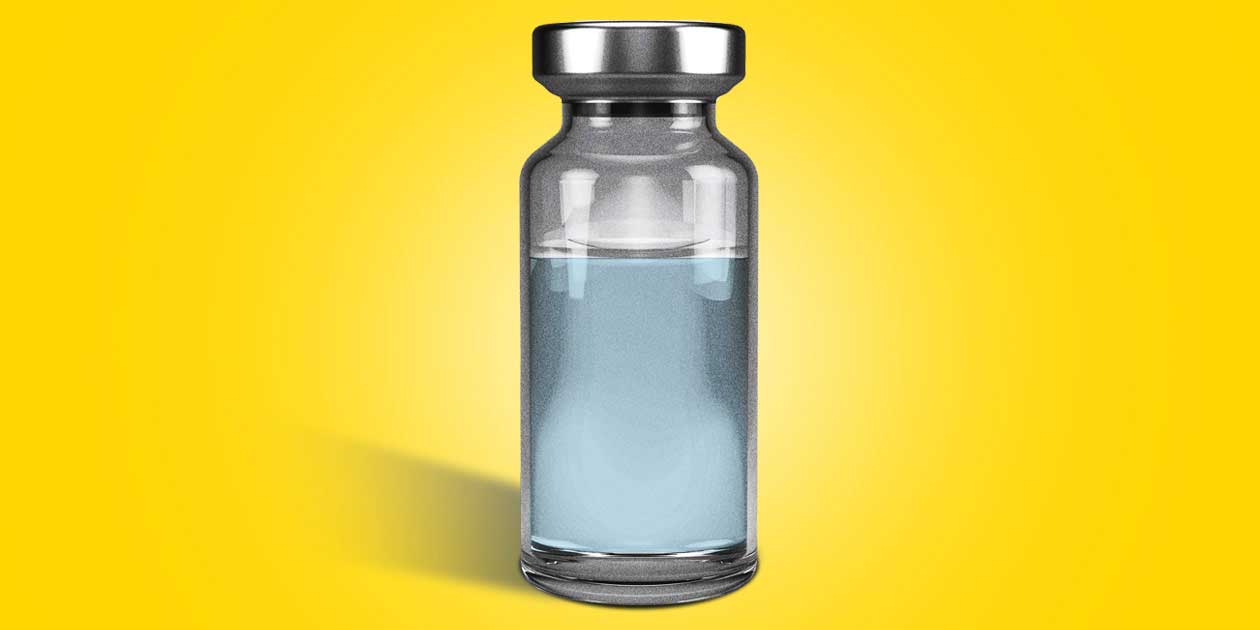 RESEARCH
UI Conducts Novavax Vaccine Clinical Trial
UI Health Care experts are again lending their expertise in clinical research to participate in a COVID-19 vaccine trial, this time a Phase 3 trial for a vaccine made by Novavax.
The multi-site clinical trial—which aims to enroll 30,000 participants—will further validate the safety and efficacy of the vaccine against COVID-19. The UI site started vaccinations Jan. 4 and plan to enroll about 250 participants.
Although some vaccines have already been authorized for emergency use by the FDA and are being used across the country, additional vaccines continue to be tested. "Different types of vaccines are helpful because certain people might respond better to one type of vaccine than another," says Patricia Winokur (88R, 91F), a physician, executive dean of the Roy J. and Lucille A. Carver College of Medicine, and principal investigator for the UI trial site for the Novavax vaccine. Winokur also led the UI site for the clinical trial of the Pfizer-BioNTech vaccine. —JENNIFER BROWN