Academy Award-winning director Don Hall (91BFA) creates one of the first animated features developed remotely during the pandemic.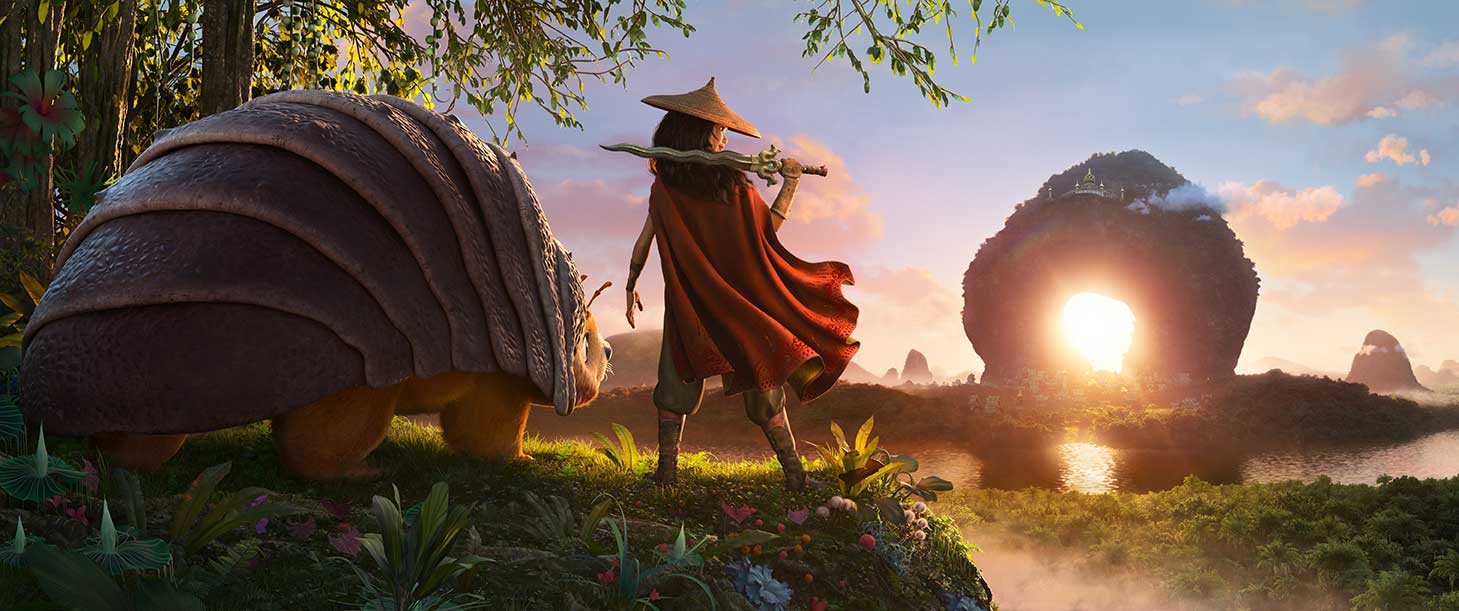 © 2020 DISNEY. ALL RIGHTS RESERVED.
In Disney's latest animated feature, warrior Raya and her trusty steed Tuk Tuk go on an adventure to find the last dragon.
As a director at Walt Disney Animation Studios, Don Hall (91BFA) is ready to step in whenever a project needs help. The Academy Award winner and University of Iowa art graduate was developing another film in November 2019 when he and Carlos López Estrada were named the new directors of Disney's latest computer-animated movie, Raya and the Last Dragon. Despite a tight turnaround date, the real challenge came a few months later when the COVID-19 pandemic forced Hall and 450 colleagues to complete the film remotely.
ALL HANDS ON DECK
Raya and the Last Dragon, which premieres Friday, March 5, in theaters and on Disney+, was several years into production when Hall came on board.
The film follows lone warrior Raya, who seeks to defeat evil forces and restore harmony in the fictional kingdom of Kumandra with the help of a magical dragon. The ancient world of Kumandra has fractured into five distinct lands and faces the additional pressure of a looming existential threat.
The Southeast Asia-inspired fantasy film had a strong foundation with rich characters and setting but needed further organization and story development, something Hall had previous experience in through his work on movies like Big Hero 6 and Moana. "It's not uncommon, and it's actually one of the strengths of Disney Animation," says Hall of the all-hands-on-deck approach. "I always equate it to the scene in Witness where everyone drops what they're doing and comes together for a day to build a barn. That's sort of what we do and that was the story of this movie."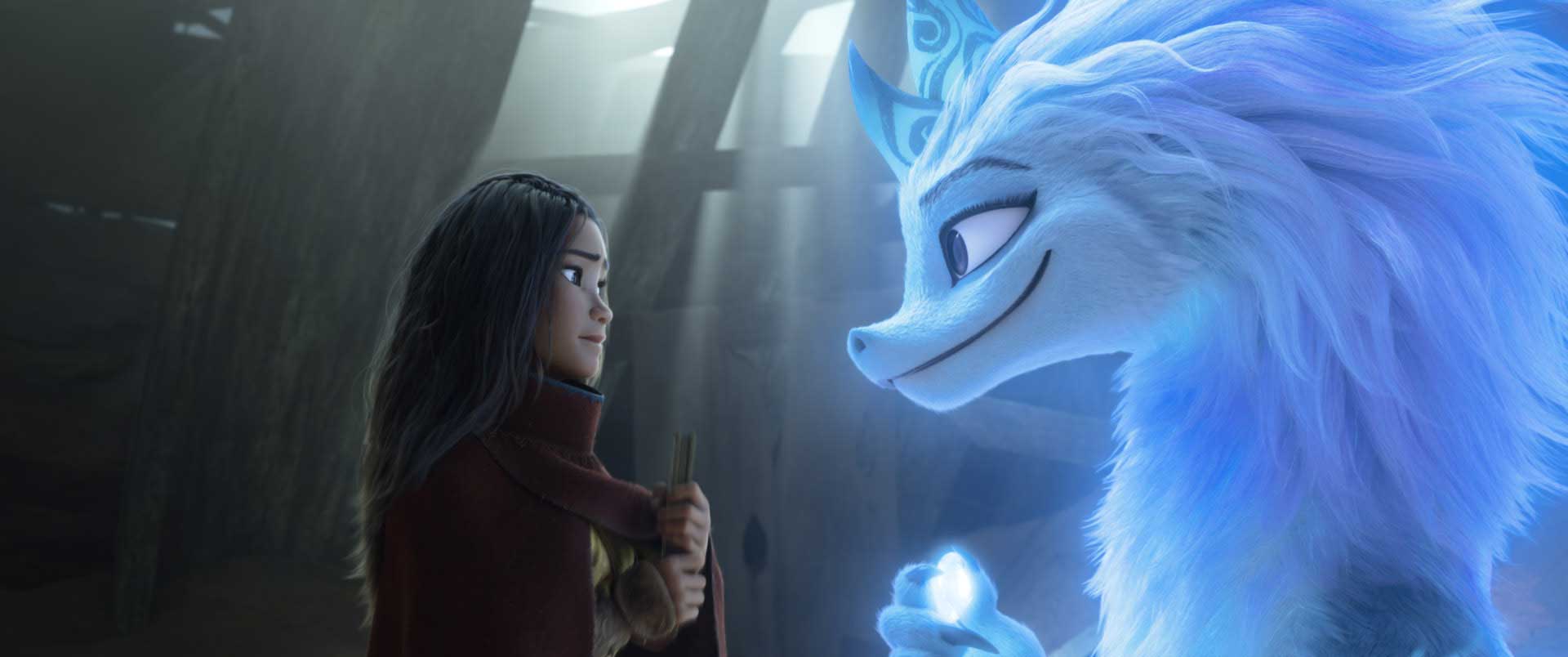 © 2020 DISNEY. ALL RIGHTS RESERVED.
Raya seeks the help of the legendary dragon, Sisu. Featuring Kelly Marie Tran as the voice of Raya and Awkwafina as the voice of Sisu, Raya and the Last Dragon will be in theaters and on Disney+ with Premier Access on March 5.
TIMELY MESSAGE
Hall and Estrada's priority was creating a cohesive theme for the film. Assisted by writers Qui Nguyen and Adele Lim, they determined a theme centered on trust—that could be debated from two sides—would bind everything together. "The debate is: in a broken world, you can't trust anyone vs. the world is broken because you don't trust anyone," says Hall. "We were aware that it was somewhat relevant when we started down the path in November 2019, but we had no idea it would become increasingly more relevant."
SCENE CHANGE
In February 2020, the pandemic forced Hall and his colleagues to work from home indefinitely. Within two weeks, Disney's technology team equipped everyone with the same high-level functionality they accessed in the office as Hall and his colleagues adjusted to days filled with Zoom meetings. With only a couple animation shots finished before lockdown, 90% of the film's production, including animation and cinematography, was completed remotely. "It's a truly extraordinary feat," says Hall. "The real heroes were our people in technology who got everyone set up to work at home seamlessly."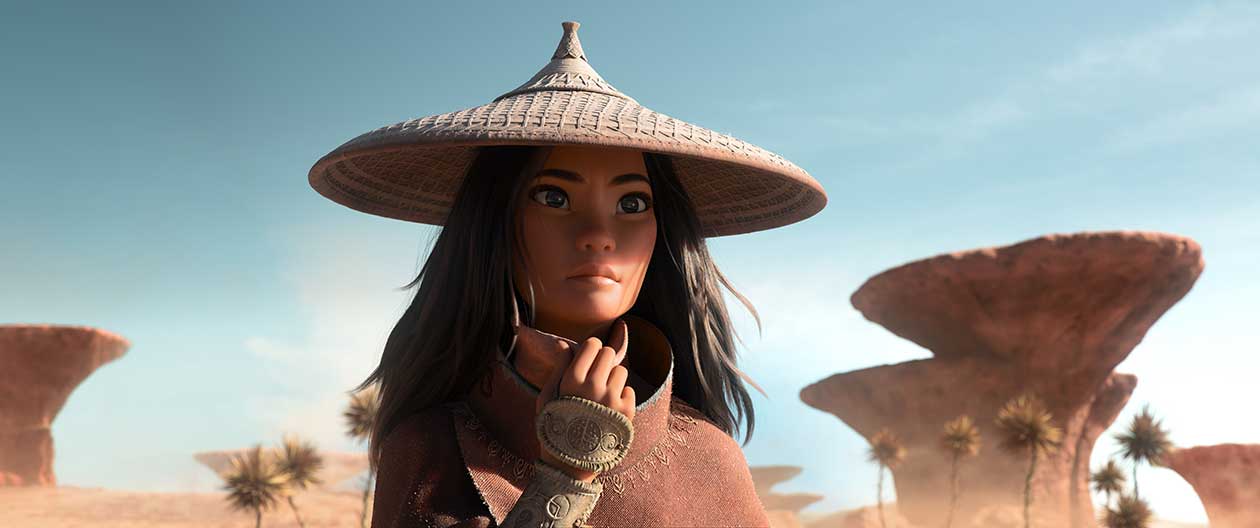 © 2020 DISNEY. ALL RIGHTS RESERVED.
Lone warrior Raya is the first Southeast Asian princess in a Disney Animation film.
Despite the technological hurdles and the lack of casual conversations that typically spur ideas within the Disney Animation office, Hall says the final product is some of the best work they've done in terms of animation and cinematography. Hall recently returned to the film he was developing before Raya and the Last Dragon and is also revisiting his favorite character he's ever worked on, Baymax from his Academy Award-winning Big Hero 6, for a short series headed to Disney+ later this year or in early 2022. Revisiting the beloved character is just another example of the unexpected turns he's experienced at Disney Animation. Says Hall: "Again, you go into these things with a vague notion of what they could be—and then they turn into something you never could have foreseen."
---
Q & A with Don Hall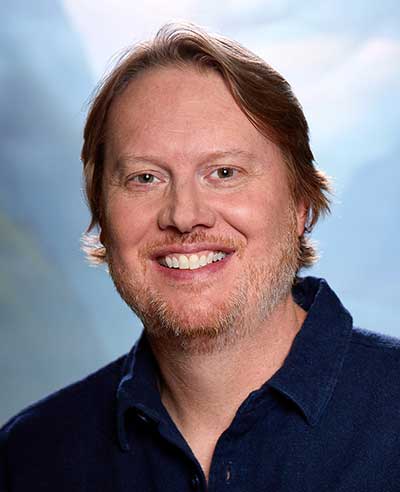 Photo: Walt Disney Animation Studios
In November 2019, Academy Award winner Don Hall came on board as one of the new directors for Raya and the Last Dragon.
What were the main challenges of directing Raya and the Last Dragon remotely?
Zoom fatigue is real. We learned that we couldn't work quite as long of a day as we could back in the building because of the intense focus and trying to collaborate via Zoom. Somehow it fatigued us more. But there were some efficiencies as well, whether it was the lack of commute time or being able to focus on your own time. Productivity on its own was at levels I don't think we've ever achieved. It's a testament to the passion, talent, and mastery of everyone at Disney Animation that they were able to do this almost seamlessly.
What did you miss most about not working in the office with your colleagues for this film?
As directors, we're roaming a lot between meetings with story artists, editors, and animators at different parts of the building so there's a lot of variety. Our building has this central feature we call the "caffeine patch," which has an amazing barista and was named after an invention in Meet the Robinsons. It's a great hangout and part of the building where you bump into people and have casual conversations. You just can't do that with Zoom. That's the big thing we all miss—being in the same building together and being around each other.
How did the crew's travels to several Southeast Asian countries inform the making of this film?
It was foundational. Unfortunately, Carlos and I didn't get to go because we came on after. The great thing about those trips is not only are you taking a lot of pictures and immersing yourself in the culture, you're also building relationships with people who will become your key collaborators for the film. The Southeast Asia Story Trust was instrumental in the whole process. We showed them everything—drawings of swords, costume details, character design, and story reels. They had input on the story and even the animated scenes. They were key collaborators on this film, and I can't imagine doing it without them.
Raya is the first Southeast Asian princess in a Disney Animation film. Why was it important to tell a story through this breakthrough character?
For Disney films, there's such a big audience and we have such a big voice. We never take that for granted—and representation matters. When people see themselves on-screen on a big canvas, it has a profound effect and that really fuels us to get it right. That's why we put so much rigor and effort into building those relationships with people from the culture. When you get it right, it has a profound effect on the community.
Why was Kelly Marie Tran chosen to voice Raya?
There could have been a version of this character that was a little dark, mysterious, and severe because she does experience trauma at a young age and becomes a lone warrior. We wanted to supplement that side of her with some buoyancy, lightness, and humor. Kelly was perfect because she has a background in comedy and has that lightness and buoyancy. Her improv background is something we always look for because it provides spontaneity in the recording room. We knew she was an accomplished actor, but what we didn't anticipate was her ability to access these deep emotions. In our first recording session, she asked if she could try something for this confessional scene. She improvised this confessional that got to the deepest, most sincere part of Raya and what she's going through in that moment. It was beautiful and left us in tears. That cemented in our minds that she was Raya and Raya was Kelly.