After the pandemic cut last season short, the Iowa All-American returns with his eyes fixed on a national title and Olympic medal.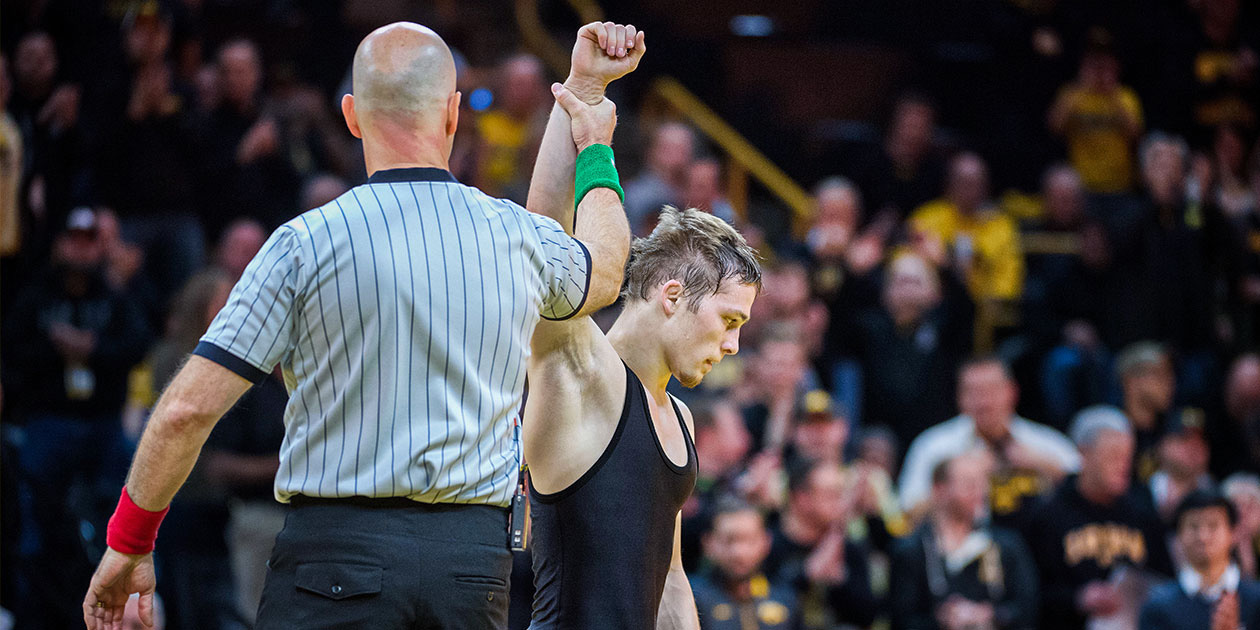 PHOTO: JUSTIN TORNER/UI OFFICE OF STRATEGIC COMMUNICATIONS
Spencer Lee, a two-time national champion, hopes to help the top-ranked Iowa wrestling team claim its first NCAA team championship since 2010.
2020 was supposed to be a year to remember for University of Iowa wrestler Spencer Lee.
Lee, a sport and recreation management major from Murrysville, Pennsylvania, sought his third NCAA title at 125 pounds and a spot on the 2020 U.S. Olympic team. But, the COVID-19 pandemic canceled the national championships and postponed the Summer Olympics to 2021.
"Last year, I had these big plans," says Lee, who last season became the third Hawkeye to receive the Hodge Trophy, given to the nation's best wrestler. "Now this is the year. This could be a life-changing year for me."
This past fall, the NCAA granted an extra year of eligibility for all winter sport student-athletes, which gives Lee the opportunity to become the first Iowa wrestler to win four national championships. Lee also plans to help the Hawkeyes claim their first NCAA team title since 2010 and 24th national championship.
Iowa Magazine recently spoke with Lee about his time at Iowa and how he fits into its rich wrestling tradition.
You have accomplished a lot as an Iowa wrestler. What's one moment that stands out?
Our Penn State dual last year was my first time competing in front of a sold-out crowd at Carver-Hawkeye Arena. Penn State came in winning eight national titles over the last 10 years. It was great to beat them at home, and it was fun competing at Carver last year.
Do you see any comparisons between yourself and any of the great competitors in the UI's storied history?
I don't think there is anyone who has wrestled quite like me, but my coaches—Tom Brands (92BS) and Terry Brands (92BGS)—always compare me to Lincoln McIlravy (98BS). I don't wrestle anything like him. He was very slick and moved differently, and I'm much more basic. But the way we each wrestle was something they hadn't seen—our body awareness, reaction time, and explosiveness. They call it a freaky feel.
Are you superstitious?
I am very routine oriented. I do the same thing almost every day, and I do that for match days as well. I eat the same things and wear the same clothes. For example, when I wrestle in Carver-Hawkeye Arena, I always wear pajama pants.
You wrote down your wrestling goals when you were 9 years old, and you still have that list. What's on the list, and what's left to achieve?
There are four goals on that that piece of paper—four-time undefeated high school state champion, four-time undefeated NCAA champion, world champion, and Olympic champion. The piece of paper is in a binder that my mom keeps, which includes any article or picture she's ever seen of me.
You have a chance to become the seventh Iowa wrestler to win three NCAA titles, and with your extra year of eligibility, you could win four—something no Hawkeye has done. Do you think about your legacy at Iowa?
I don't care about legacy, but it will be huge if I'm able to put myself with some of the big names of Iowa wrestling. There are so many names I could mention, and I see their names every day when I look at the wall [in our practice space]. If I can get four national titles, I don't know if I would say I'm the best Iowa wrestler ever. It's all relative. It would be amazing and a first for Iowa. I just hope I can pave the way for the next Iowa wrestler to achieve it.
When your Iowa career is done, how do you hope you're remembered?
I hope I'm remembered as someone who is crazy about his teammates—cheering loudly in the corner after he competes—and someone who wrestled hard every match, no matter who it was.
Iowa wrestling is currently fundraising for a new training complex through the Carver Circle campaign. What will this facility mean for the program?
Carver-Hawkeye Arena is an awesome facility, but this [new training complex] will make it even better. It's an arms race right now with the big-name programs. [The new facility] is something I won't have during my collegiate career, but I'm planning on being here for a while and competing with the Hawkeye Wrestling Club. This is something that will be great for recruiting.