A University of Iowa Athletic Hall of Fame nomination renews recognition for Frank "Kinney" Holbrook, the university's first African American football player.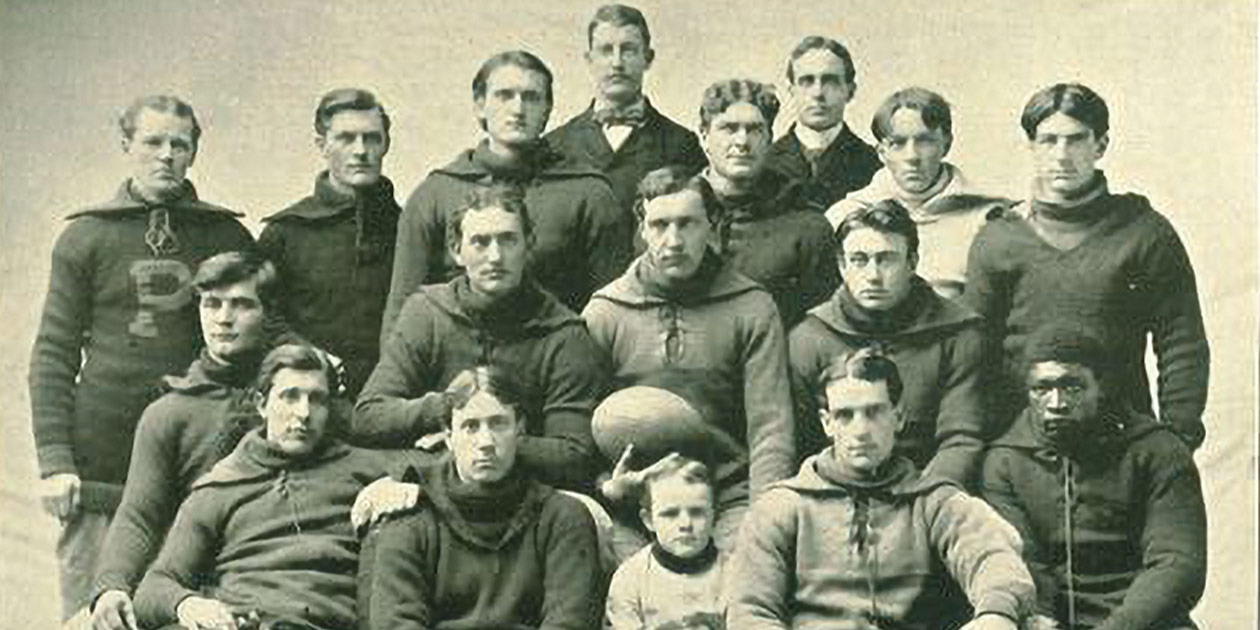 PHOTO: 1898 HAWKEYE YEARBOOK
Portrait of the 1896 Hawkeye football team, featuring Frank "Kinney" Holbrook (first row, far right), the university's first African American football player
Frank "Kinney" Holbrook was born in the 1870s in Tipton, Iowa, the son of a former slave and the only child of Frank and Pinkey Holbrook.
As a freshman entering the State University of Iowa in fall 1895, the younger Holbrook became the university's first African American football player, and among the first in the nation. His timing couldn't have been worse, though: SUI's football program, entering its seventh season, was facing closure due to a lack of funds and, consequently, the lack of a coach. Iowa posted a 2-5 record that season.
The next season—Holbrook's sophomore year at SUI—proved far more successful under the leadership of newly hired coach A.E. Bull. Holbrook, nicknamed "Kinney" by his teammates, switched positions to halfback and carried the ball on crucial fourth-down plays. The 1896 season ended at 7-1-1 for Iowa, thanks in large part to Holbrook's efforts. Iowa outscored its opponents by a combined 132-12.
As a Black man, Holbrook was at times a target of opposing players on account of his race. This ugly reality was no starker than on Nov. 9, 1896, when the Hawkeyes traveled to the University of Missouri. At Columbia, hostile fans yelled threats and racial epithets at Iowa's star halfback, as recounted in the next day's Vidette-Reporter—the forerunner to The Daily Iowan.
"The line of demarcation between the students and hoodlums could not be drawn," the article, "Shameful Treatment of Holbrook by the Missourians," read. "Evidently from the concern depicted on their faces, and from their expressions of regret, there were some students who deplored the [racist] situation but they seemed to be so in the minority that their expressions were very feeble, and none made the least effort to quiet the crowd."
Despite the Missouri fans' threats of violence, Iowa prevailed 12-0, on two touchdowns, including one by Holbrook. Iowa would not play Missouri again for six years. Holbrook finished his sophomore—and final—year at Iowa with 12 touchdowns.
Holbrook completed two years of study at Iowa and did not graduate. At that time, many students left college early for financial or family obligations. Relentless racism and discrimination may have caused his departure. His brief career on the gridiron, however, was brilliant and memorable as one of collegiate football's first student-athletes to break the color barrier. In 1895, doing so was nothing short of a daunting and dangerous step, taken with great courage and grace.
A blacksmith by trade, Holbrook returned to Tipton but moved away in 1900, first to Muscatine, later to Omaha, and eventually settling in the Los Angeles area. His last known address was Sierra Madre, California, in 1913. He died Oct. 29, 1916, following a heart attack.
Efforts are underway to ensure Holbrook's memory. In 2010, Holbrook was elected to the Cedar County, Iowa, Sports Wall of Fame, located in his native Tipton. He'll also be on the 2021 UI Athletics Hall of Fame ballot. Selections are determined by a vote taken by letter winners and the National Iowa Varsity Club advisory committee.
Holbrook's recent recognition evokes a passage from poet Maya Angelou's Still I Rise:
"You may shoot me with your words,
You may cut me with your eyes,
You may kill me with your hatefulness,
But still, like air, I'll rise."