The arts have been hit especially hard during COVID-19. Here, UI faculty and staff share how they're faring in a virtual world.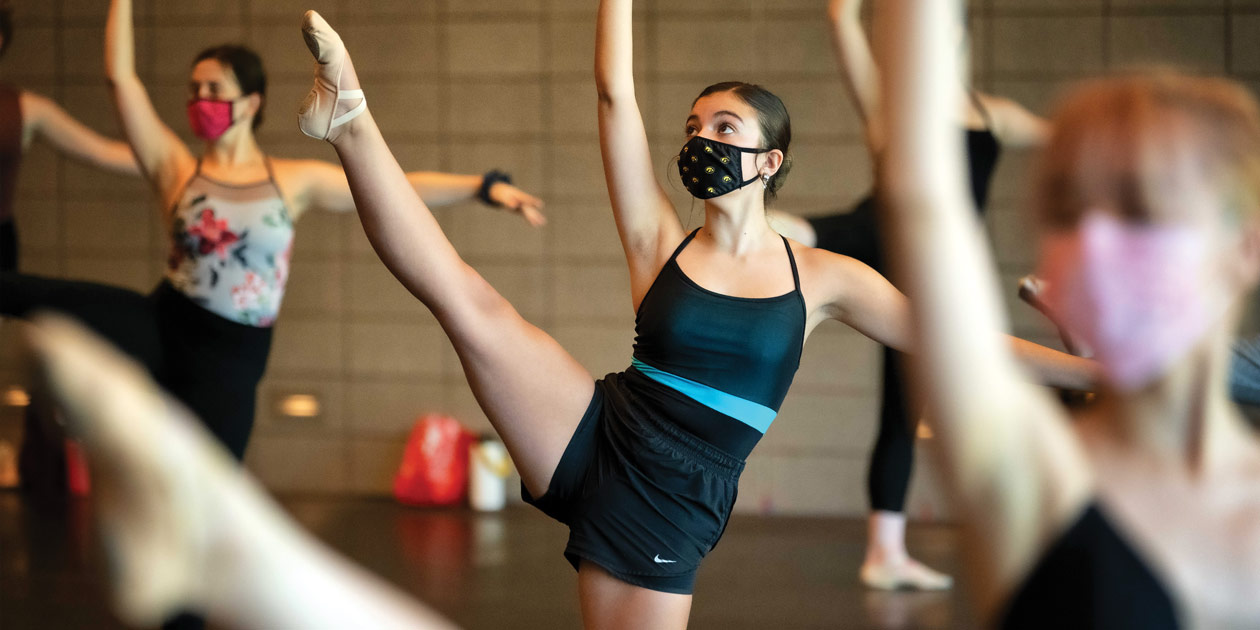 PHOTO: TIM SCHOON/UI OFFICE OF STRATEGIC COMMUNICATION
A ballet class relocates to a larger venue in Hancher due to COVID-19.
From canceling performances to relocating courses, the COVID-19 pandemic has affected the teaching, creating, and performing of the arts at the University of Iowa. Faculty and staff have been working tirelessly to ensure the coronavirus doesn't lead to lost opportunities for aspiring artists.
"This is a watershed moment for the arts community," says Chuck Swanson (75BBA, 76MBA), executive director of Hancher Auditorium.
Below, read how the Iowa arts community is turning challenge into opportunity during a trying year.
---
HANCHER
The Show Must Go Virtual
It's been nine months since Hancher hosted an indoor performance, the Alvin Ailey American Dance Theatre, on March 10. While the pandemic has prevented Hancher from welcoming audiences, the performing arts venue has waded into the world of online performances.
Hancher recently collaborated with the UI College of Public Health on a webinar about reopening arts facilities safely that attracted more than 400 attendees from 43 states. Hancher also served as lead commissioner for a September online event with dance company Step Afrika.
"This is opening up something big, because the audience capacity is limitless," says Swanson. "I think some of this virtual work will stay with us when the pandemic is over, but it's still not the same as sitting in our theater."
Swanson says it's time for Hancher to think differently about performing arts. Over the next three years, the university is gradually decreasing support for Hancher until it's self-sufficient. The $1.5 million reduction in funding is a result of the Iowa Legislature's cuts to state appropriations to regent universities.
"We have divided our entire staff into eight committees, and we're digging deep into how we can stay true to our mission while making up that $1.5 million shortfall," says Swanson. "We're looking at everything, but we're going to do what we can until we can raise that curtain again."
---
Learn more about Hancher Illuminated, a socially distant event outside Hancher that showcased UI student dancers and musicians.
---
DANCE
Stepping Away From Home
Two weeks before the start of the fall semester, the UI Department of Dance received some unfortunate news about its facilities: Halsey Hall and the Space Place Theatre in North Hall were deemed unusable for the academic year.
"Our spaces did not have adequate ventilation for group activities, so we needed to find a new home," says Rebekah Kowal, the department's executive officer. "We became orphans without a home."
Because UI programs, events, and meetings with 50 or more attendees must be held in a virtual format, larger spaces such as Hancher, the Iowa Memorial Union, and the Field House have been available for use. Melinda Jean Myers (12MFA), an assistant professor of contemporary dance and choreography, taught a Modern Dance Technique course at half capacity this fall at Hancher. Each of her students are constrained to a 10-by-10-foot practice space to maintain social distance.
"You really lose the essence of what our art form is when you go exclusively into a virtual landscape," says Myers, who had to overhaul both of her fall courses due to COVID-19. "But our students are working under the same limitations as everyone else in the industry."
While it's been a uniquely challenging semester for the Department of Dance, Kowal believes the pandemic has strengthened collaboration around campus. "It's been inspiring for our teachers and students to be in spaces like Hancher," she says. "This has been a win-win for everyone."
Watch Dance Gala 2020 "In Motion."
---
THEATRE ARTS
A Time for Conversation and Change
While the pandemic pushed Department of Theatre Arts performances online, conversations and protests surrounding racial injustice in America changed how the department looked at the fall semester.
"We felt, as a group, it was important to give voice and recognition to those voices that need to be heard," says Mary Beth Easley, who serves as department chair. The department commissioned a series of 10-minute plays from six Iowa Black alumni playwrights, which were part of a mainstage production in October.
Easley directed a piece written by Levy Lee Simon (99MFA) titled "Into the Night," which was recently updated by Simon to look at the emotions of a Black police officer after no charges were brought against a New York City Police Department officer in the 2014 death of Eric Garner.
While Easley was able to hold in-person practices—in part because of the small number of participants involved in the production—she was still concerned about the audience experience.
"Having a live audience is part of the magic of theater—it's all about the interplay between individuals," says Easley, who also hosted Black guest artists via Zoom this semester and partnered with the Latino Native American Cultural Center to highlight Latino playwrights and directors. "Because of these past months, I have a greater appreciation of human connection. That's something I took for granted."
---
MUSIC
Going Virtual for the Holidays
For the first time in its nearly 50-year history, the Holiday Tubas performance is not being held on the steps of the Old Capitol. Instead, the annual tradition is taking place online on the final Friday before finals. John Manning, associate professor of tuba and director of the Holiday Tubas, says the group prerecorded most of the virtual event in October and had a production company prepare the December livestream. "It's a substitute for an in-person event, but you are still experiencing the music in some way," he says.
Manning held two courses online this semester, and lessons with his 10 tuba and euphonium students have been held via Zoom— in part because brass and wind instruments generate respiratory aerosols at high rates. "Because of the aerosol spread, it's really not safe to be in a room with our students," says Manning, who has his students prerecord their music and use their Zoom lessons as a time for discussion.
While Manning is teaching online lessons via Zoom, other UI School of Music faculty members have taken it a step further. Jonathan Allen (11DMA), a lecturer of trombone, requires students to create professional-style recordings every two weeks.
"A lot of performers and performing teachers are getting jobs by submitting videos of their performances," says Manning. "All of us are taking advantage of this situation to help prepare students and build other peripheral skills that are just as important as learning to play your instrument well."
Watch the virtual Holiday Tubas performance.
---
ART AND ART HISTORY
Developing New Ways to Teach
With uncertainly swirling around the fall semester, it took Rachel Cox, head of the UI's photography department, more than double the amount of time to prepare to teach her students.
"Most faculty members came up with two or three different versions of their class—the 100 percent online version, the hybrid format, and the hybrid format until we go 100 percent online," says Cox, who was teaching a graduate photography workshop and an advanced Photoshop and studio lighting course this semester. "You had to think about how you're delivering your content and the resources you may need, such as supplies for students."
While both of her classes were taught in the hybrid format, she chose to divide her Photography III class into two groups. "On a given day, I might work with one group and talk about studio lighting techniques in person," says Cox. "The other group is doing an assignment at home. It's been a successful way to teach."
---
STANLEY MUSEUM OF ART
Appreciating Art at Home
Social distancing has changed how we consume and appreciate art.
"The one thing we can't replicate virtually is the experience of seeing actual work in real space," Lauren Lessing, director for the UI Stanley Museum of Art, said during a recent Chat From the Old Cap online event.
Despite the challenge, the Stanley Museum of Art has embraced virtual programming through a nationwide Museum From Home initiative. "We've tried to find ways to connect with people and use our collection in a different way," says Kimberly Datchuk, the museum's curator of learning and engagement.
For instance, the Stanley Museum of Art launched a virtual book club this fall. Participants discussed the first selection, Homegoing by Yaa Gyasi (14MFA), and Datchuk selected artwork from the university's collection that connected to the reading.
The museum has also held virtual artmaking workshops for kids and a weekly Instagram discussion led by Lessing about different art works. It's all to keep Hawkeyes engaged until the new Stanley Museum of Art opens in 2022.
"Having events online has actually made it easier for people to find us," says Datchuk. "Going virtual has been a great way for us to try different programs and reintroduce ourselves to people who maybe haven't come to see us in a while."
Lauren Lessing discusses the future of the Stanley Museum of Art on Chat from the Old Cap.