An award-winning TV news producer and Iowa alumna reflects on the biggest stories from more than three decades in journalism.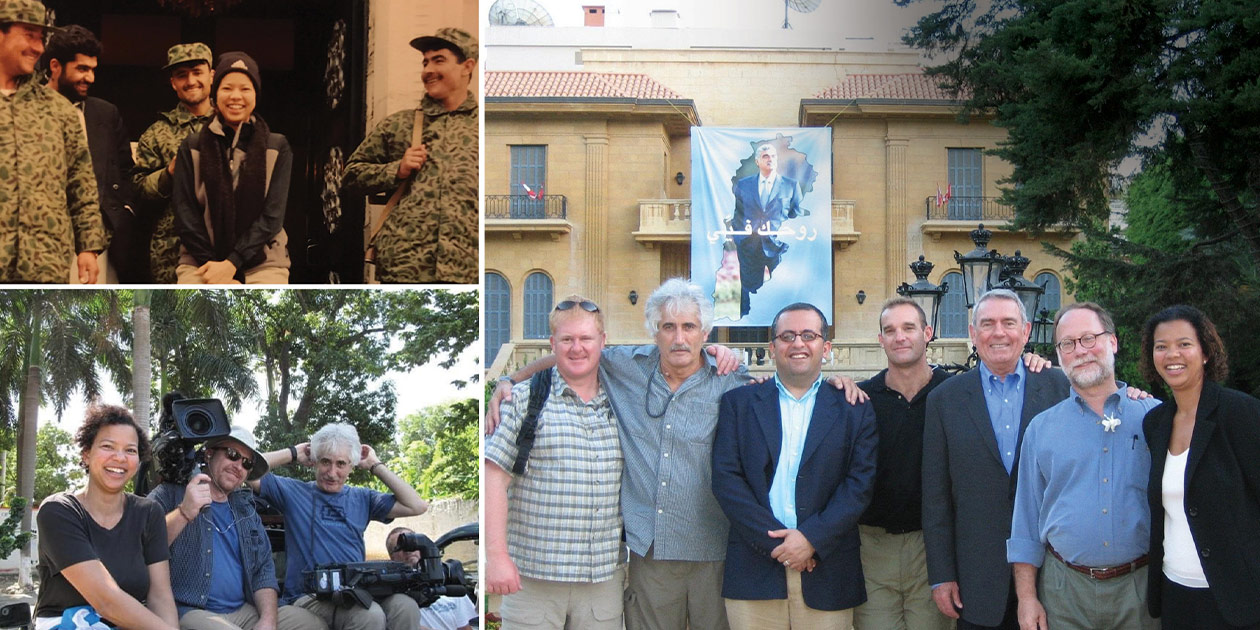 PHOTOS COURTESY DANA ROBERSON
Producer Dana Roberson in Afghanistan, Haiti, and with Dan Rather (above, third from right) and the CBS News team in Beirut, Lebanon
From Tiananmen Square to COVID-19, Dana Roberson (87BA) has helped bring the world's biggest news events to television. The University of Iowa journalism alumna, who previously worked for CBS programs such as 60 Minutes and Sunday Morning with Charles Kuralt, currently serves as executive producer of PBS Newshour Weekend.
Roberson recently appeared on the UI's virtual talk show, Chat From the Old Cap, where she reflected on more than 30 years in journalism.
Why did you choose Iowa?
My mother is from Des Moines. She met my father at Drake University, and then he went to Iowa for medical school. When it came time for college, I wanted to go to a Big Ten school because I grew up around Michigan and Michigan State. I didn't want to be that close to home, so I had an agreement with my parents that it had to be within a day's drive. Iowa City is less than eight hours away from Flint, Michigan.
What was it like being a journalist in New York during 9/11?
I was dropping off my daughter at daycare, getting ready to go to the newsroom. I got a phone call that a plane flew into the World Trade Center. I was with 60 Minutes II and called the camera crew to go there. I remember driving down the West Side Highway, and by then the second plane had hit and the first tower fell. When we got there, we saw firefighters coming out of the tower. Everyone was completely covered in dust and some were bloody. One guy asked if someone had a phone so he could call his family, and I remember frantically trying to dial my phone for him. Then the second tower fell, and we saw the whole thing. It probably took me six years to be able to talk about it without getting choked up. I've never seen that kind of loss of life in one event.
After 9/11, you covered the wars in Afghanistan and Iraq. Tell us how you broke one of the biggest stories of the Iraq war.
A contact in Iraq phoned me, "I have the mother of all stories for you." He told me the story of Abu Ghraib. He said American soldiers are abusing prisoners, and there are pictures. He was an active duty military person, and he wanted to tell the story because he thought they were going to cover it up and was so appalled by it.
And you won the Peabody Award for your coverage.
It was a big deal. Sadly, it was bittersweet because my father passed, and the day of the Peabody Awards was his funeral.
What story makes you proudest?
Sen. Strom Thurmond was a segregationist from the South, and he had a biracial daughter. He had a relationship with one of the Black servants who worked at his house, and they had a daughter named Essie Mae. Essie Mae didn't want to tell her story, but I felt strongly that her story needed to be told. I clipped an article on the first reunion between the Hemings and Jefferson families. I mailed it to her and wrote, "I wanted you to see this. Maybe it can create some change in the future." She ended up saying yes to the interview. She had a relationship with her father, and that's what made it hard. It was hard for a Black woman to admit this man behind segregation was her father. I ended up feeling so proud and glad she had the courage to tell her story.