Live shows may be a distant memory, but singer-songwriter Susan Werner finds new ways to connect with fans during COVID-19.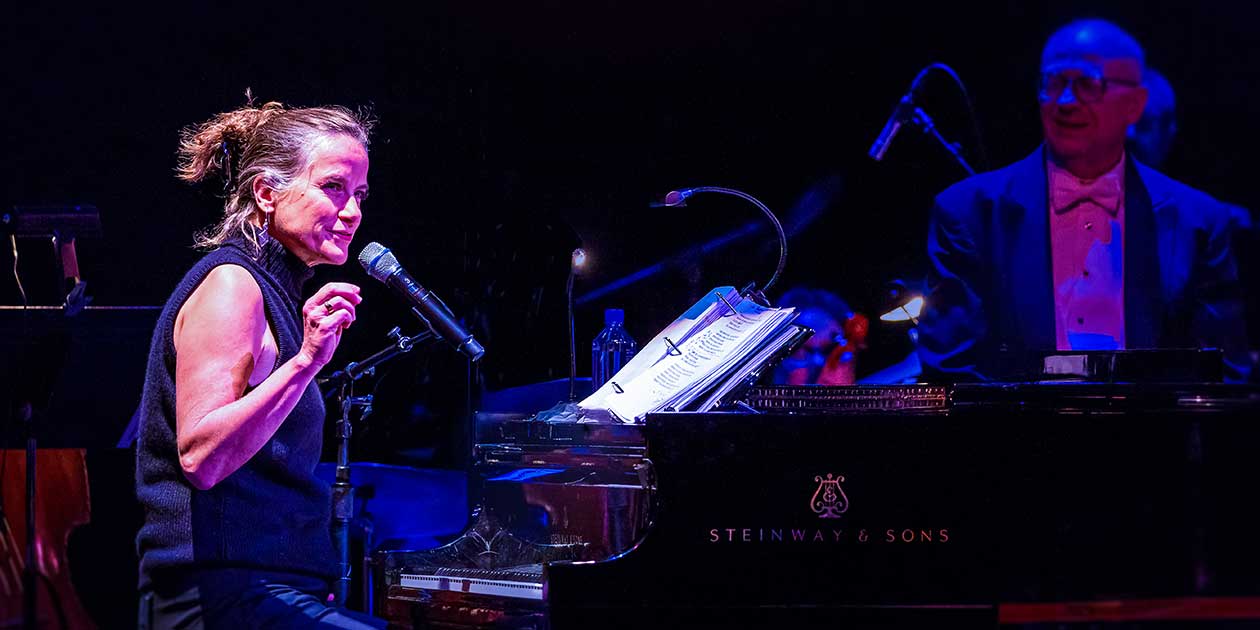 Photo Courtesy Susan Werner
Susan Werner performs during the Chicago Celebrates Soldheim concert with the Chicago Philharmonic in 2019.
Musical chameleon Susan Werner (86BM) is at home on any stage. For nearly three decades, the Iowa native has performed folk, jazz, and an array of other musical styles in theaters around the world. Even so, when she flipped on the camera this past March for her first virtual concert, she felt a twinge of stage fright.
The Facebook Live show—with hundreds of fans watching from around the country—brought back memories of her first uncertain performances as an honors student in music in the 1980s at the University of Iowa. Fortunately, Werner has never been one to shy away from challenges.
"This is where my experience at Iowa came in handy," says the Philadelphia-based singer-songwriter. "Singing in the operas Boris Godunov and Madam Butterfly on the stage of Hancher, these are the kinds of things that enable you to build up your immunity to anxieties."
Just as she's reinvented herself as an artist time and again, Werner is finding new ways to connect with her audience in a year when touring has been an impossibility. Since the onset of the pandemic, Werner has hosted a livestreamed show she calls "Susie on Sundays." About 500 fans tune in each week as Werner plays old albums from start to finish, fields requests during "piano bar" nights, and collaborates with guest musicians.
Werner has also been busy recording new music. In September, Werner released Flyover Country, her 21st studio album. Its 10 country-fried songs blend bluegrass, Texas rock, glam country, and Appalachian folk. The music may be traditional, but its recording was anything but. Werner laid down her vocals inside a glass isolation booth at a Philadelphia studio while her sound engineer, bass player, and drummer performed nearby in masks. Between takes, the musicians set up lawn chairs on the street to write and revise in the open air.
"It was surreal, but we had such fun doing the tracks that I could see guys smiling beneath their masks," says Werner. "Making records can often feel like singing into your refrigerator—there's no vibe. But this one was great fun, and I think it shows on the tracks."
The album opens with a tribute to her Manchester, Iowa, roots titled "Long Live." Werner, who grew up on a farm outside the northeast Iowa town, came to the UI School of Music to study vocal performance. Werner credits guitar lessons with classmate and current UI jazz studies lecturer Steve Grismore (85BM, 90MA) and theory classes with former professor Eric Ziolek (82PhD) for broadening her musical horizons. Soon, she was performing at open mic nights at the Mill in downtown Iowa City and at the Wheel Room inside the Iowa Memorial Union.
Werner also found an academic home in the UI Honors Program, which provides community and support for high-achieving students. The program taught her to set and meet ambitious goals—an essential tool for self-directed careers, she says. "That self-starting mentality is welcomed and rewarded in a setting like the Honors Program."
Thirty years and a trove of albums later, Werner has earned critical acclaim, a loyal fanbase, and now a vibrant social media following. She regularly returns to Iowa to perform, including in 2014, when she played at a special beam-signing during construction of the new Hancher Auditorium.
Even during a pandemic, Werner remains a prolific songwriter. This past spring, she recorded a YouTube series called "Songs of Social Distance" with tunes like "These Different Days" and "Swiffer Swiffer" that at once capture the melancholy and humor of the pandemic. Still, Werner looks forward to a day when she can connect with fans in person. As she sings on Flyover Country: "We'll gather loved ones in a fond embrace/ And hand in hand, and face to face/ And shoulder to shoulder/ Sing 'Amazing Grace'/ How I want, I want to be there."
---
Susan Werner plays music from her new album, Flyover Country.