University of Iowa students, faculty, and staff adjust to collegiate life during a pandemic.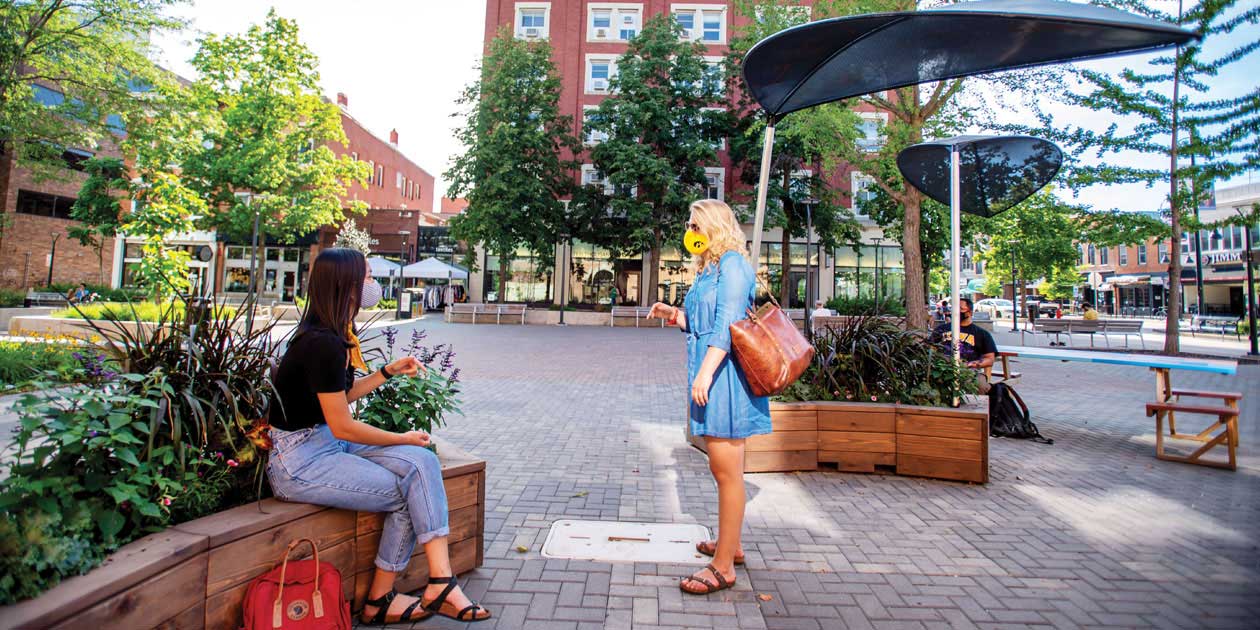 PHOTO: JUSTIN TORNER/UI OFFICE OF STRATEGIC COMMUNICATION
Facing some of the most challenging decisions of his presidency, University of Iowa leader Bruce Harreld says he focused on past president Sandy Boyd's (81LHD) motto: "People, not structures, make a great university."
"I see those people coming together to deal with the COVID-19 virus, the fiscal issues we're experiencing because of those decisions, and the social unrest that's going on not only in our community but across the country," Harreld said in one of a series of online forums this past summer announcing the university's blended face-to-face and online approach to the fall 2020 semester. "We've come together to argue, to debate, to solve problems, and to constructively find creative ways to get through each of these periods. The issue of keeping us healthy seemed to absolutely be the most important consideration."
To bring some stability to an otherwise unpredictable time, the UI began the fall 2020 semester on Aug. 24 and will end it on Dec. 18 as previously scheduled. All members of the university community are required to wear provided face masks, sanitize, and practice social distancing. Classes with fewer than 50 students resumed face-to-face instruction as possible with the space available on campus, with priority given to first-year students and academic experiences most challenging to replicate online. Other classes are taking place virtually. Residence halls are open, but dining halls are carry-out only.
As of press time, the university planned to go to an online-only format after Thanksgiving break and deliver final exams remotely. Iowa intends to resume face-to-face instruction for the spring semester, but university leaders say they may adjust their plans based on the prevalence of COVID-19 cases. Harreld urged Hawkeyes to be flexible as leadership responded to the ever-changing threat of the virus. "Whatever we think we know right now will probably be updated in the next 24-48 hours," he said. "It's a very fluid situation."
---
First-Year Students Make the Best of Uncertain Transition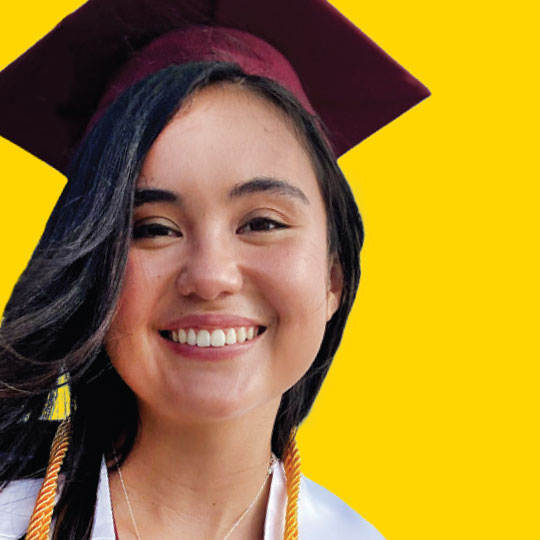 Lauren Sanyal
While University of Iowa fans swarmed San Diego this past winter for the Holiday Bowl, California students Lauren and Shawn Sanyal began picturing themselves as Hawkeyes.
The twins from Valley Center met with UI Admissions staff during the Hawkeye Huddle and became eager to enroll at Iowa for their first year of college. Lauren's research revealed Iowa had one of the top creative writing programs in the nation, while Shawn saw the advantages of volunteering and studying medicine at UI Hospitals & Clinics. A visit to Iowa City in March sealed the deal. "I loved it. The small town was super cute," says Shawn. "It was totally different from where I'm from, so it was a nice change."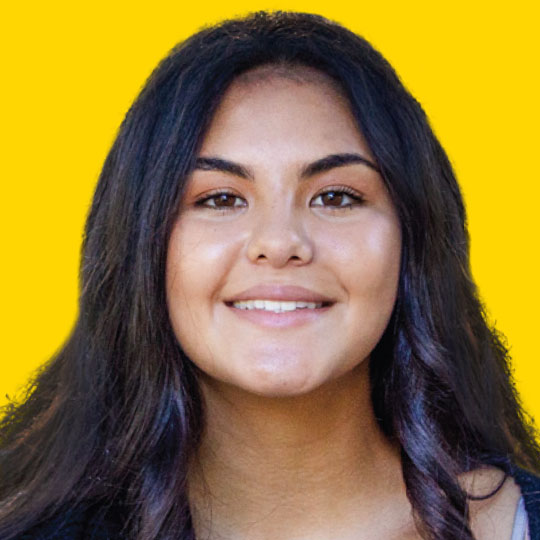 Shawn Sanyal
The Sanyals had dreams of how their senior year of high school would end, but COVID-19 had other plans. "When you grow up, you imagine prom and graduation," says Lauren. "There are all these traditions we looked forward to for a long time that we didn't get to experience. At the same time, we had to understand that this pandemic is a world problem."
Now at Iowa, the Sanyals are also seeing their first year of college altered by the pandemic. Orientation and sorority recruitment were held online, and making friends became more challenging in online classes and with social distancing. Still, the Sanyals enjoy being on their own for the first time in Iowa City, where Shawn studies human physiology and Lauren majors in creative writing and screenwriting. "The pandemic is impacting what our experiences will be like, but there's nothing we can do about it," says Lauren. "At the end of the day, it's bigger than all of us, and we'll figure out a way to make our first year of college amazing and memorable.
---
A Sophomore Weathers the Emotional Storms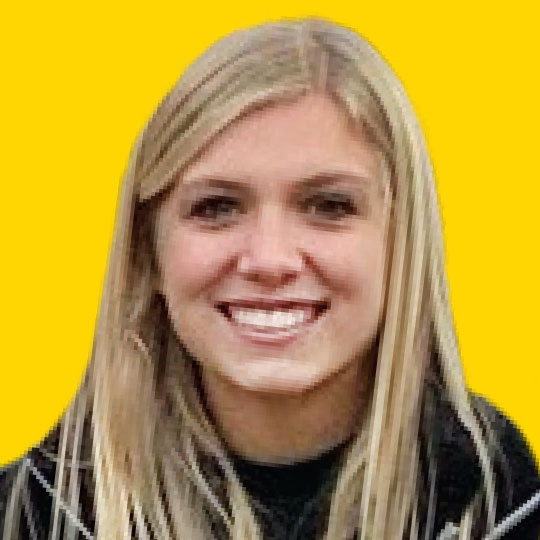 Rachel Rhoads
Rachel Rhoads said goodbye to her friends before spring break 2020, not knowing it would be the last time she'd see them until fall.
Now a second-year student at Iowa, Rhoads recalls the cloud of uncertainty that hung over last semester as the coronavirus pandemic swept across the U.S. and forced classes online. "As an Iowan, I relate it to the feeling of an impending snowstorm and the anticipation of a snow day," says the human physiology and pre-dentistry major from Newton. "But this time, the storm would last much longer and be way worse."
Rhoads says her instructors helped make the transition to remote learning as smooth as possible, although she prefers in-person classes. "I looked forward to being back in Iowa City and being able to further the friendships I made this past school year," she says.
The pandemic became personal for Rhoads when her 24-year-old sister—who was otherwise healthy—was hospitalized with coronavirus this past summer. "She was alone," says Rhoads about her sister, who has since recovered. "I think a lot of people entering their freshman year also fear being alone. I value community and hope that freshmen and returning students can still create communities on campus despite social distancing, because having a community is what makes Iowa City feel like a place you belong."
---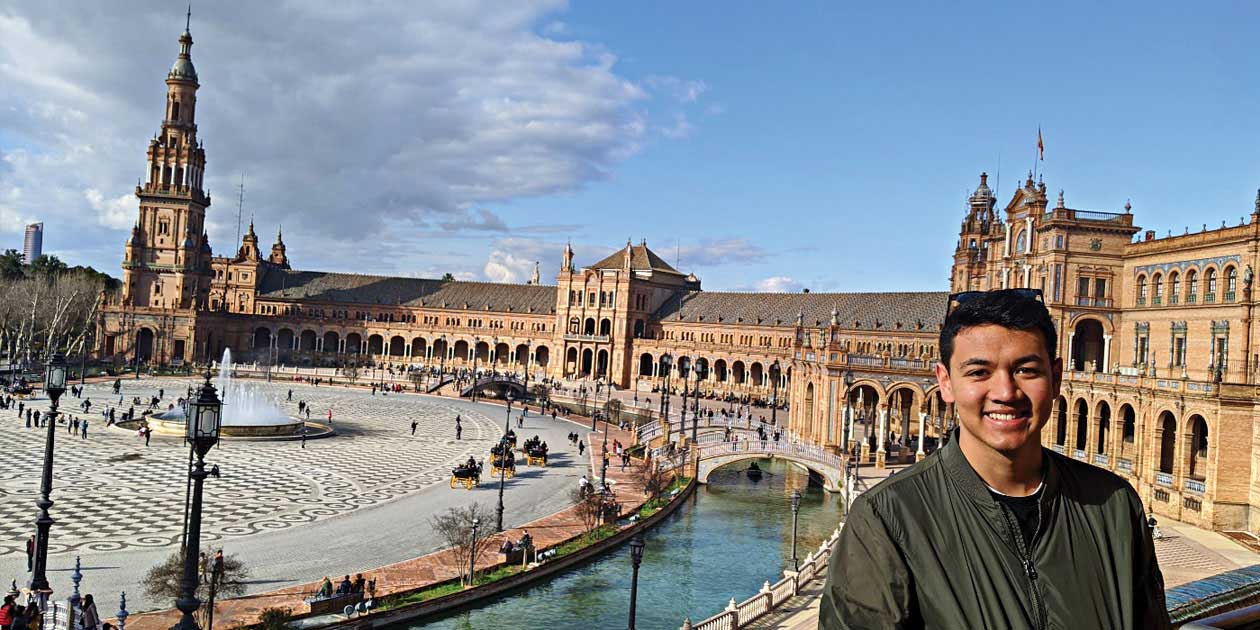 PHOTO COURTESY DERICK TOWAR
Recent grad Derick Towar visited Plaza de España in Seville, Spain, last semester as part of a study abroad experience that was cut short by COVID-19.
---
Study Abroad Students Continue Outreach Back Home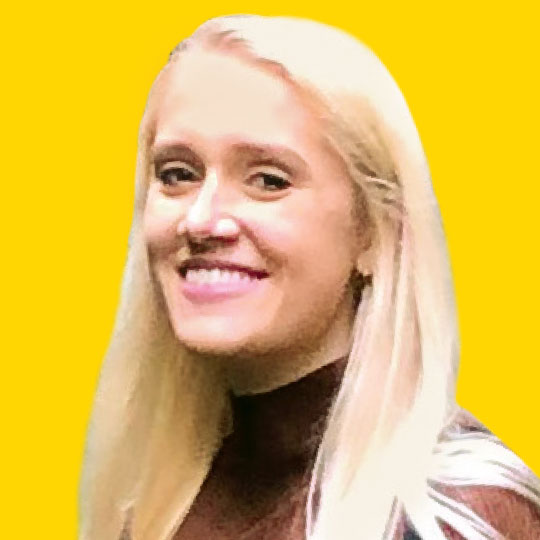 Madelyn Jermier
Earlier this year, study abroad students saw their programs canceled due to the pandemic, bringing an abrupt end to their cultural exchanges.
While this was certainly not the semester they imagined, two University of Iowa students found a way to continue engaging with their host country by a community they discovered abroad.
Upon returning home in March, UI students Derick Towar and Madelyn Jermier joined nearly 50 other Council on International Educational Exchange Seville students to continue the volunteer teaching of young Spaniards online. "Had I refused to embrace the unpredictable, my intercultural experience could've ended right then and there," says Towar, a recent human physiology and Spanish graduate. "But I made an attempt to navigate—rather than avoid—the uncertainty, and as a result, I have a new perspective, a new friend, and a newfound drive to do the most with the hand I've been dealt."
After accepting an offer to teach remotely, Towar began meeting twice a week on WhatsApp with an 11-year-old student named Carlos to read The Chronicles of Narnia series, write Mad Libs, and listen for English vocabulary words in Marvel movie clips. "I decided to do these simple activities with him hoping to provide him with an escape from the monotony of traditional English class activities and also that he might learn something," says Towar. "But I've realized that I'm learning a lot, too."
Although Towar and Jermier's semesters were cut short, the time they were able to spend abroad wasn't without its rewards. "My study abroad experience was so amazing because of all of the new people I met," says Jermier, a third-year accounting and business analytics major from Decorah, Iowa. "Listening and participating in my host family's Andalusian Spanish conversations was intimidating at first. But by the end, they knew I could pick up on their jokes and stories. I still keep in touch with them and check in on how things are."
Heartened by the way students translated their study abroad experiences into remote learning opportunities, the UI Study Abroad office offered virtual international courses this summer taught by faculty from around the world in subjects such as history, business, film, languages, political science, and sociology. "I have been so impressed with the resilience of the UI students who were abroad this spring," says Emily Gruis, senior study abroad advisor. "Students like Derick and Madelyn have taken that flexibility a step further by continuing to engage with their host communities in Spain. The grace with which they have navigated this difficult situation is truly remarkable." —BEN PARTRIDGE