Recent Nonfiction Writing Program grad Lulu Dewey (20MFA) shares a comic tale of finding fresh shrimp in the heartland.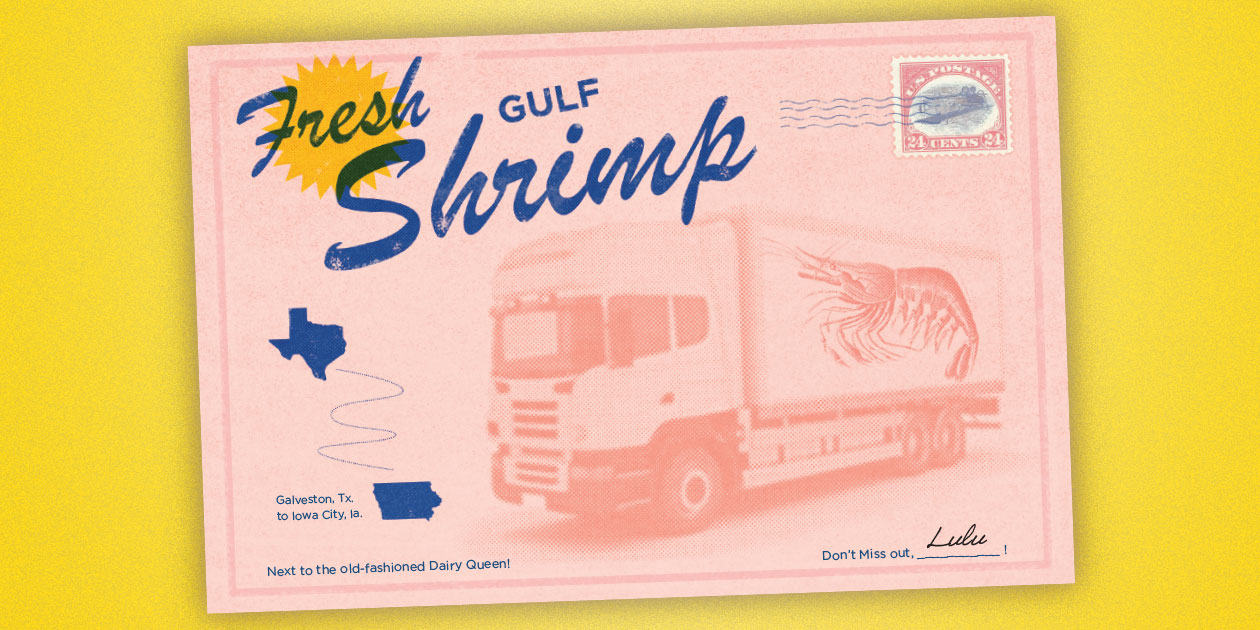 Twice a year, a semitruck rolls into the parking lot of the old Dairy Queen in Iowa City and sets up ten neat stacks of coolers loaded with shrimp on ice. The truck and the shrimp are from Galveston, Texas, and the two shrimp salesmen wear matching blue T-shirts and long black rubber gloves that they take off and drape over the red snappers when sales get slow.
During both of their visits, the weather is hot, even on the second visit over Labor Day, and there's a small patch of damp blue that spreads across their lower backs as they wait for a cadre of minivans to roll in. The passengers are dreaming of shrimp and they park all willy-nilly in the parking lot, ready to jostle politely over the coolers in that horrible Iowa way.
I appreciate handwritten mail even when I've written it myself from the parking lot of a Dairy Queen.
At the shrimp sale, the shrimp men have you write your address on a postcard that they'll mail out next time they're coming into town. This is so you can dream of shrimp for the maximum amount of time, knowing the notices will appear in mailboxes in July and September—the twin shrimp seasons.
The day in July that I first encountered the semitruck and the circle of scrambled vans I was not dreaming of shrimp. If anything, I was dreaming of someday discovering a latent shellfish allergy and being found dead with clam juice all down my shirt. I stood and wrote out my address on a postcard anyway, because I appreciate handwritten mail even when I've written it myself from the parking lot of a Dairy Queen.
I was there with Claire, who is from Mississippi and is therefore overly fond of both hosting and shrimp. This is where Claire and I disagree the most. I am nasty and exclusive and hate the idea of having any old person over to my house, and I think fish are a waste of time. She leaned over a cooler and I could see her envisioning a table full of seafood, surrounded by guests. "I could be allergic, you know," I said to her. "Even from just being in the room."
"Can I see the eyes?" she asked one of the shrimp men. There was a rubber glove draped over an open tub and he lifted it to reveal a big pink fish too trendy for the shrimp sale.
"The eyes look great," he said. "Real fresh."
I peered closer. A single eye looked up at me, cloudy and sweating in the heat, the same way that I sweat in the heat. We left without any shrimp and I thought about that eye, that real fresh eye, for a few days, until I forgot.
But September 1 came around and in my mailbox I found the postcard reminding me about the second shrimp sale of the year. I called Claire and told her—"Shrimp sale is back"—and she came to my house to pick me up. This time I dreamed of shrimp and hoped we had begun a tradition.
At the sale, Claire filled a plastic grocery bag with two and a half pounds of Galveston shrimp. "I'll make gumbo," she said. "It'll be a party."
While she drove us home, I massaged the little fellas through the bag and envisioned myself taking a big sack of human fingers to the local news station. "I found these at the Dairy Queen," I'd say solemnly, and they'd hail me as a hero. They'd take my photograph for the newspaper and I'd get a cash reward that I would use to buy out the shrimp men so that I could be the one to send out batches of postcards and live forever on their salty profits. The people would flock to me, always dreaming of shrimp, and park their vans around me, and I'd show them my wares.
"The eyes look great," I'd tell them. "Real fresh."
---
MEET THE AUTHOR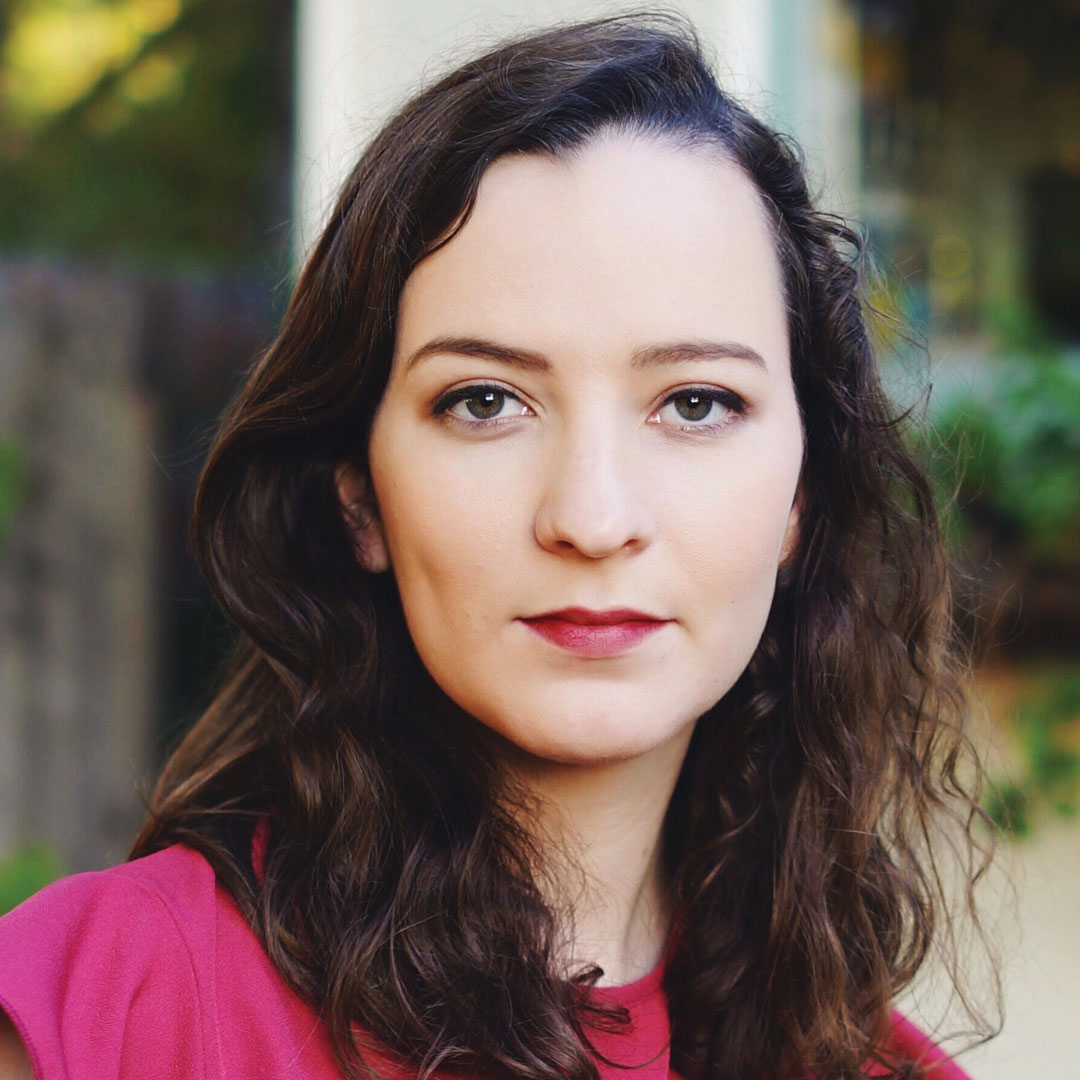 PHOTO COURTESY LULU DEWEY
Former Iowa Nonfiction Writing Program director John D'Agata (98MFA) describes author Lulu Dewey (20MFA) as a smart humor writer who can "probably write anything."
In "Shrimp Dreams," Dewey recalls her initiation into an unusual biannual Iowa City tradition. "'Shrimp Dreams' is primarily an essay about friendship. It's about wanting a sense of belonging," she says. "These are themes that show up a lot in my writing."
Dewey, who earned an undergraduate degree from the University of California-Berkeley in 2016, graduated in spring 2020 from the Iowa Nonfiction Writing Program. She taught undergraduate classes throughout her time at Iowa and received the Nonfiction Writing Program's annual Carl Klaus Teaching Award during her final semester. "One of my favorite parts of my time here was working with undergraduates in the rhetoric and English departments," she says. "I get a lot of inspiration from those students, especially my former environmental writing and humor writing students. Many of them have gone on to publish their work, too."
Dewey recently shared more about her background and what inspires her in this email interview with Iowa Magazine.
Where are you from and what led you to the Nonfiction Writing Program at Iowa?
I was born in England but grew up in Southern California. I originally planned to go into the environmental field—my undergraduate degree was in environmental policy—but instead ended up working as a technical writer. I wrote user manuals for payroll software, which was extremely boring. I wanted to write stories instead. When I started looking into graduate programs in creative writing, the Nonfiction Writing Program was a clear winner. It's the only program out there with faculty devoted entirely to nonfiction and the essay.
What were your initial impressions of Iowa City?
I drove out here from California with my two pet rats in the back seat of a rental car. When I returned the car, it turned out the rats had chewed through the driver's seat headrest during the drive. I was mortified. But the car rental place said it was OK and didn't charge me for the damage. This was my first taste of the famous "Iowa Nice." My second impression was how beautiful Iowa City was—it was August and humid and there were so many sunflowers. Everyone was on their porches.
What were some of the highlights of your time in the program?
It was thrilling to be around so many talented writers and get to learn from them—both my professors and my peers. And I was really challenged to think about genre in a new way. My cohort in particular grew really close—we call ourselves "Darius' Diamonds" after our classmate Darius Stewart (20MFA).
What drew you to essays over other forms of writing?
I love that the essay has such a rich history and can take such diverse forms. There's room for a huge variety of styles, from very lyrical to more journalistic. My essays often straddle the line between fiction and nonfiction. I'm drawn to this flexibility.
Who are some of your favorite writers? What are some of your favorite books?
In terms of writers, I especially love Carson McCullers, Mary Ruefle, James Baldwin, and Richard Rodriguez. Favorite books are John D'Agata's About a Mountain, Zadie Smith's White Teeth, and Barbara Kingsolver's Animal Dreams.
Who or what makes you laugh?
My dad and I have a very similar sense of humor—dry and a little dark. He always makes me laugh. We often have exchanges where each of our sentences uses a pun, but according to a specific theme. So we'll have a long string of salad-related puns, for instance. They get progressively worse and more ridiculous before we run out of ideas. Now that you've graduated from the
Nonfiction Writing Program, what's next?
I'd like to continue teaching alongside my writing. I really love being in the classroom. In terms of current projects, my thesis is currently sitting in a drawer, but I'm excited to return to it soon and work toward a completed manuscript.
Anything else?
The real-life Claire Whitehurst (20MFA) from "Shrimp Dreams" is a fabulous Iowa-based artist whose work can be found at clairewhitehurst.com.