Iowa athletics accountability groups take steps to ensure an inclusive and welcoming culture.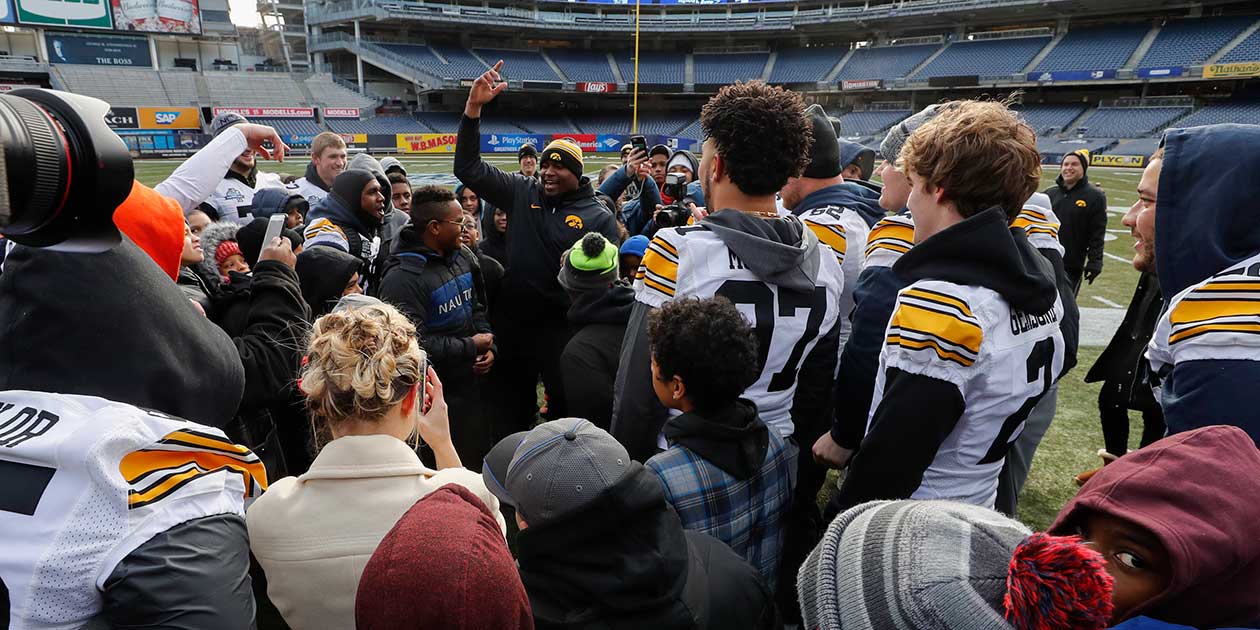 PHOTO: BRIAN RAY/ UI ATHLETICS
Broderick Binns leads a community service event with children and Iowa student-athletes at New York's Yankee Stadium ahead of the 2017 Pinstripe Bowl.
As nationwide protests demanded racial justice in the wake of the killing of George Floyd, dozens of Black former Hawkeye student-athletes took to social media in early June to voice their experiences of racial disparities within the Iowa football program. Coach Kirk Ferentz and Gary Barta, the Henry B. and Patricia B. Tippie Director of Athletics Chair, vowed to do more to create a supportive culture within the program. Building off steps taken in 2018, Iowa athletics appointed former defensive end Broderick Binns (12BA, 18MA) to lead a committee focused on providing all Hawkeye student-athletes a sense of belonging and a safe space to express their thoughts.
FIRST STEPS
Iowa athletics began efforts to create a more inclusive climate in spring 2018 when it established a diversity task force to address the lower graduation rate of Black male studentathletes. The committee interviewed current and former student-athletes, coaches, and managing athletics staff. Black student-athletes raised concerns about difficulties effectively communicating problems with coaches, perceived inequities in disciplinary measures, team policies that limited personal authenticity, misleading perceptions during recruiting that suggested a more inclusive environment, and a lack of connection with the team and community. The athletics department committed to several two-year goals to address these issues.
RENEWED EFFORTS
Following the tweets from former Hawkeye football players, Barta said in his June press conference that the strides made toward racial equality since 2018 were insufficient—and stronger commitments were needed. "I thought we were on the path of making things better and doing the right things," he says. "Clearly, they weren't enough. And they weren't happening fast enough."
When current players returned to campus in June, Ferentz held two days of candid conversations between players, coaches, and staff. "The players did most of the talking," says Ferentz. "It was raw, powerful, and productive. Everything was on the table."
Ferentz also assembled an advisory committee of 11 former Hawkeye players led by David Porter (02BS), a Black two-time All-Big Ten honoree, to further the discussion. Iowa filed a separation agreement with Chris Doyle, Iowa football's longtime strength and conditioning coach, and hired a law firm to conduct an independent review of the issues and allegations within the program. The review revealed that the program's rules perpetuated racial biases and diminished cultural diversity. The program culture created heightened anxiety through over-monitoring players and allowed a small group of coaches to demean players, the report concluded. Current players and coaches agreed that immediate and positive changes were made in the program since the review began.
Binns, who has worked closely with student-athletes as director of player development for the football team since 2016, was recently named executive director of the Diversity, Equity, and Inclusion for UI athletics. The 14-member board—which includes athletics staff, the student-athlete advisory committee's chair for diversity and inclusion, and other UI staff who specialize in diversity—ensures Iowa athletics adheres to the board's mission and values each student-athlete's voice.
"It's important to ensure all our studentathletes, especially our minority student-athletes, have a safe environment where they can be heard and their ideas can be brought to the forefront," says Binns. "It's our job to be the studentathletes' megaphone and make the appropriate party aware of how they feel."
ACTION STEPS
The Diversity, Equity, and Inclusion Accountability Board created an action plan with five steps to be completed over the next two years:
Improved reporting systems to advance Black student-athlete concerns, including listening sessions, a website to submit anonymous comments, and the establishment of the Black student-athlete advisory group that reports to Barta.
Expand staff, students, and coaches' knowledge of diversity, equity, and inclusion, including a public statement on how Iowa continues to address Black student-athletes' concerns and lower graduation rates, use of campus diversity programs and resources, and educational opportunities for coaches on effective recruitment strategies.
Expand the support structure of Black studentathletes beyond Iowa athletics, including mentorship and social opportunities for Black student-athletes.
Promote diversity, equity, and inclusion as a core value articulated within every sports program, including identifying key performance markers for all head coaches and teams, creating a diversity plan unique to each team, and setting annual goals for underrepresented minority graduation success rates.
Place a stronger emphasis on the recruitment and retention of underrepresented ethnic minority staff by cultivating a diverse network of candidates at mid-level, senior management, and coaching positions and providing best practices to prevent unconscious bias.
The board is establishing measurements for these goals and meets monthly to continue addressing student-athletes' needs. "We are listening, learning, and making strides to make this a more belonging campus for our Black and Brown student-athletes," says Binns. "We can all do more."