National events bring an urgency and renewed commitment to diversity, equity, and inclusion.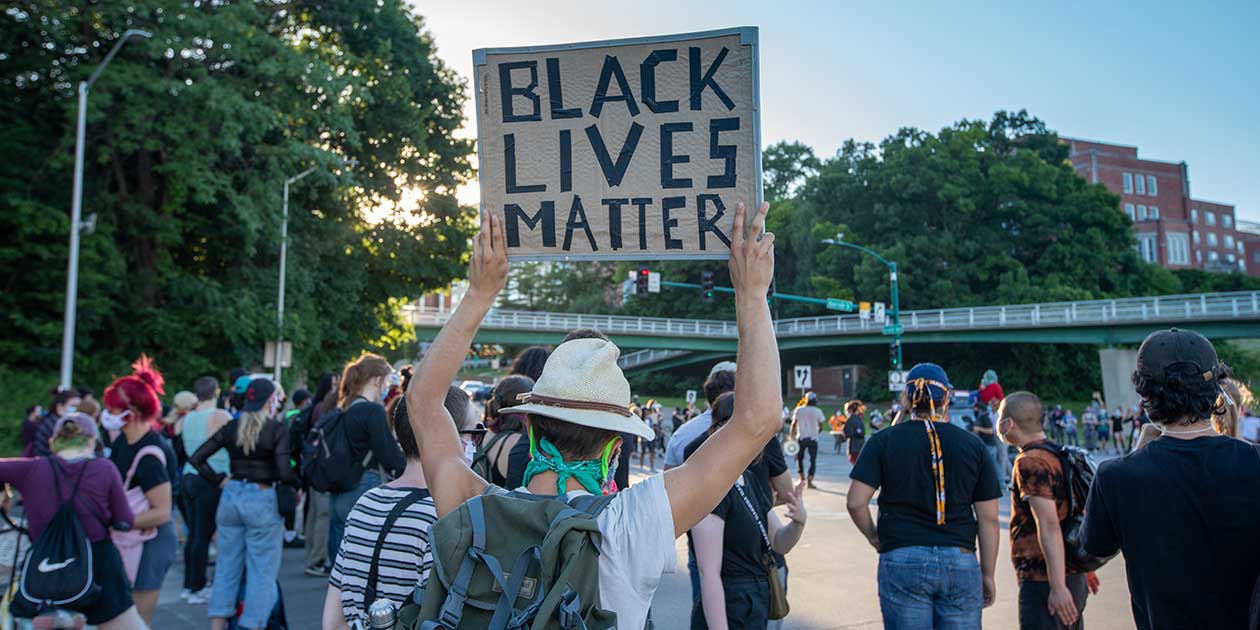 PHOTO: JOHN EMIGH
Since the start of the University of Iowa, the Old Capitol has been a gathering place for students to be heard.
Following the horrific killing of George Floyd on Memorial Day in Minneapolis, UI community members met on the Pentacrest throughout June to demand social justice at the local and national levels. In scenes that evoked memories of the civil rights and anti-war demonstrations of the 1960s and '70s (see "Eras of Unrest" below), protesters held up signs and marched against police violence and racial inequities.
"We hear you, we support you, and we stand with you" was the response from President Bruce Harreld and other UI leaders. This past summer, the university announced Liz Tovar as interim associate vice president for diversity, equity, and inclusion. It also reported its progress on the 2019-21 diversity, equity, and inclusion action plan that outlines four goals: to create and sustain an inclusive and equitable campus environment; to recruit, retain, and advance a diverse campus community; to integrate diversity, equity, and inclusion into the university's core academic mission; and to enhance campus-wide diversity, equity, and inclusion accountability, effectiveness, and collaboration.
"The global pandemic and killing of George Floyd and countless others before him remind us just how much more work we need to do," the action plan update read. "It is imperative for the University of Iowa, now more than ever, to be clear about its values and demonstrate its commitment to justice through action."
After the Iowa State Patrol deployed flash bangs and chemical deterrents on demonstrators planning to protest on Interstate 80 this past summer, a group of students, faculty, and staff urged the UI to reconsider its relationships with area law enforcement and its approach to public safety. The university responded by forming the Reimagining Campus Safety Action Committee. By July 1, 2021, the UI plans to have a new structure of public safety in place that includes conducting an audit of the UI Department of Public Safety and its interactions with communities of color; establishing specific training and operational requirements for the department within the university's diversity, equity, and inclusion action plan; and committing to President Barack Obama's Police Use of Force Project.
In July, the UI Diversity Councilsómade up of the African American Council, Council on Disability Awareness, Council on the Status of Women, Latinx Council, LGBTQ+ Council, Native American Council, and Pan Asian Councilówrote an open letter to UI leadership to express their concerns, demand meaningful action, and commit to working with the university to transform campus culture.
"If the university truly seeks the inclusive and just future it claims to champion, our community needs to see personal, genuine commitment, and concrete, sustained action for equity," the letter read. "The Diversity Councils' coalition commits to continued collaboration and transparency as we work for equity. We offer our expertise and strengths to you and senior administration as willing partners in working to heal the deep wounds of mistrust, fear, and trauma in our communities."
In response, Harreld said the university will rely on input and collaboration from all corners of campus. "We cannot change our history, but we can recognize and take responsibility for it. And we can change both our present and future in a deliberate fashion that will forever reshape our community," he wrote. "This permanent change will be created through listening, dialogue, and action taken hand in handóday after day, year after year."
---
Eras of Unrest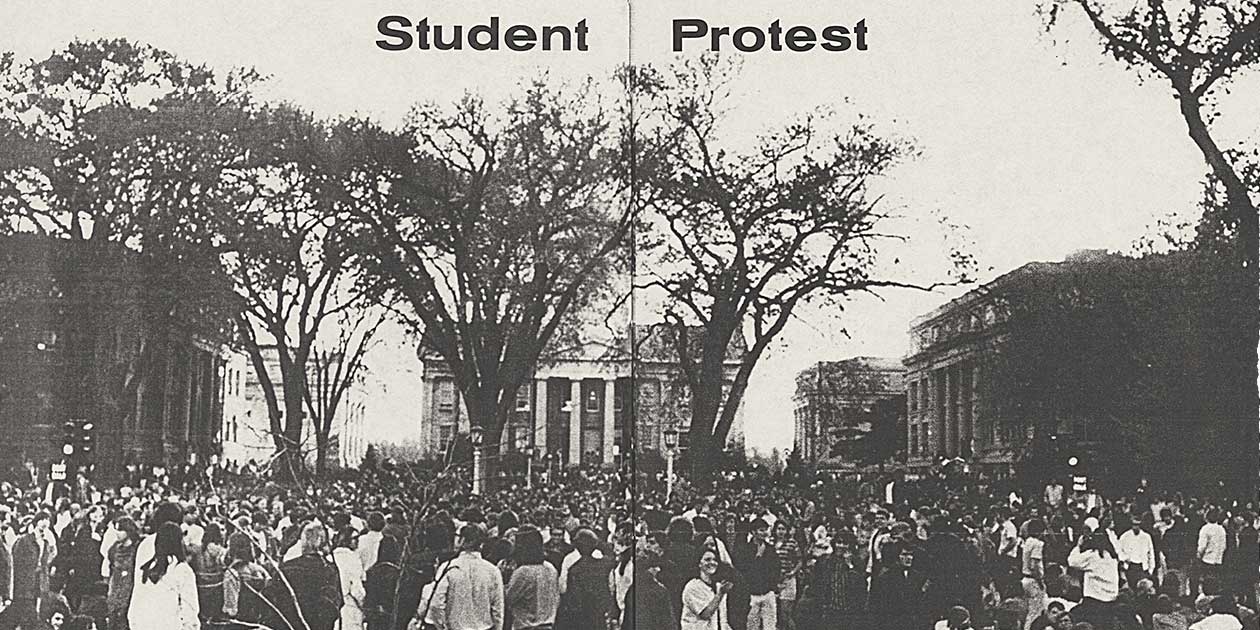 PHOTO: IOWA ALUMNI REVIEW, JUNE 1970
Exactly 50 years ago this past May, student protesters filled the Pentacrest to voice their opposition of the Vietnam War and the killing of four students at Kent State University in Ohio by the state's National Guard. For students at Iowa and beyond, it was a generation-defining moment.
Fast forward to 2020, and the Pentacrest has once again served as a gathering place for activism. In scenes that evoked memories of the civil rights and anti-war demonstrations of the 1960s and '70s, protesters held up signs and marched against police violence and racial inequities.
As it happens, the two pivotal years share more in common than just their demonstrations. In spring 1970, UI administrators gave students the option of ending their semester early with passing marks because of campus volatility, while in March 2020, the UI closed campus and pivoted to remote learning because of the COVID-19 pandemic.
"The University must and will remain open as a center of free inquiry," UI President Emeritus Willard "Sandy" Boyd (81LHD) said in his 1970 commencement address that rejected both destruction and indifference. "...We must recognize that there can be honesty in our differences, that respect can emerge from diversity, and that progress takes many forms." óJOSH O'LEARY