Gone are the days of judging a college solely on its admissions brochure. The University of Iowa now meets prospective students where they are, and where they are is on YouTube and Instagram. Meet the first-year students who serve as Iowa's social media influencers, giving their younger peers a firsthand account of what it's like to be a Hawkeye.
It's a highlight Mason Zaker will remember from his first year at Iowa for decades to come. The Iowa football team upsets undefeated Minnesota under the lights of Kinnick Stadium. Joining thousands of his peers, Zaker rushes the field following a hard-fought win over the top 10-ranked Golden Gophers.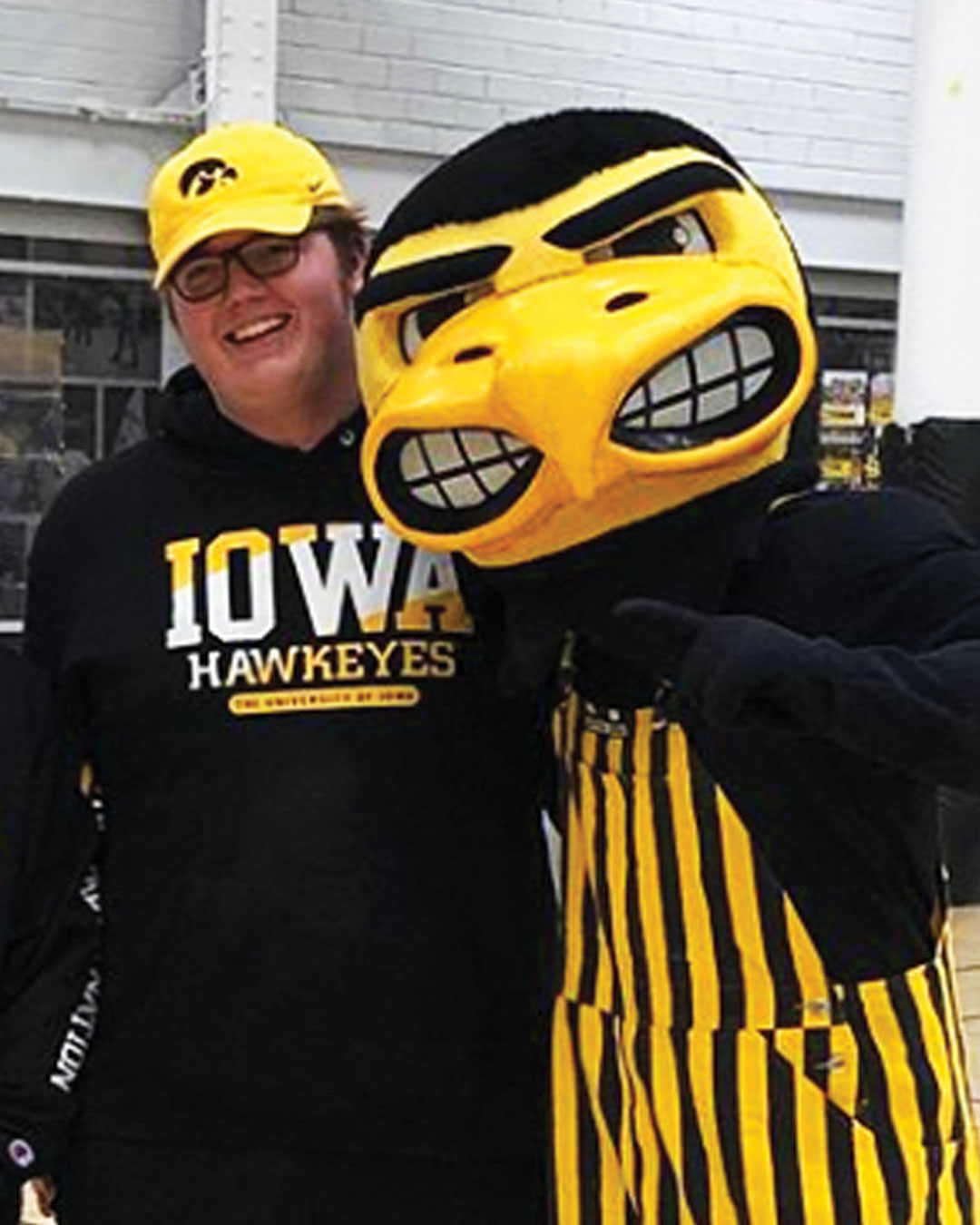 Hawkeye Influencer Mason Zaker
Zaker starts recording on his phone as he jumps the gate from his front-row seat, capturing a blur of black and gold that contrasts with the green field underfoot. A mob of Hawkeyes cheer and celebrate. Zaker uploads this thrilling moment, along with several photos, to his Instagram account and shares it with his 400-plus followers.
"The field rush was pure adrenaline," says the marketing major from New Lenox, Illinois. "We looked around, saw everyone was ready to jump over the railings, and we said, 'Looks like we're going, too.' It was just so much fun."
Zaker wasn't only filming the footage for his family and friends that memorable night in November 2019; he shot the video for a pilot program he's participating in as one of 20 official Hawkeye influencers chosen by the University of Iowa to help support a new admissions marketing strategy. Through their social media, Zaker and the other influencers share their unfiltered, authentic experiences as freshmen to help prospective students picture what it's like to be a Hawkeye.
---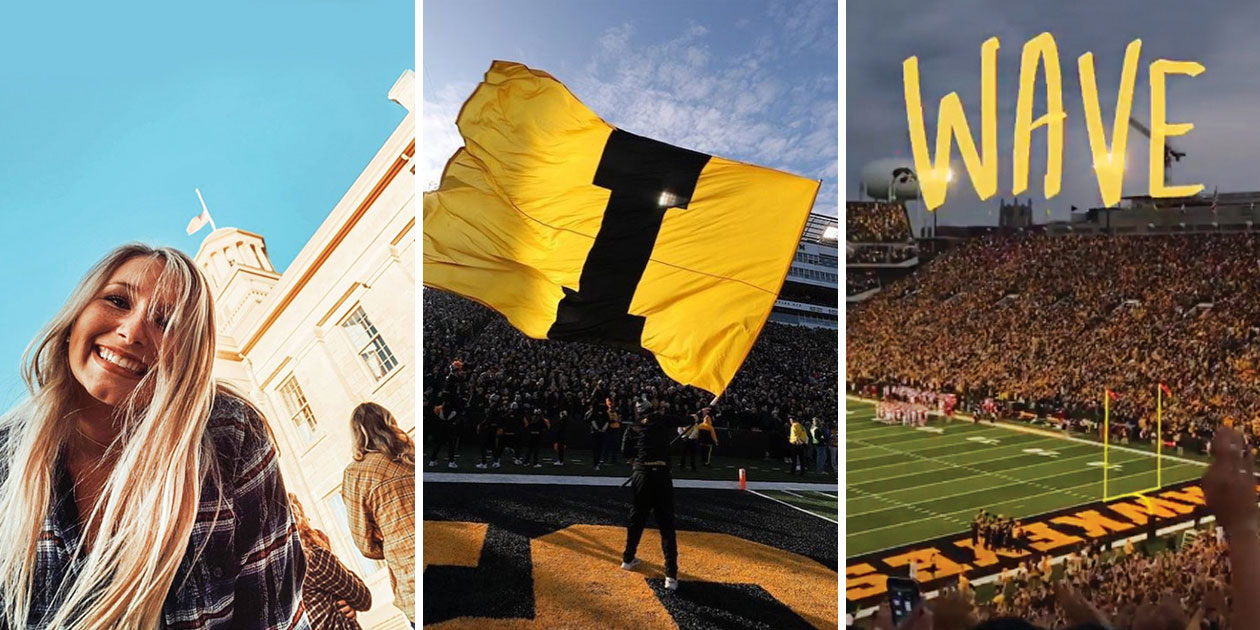 photos courtesy (left to right) Riley Monteil, Mason Zaker, Katie Kositzke
Social media posts from this past school year show the enthusiasm of students experiencing quintessential Hawkeye moments.
---
WHO ARE INFLUENCERS?
Influencers are people who use the popularity of their personal social media accounts to endorse brands and products. A famous actress might publicize a meal kit in a cooking video on Instagram, while a YouTuber known for makeup tutorials may promote a specific brand of cosmetics. It's an often-effective marketing approach, especially among younger demographics, that UI leaders say cannot be ignored when recruiting the next wave of undergraduate students.
Influencing is becoming more common in college admissions marketing. Ninety percent of today's consumers place their trust in peers, experts, and trendsetters to guide their purchasing decisions, according to a recent study from Pew Research Center. The same study suggests influencer marketing delivers an 11 times greater return on investment than traditional forms of digital marketing.
Those data points helped guide the decision by Michael Benning, UI director of social media, to pilot the Hawkeye Influencer program this past academic year. "We can talk about how great of a school we are, but there is so much more power when our students are able to share that with their own followers who are former classmates, friends, and people in the communities where they came from," he says. "It would be a missed opportunity not to do this."
Scott Fiddelke (01BA), director of communications and marketing for UI Enrollment Management, agrees, saying his staff conducts focus groups with high school students once or twice a year to help craft the admissions marketing strategy. While there is still a place for traditional admissions marketing, like mailers, brochures, and college fairs, he says prospective students are increasingly searching for videos and social media posts from their peers that show what it's like to be on campus. "That authentic voice is the core of this," says Fiddelke. "Influencer content is going to show the university in a brighter light and expand our reach, putting Iowa in front of people who may not have considered it before."
"This program allows prospects to see that Iowa City is a really interesting place—and most importantly, they are seeing that from a peer." - Scott Fiddelke
First-year students are invited to apply for the Hawkeye Influencer program and are then selected by Benning and his team. Participants post about their experiences at Iowa and are sometimes offered tickets to activities that showcase the vibrancy of the campus and Iowa City community—including Hawkeye sporting events, Hancher performances, lectures, and concerts.
The influencers post mostly to Instagram and Snapchat, and some also create YouTube videos. They are not paid or told specifically what to post. Benning and his team may offer topic suggestions—like featuring dorm rooms, favorite classes, or dining halls— but their only specific instructions are to be sincere about the experiences and transparent when the university provides tickets to events. "We genuinely want them to share with their followers and their world what it's like to be a Hawkeye," says Benning. "We want them to be themselves."
---
Katie Kositzke, a Hawkeye influencer and University of Iowa communications studies major, documents her journey moving from her family home in Kenosha, Wisconsin, to her dorm room inside Burge Residence Hall.
---
MEET THE INFLUENCERS
Katie Kositzke, a communications studies major, just finished her first year at Iowa. Late last summer, the Kenosha, Wisconsin, native pulled out her camera to document her big move to Iowa for college.
Kositzke produced a YouTube vlog, or video blog, detailing her journey as she moved out of her family home and into Burge Hall. Her 13-minute video begins with her packing items to furnish her dorm room— from sensible sheets and towels to gadgets and mementos. Once on the road, and then in Iowa City, she records her thoughts, as well as interviews with her family and best friend. Viewers witness the milestones she makes along the drive, during move-in, and when she says her final goodbyes.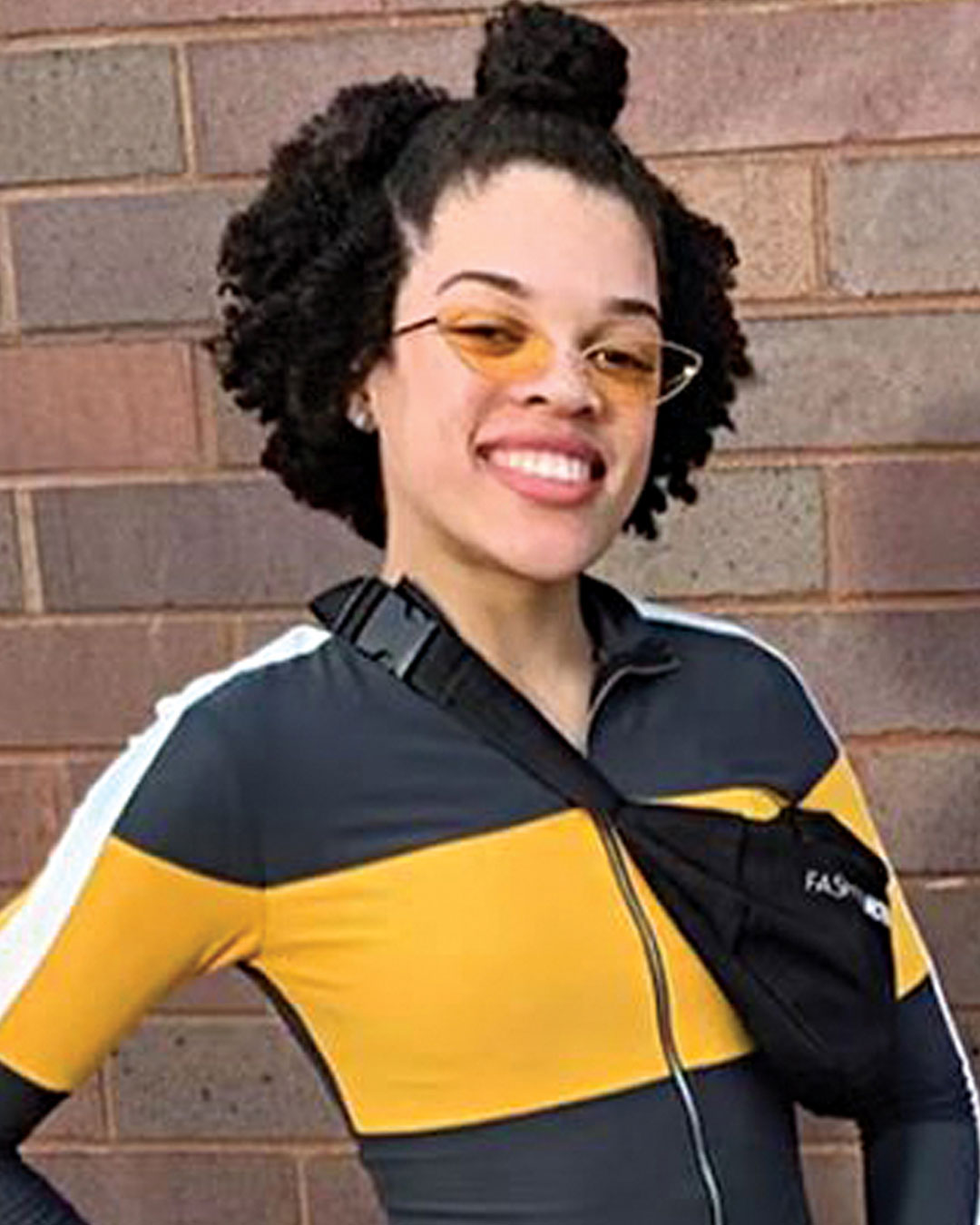 Hawkeye Influencer Courtney Jones: Instagram
"I can't wait for you to tell me about the first week, the first day, the first hour," Kositzke's best friend, Holly, says into the camera. "My first hour, my first day, my first week [at college] are going to be really sad, because you are four hours away—not four minutes—but I think your roommate is awesome, and you are in a really good place."
Kositzke also filmed a tour of her newly decorated dorm room, which features a handmade Tigerhawk lamp her boyfriend created for her that changes colors. Another video shows Kositzke acquainting her brother and parents with campus during Family Weekend. Decked out in black and gold, the family enjoys breakfast at Hamburg Inn, tailgates outside Kinnick Stadium, cheers on the Iowa football team, and waves to patients at UI Stead Family Children's Hospital before celebrating a Hawkeye win.
Kositzke's videos have garnered thousands of YouTube views and some encouraging comments. "Not only was I able to share such an important moment in my life, but I also received a lot of feedback from different Hawkeyes—past, present, and future—who sent me love and motivation during my first year as a Hawkeye," she says.
In addition to opening a window into their lives at Iowa, students are also invited to enjoy quintessential Hawkeye experiences provided by the university. Hawkeye influencer and Chicago native Courtney Jones says this benefit is one of her favorite aspects of the program, because it has exposed her and her followers to opportunities on campus and in the Iowa City community that she may not have known about before.
As a participant in the program, the nursing major has sampled local culinary delights like vegetarian empanadas and pistachio ganache. She also heard CNN commentator Van Jones speak at Hancher Auditorium about politics in the age of Twitter. Jones says her favorite experience to share with her followers so far was the Black and Gold Goes Pink volleyball game this past October at Carver-Hawkeye Arena. "The energy of the crowd and the team was great, and the team played extremely hard to make Iowa proud," she says. "It was my first college sporting event, and I was very excited to be there."
---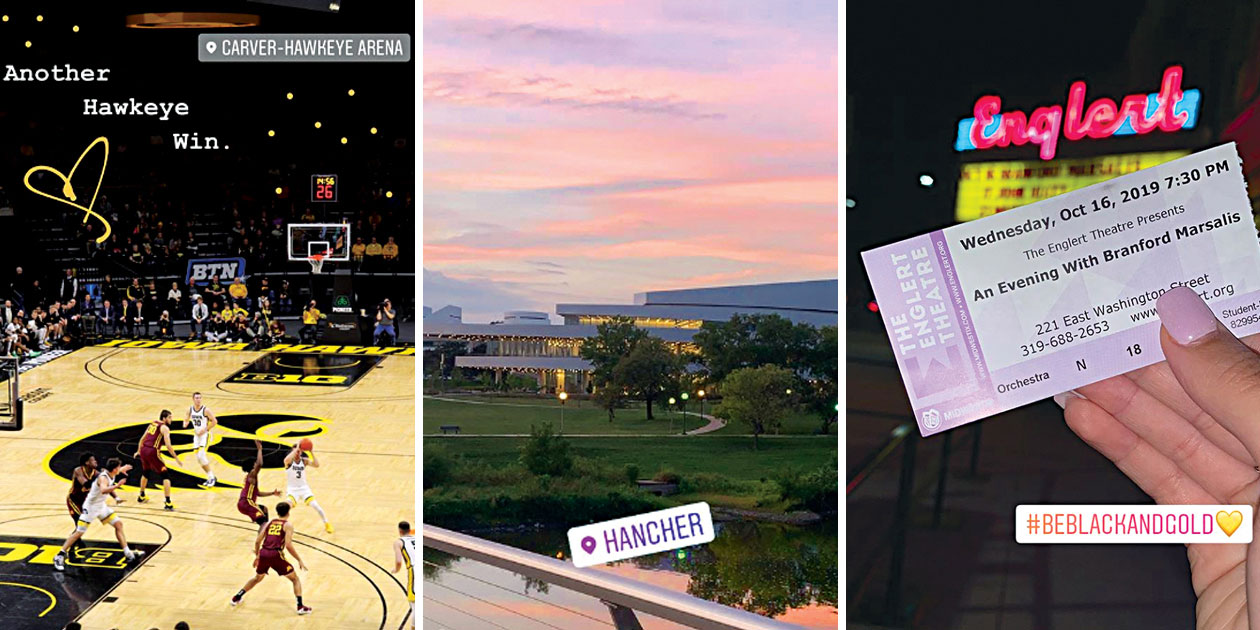 photos courtesy (left to right) Katie Kositzke, Courtney Jones, Courtney Jones
---
INFLUENCING COLLEGE DECISIONS
Social media constantly evolves—and so too does its role in the college search and recruiting process. Fiddelke and his team at UI Admissions know they must stay on top of the latest trends to successfully reach the next crop of potential Hawkeyes.
"Back when I started, Facebook was just starting to be a thing," he says. "Today, we go into a high school classroom and ask who is using Facebook, and you only see a few reluctant hands go up."
In 2010, the Office of Admissions began featuring Hawkeye bloggers on its site to capture that authentic student voice desired by prospects. Now those perspectives can be found on Hawkeye influencers' social media channels, where prospects look to find current student stories. "When they go to Instagram and YouTube, hopefully they are seeing some of the cool things students are posting," says Fiddelke. "This program allows prospects to see that Iowa City is a really interesting place—and most importantly, they are seeing that from a peer."
Influencing is just one tool used to share authentic student stories. Program participants are also invited to take over the UI Admissions social media accounts and star in a regular video series that showcases safe weekend activities. Additionally, Fiddelke says his staff will send messages and swag to some of the highly engaged prospects who follow Hawkeye influencers—letting them know Iowa appreciates their interest and pride.
Student influencers vouch for these admissions strategies, saying they put stock in online opinions from friends and peers when making the decision to attend Iowa. "I looked at the atmosphere of the school, the general happiness of students on campus," says Jones, "and I sought out individual, personal stories to help make my decision final."
From breakfast at Hamburg Inn to a Hawkeye football game, this YouTube video captures a visit from Iowa student Katie Kositzke's parents and brother during University of Iowa Family Weekend.
Hawkeye influencers also find it rewarding to encourage others to become part of the campus community that has helped shape their lives. "As an out-of-state student, I have been able to direct a lot of students and friends to consider Iowa," says Kositzke, "and I think that's pretty awesome."
The UI plans to double participation in the Hawkeye Influencer program for the 2020- 2021 academic year. According to a survey of the students who participated in the pilot, all said they enjoyed being an influencer and would recommend it to others.
"We had no idea what to expect when this first group came in," says Fiddelke. "Adding more students is the obvious next step—meaning more authentic, positive messages in front of potential students we may not have normally reached."
In the first year of this program, Hawkeye influencers have posted hundreds of social media messages that honestly and positively show student life at Iowa. Whether they're capturing thrilling sports victories, enchanting musical performances, or picturesque images of the Old Capitol and Iowa River, these influential trailblazers show and share the joy of being a Hawkeye.