Cathy Parrott brings fashion and style to high-profile productions ranging from The Greatest Showman to In the Heights.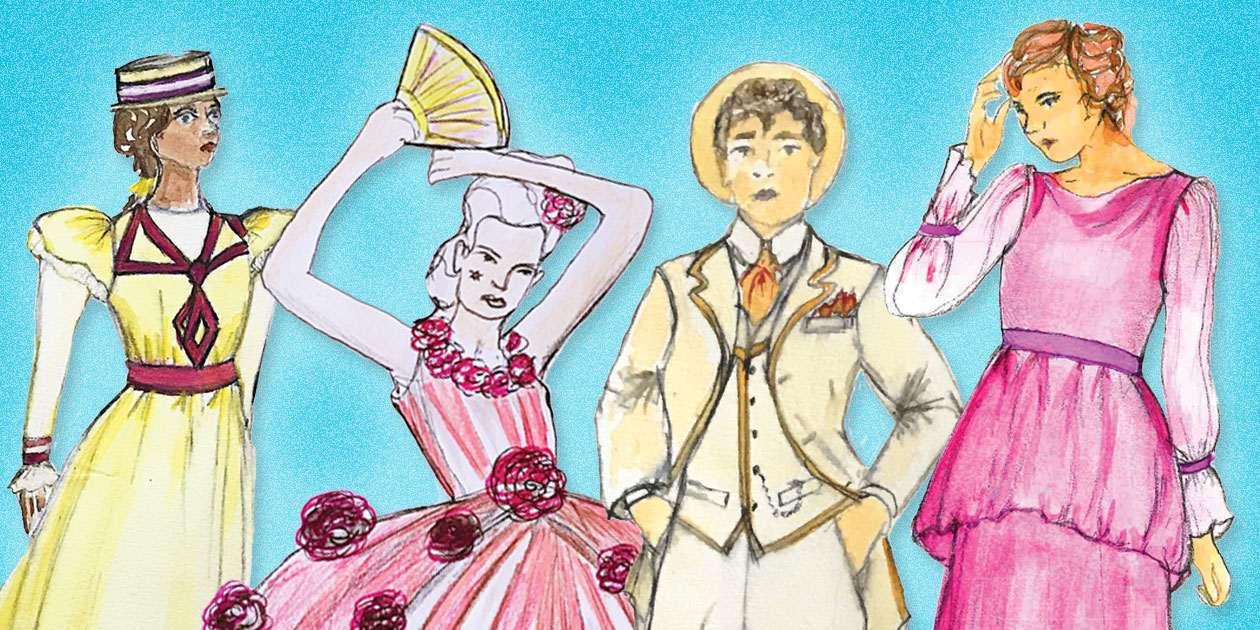 SKETCHES COURTESY CATHY PARROTT
Cathy Parrott shares costume sketches for productions of The Lady From the Sea, Into the Woods, and A Midsummer Night's Dream.
In the opening scene of the 2017 blockbuster The Greatest Showman, actor Hugh Jackman, as legendary circus promoter P.T. Barnum, bursts into song under the big top, resplendent in a dazzling red topcoat. This coat—featuring gold bullion, custom buttons, and embroidered "B" monograms—was one of more than 500 outfits Cathy Parrott (01BA) helped create for the film.
As assistant costume designer for the acclaimed musical, Parrott worked with Emmy Award-winning costume designer Ellen Mirojnick to dress the film's cast, including a roster of A-list principal actors, 22 acrobats, 400 circus spectators, a 7-foot-5-inch giant, and a three-legged man.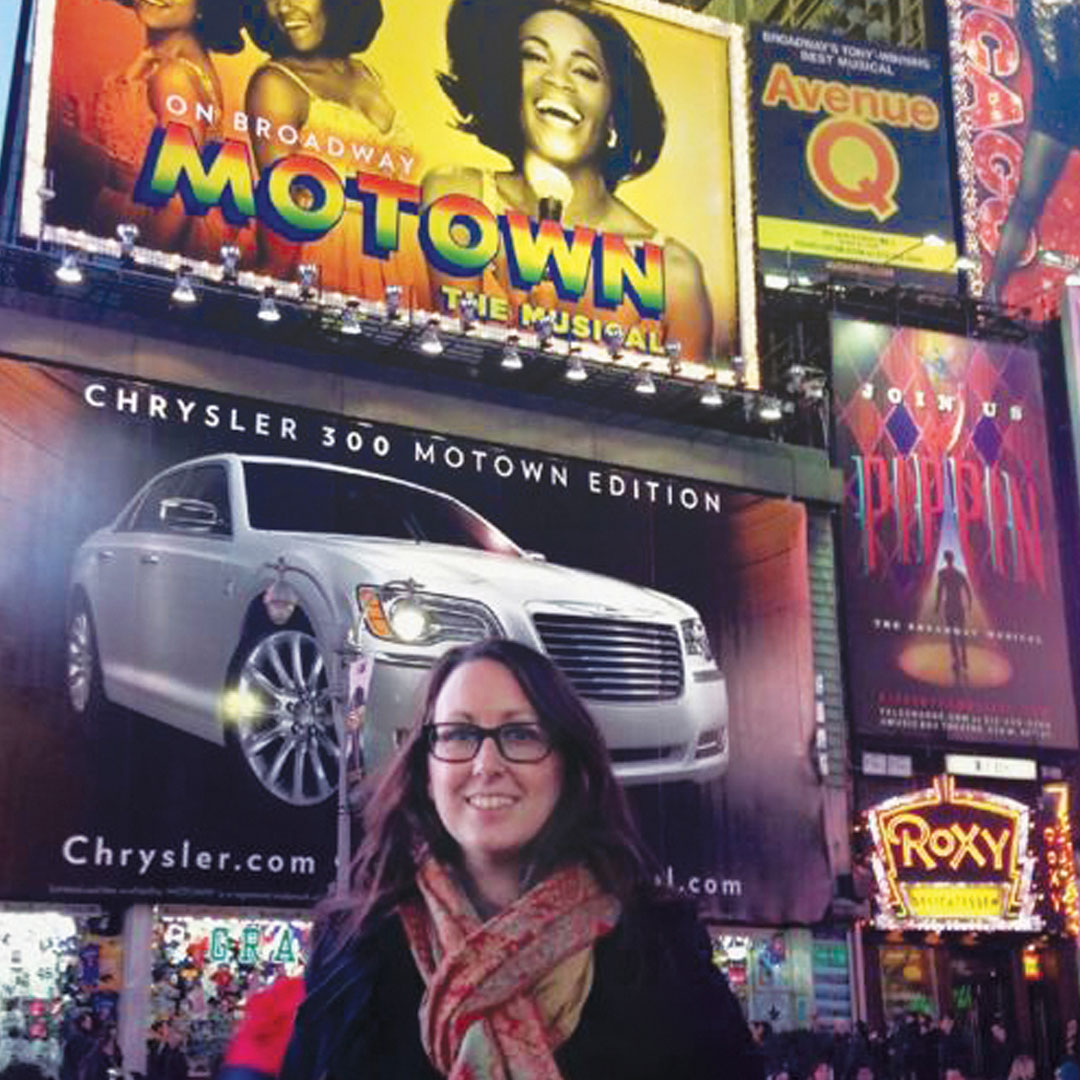 PHOTO COURTESY CATHY PARROTT
Cathy Parrott on Broadway
The movie wasn't Parrott's first brush with fame. After finishing an MFA degree in theatrical design at the University of Georgia and working for the Illinois Shakespeare Festival, the Manchester, Iowa, native moved to New York in 2005—with only 10 days' notice and one suitcase—to assist with costumes for a Broadway-bound theatrical production called Princesses. Since then, she has landed increasingly prominent gigs and collaborated with a range of popular actors on both the big screen and Broadway.
"With every new contract, I get to meet people from around the world who are the best in the industry," says Parrott. Most recently, she was the assistant costume designer on Lin-Manuel Miranda's upcoming musical film In the Heights and associate designer for an as-yet-unreleased Broadway production about Princess Diana. Her résumé also boasts Broadway hits such as On Your Feet: The Story of Emilio and Gloria Estefan and Motown: The Musical.
"Each project really begins with paperwork," says Parrott, who helps Tony Award-caliber lead costume designers focus on design by "taking care of everything else." She starts every production with a script analysis, outlining all the characters, the historical timespan, and the scene set-ups. Then she dives into visual research, eventually coming up with specific directions and inspiration boards—ranging from paintings and catalogues to magazine ads and fabric swatches—for the designers sketching the costumes. "If we need 10 costumes, I give them more research than they need so they can pull the most inspiring images," she says.
Once the sketches are finished, Parrot and her team source all the details, from the tiniest buttons to the grandest plumage, in specialty stores throughout New York and overseas. She dresses the actors from head to toe—including hats, jewelry, shoes, underwear, and glasses—and assists them with countless fittings after the shopping is done.
Parrott couldn't have imagined such a career when she started at the University of Iowa as a pre-dentistry major with "zero interest" in theater. However, she quickly realized dentistry wasn't her calling and ended up in an Elements of Design theatre arts class that revealed her knack for costume design. "That really was the beginning of it all," says Parrott.
"Cathy is hard working and talented. She started out as a shy dental student and blossomed into a talented associate costume designer," says Loyce Arthur, an associate professor and director of undergraduate studies in the UI Department of Theatre Arts who was Parrott's mentor.
Arthur credits her former student with paving the way for others. "For the past decade, she's hired our graduate and undergraduate students to help them break into the business," says Arthur, noting that Parrott also returned to the department in 2018 as a visiting assistant professor.
Throughout her career, Parrott has assisted with more than 45 productions across the globe, including in India, Greece, and London. She has met actors of all temperaments and experienced the grind of daily rehearsals—along with the thrill of opening nights. She knows all of this hard work has been worth it, and she hopes to inspire other UI graduates to seek success in the industry.
"This world is very much based on word of mouth and reputation," says Parrott. "You get the next job after someone recommends you for it, and then you start branching out until you've worked your way up the ladder."