The COVID-19 pandemic has shuttered sporting arenas, leaving fans at a loss for what to watch. University of Iowa College of Public Health alumnus Greg Woods steps in to fill the void as a commentator for the rising sport of marble racing.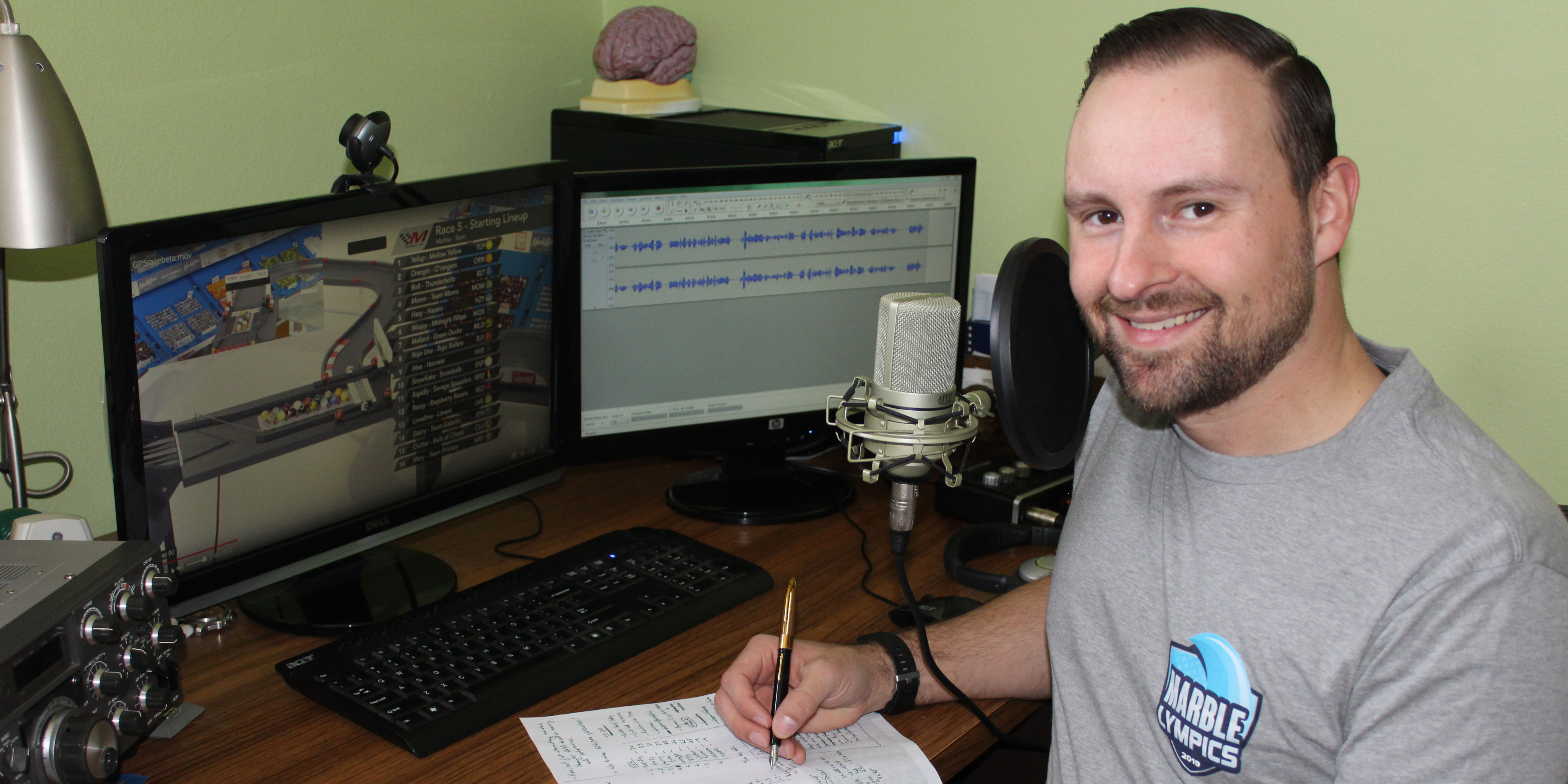 PHOTO courtesy Greg Woods
Greg Woods (15MPH) is well-known as the voice of marble racing, a sport that's spiked in popularity since the COVID-19 pandemic forced postponements or cancellations of all major sporting events.
Amid the COVID-19 pandemic, Greg Woods' expertise in public health has surprisingly taken a back seat to his talent behind the microphone. The Newton, Iowa, native—who studied community and behavioral health at the UI College of Public Health—has gained the attention of Time, Sports Illustrated, ESPN, and millions of people worldwide through his captivating commentary for the increasingly popular sport of marble racing.
EXPLORING THE MARBLE UNIVERSE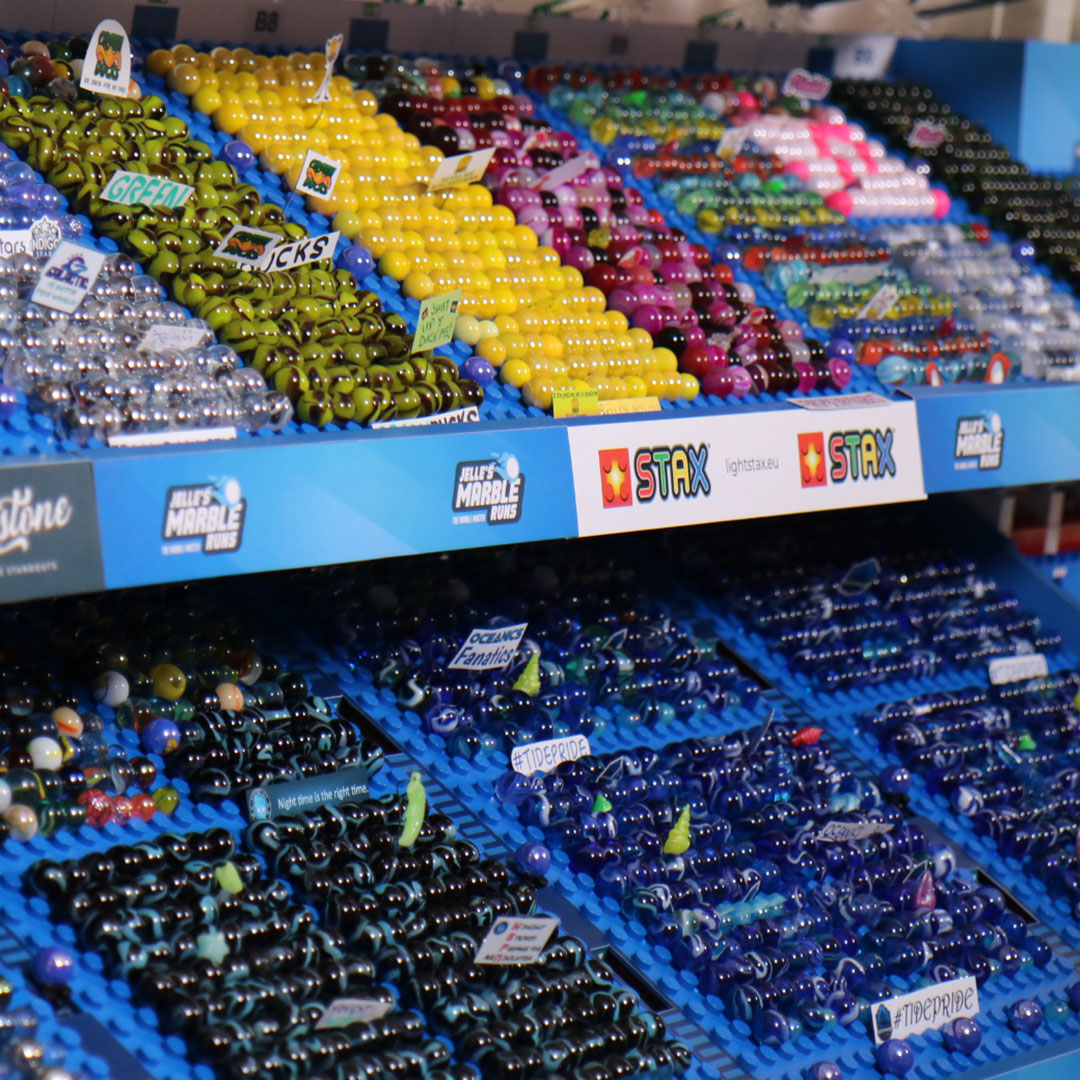 PHOTO courtesy Anton Weber for Jelle's Marble Runs
Marble fans in the grandstand await the start of a 2019 Marble League race.
Created by brothers Jelle and Dion Bakker of the Netherlands, marble racing has developed a loyal online audience since 2013 when their YouTube channel Jelle's Marble Runs was launched. Different colored marbles, each with unique names representing different teams, are released from an electronic gate and roll down courses varying from outdoor sand hills to serpentine indoor tracks in pursuit of crossing the finish line first.
Woods (15MPH) first watched one of the races on Reddit in 2016 and uploaded a new video of the race with his commentary. "Wouldn't this be fun, as a joke, if I called it like it was an actual motor race?'" recalls Woods, who has covered auto racing for more than a decade. The video went viral and within a few days, Jelle Bakker asked Woods if he'd provide commentary for all their videos moving forward. Jelle's Marble Runs has steadily increased its viewership and production value since and saw a huge spike this past March when COVID-19 forced postponements or cancellations of all major sporting events—sending sports fans searching for a new outlet. "In this vacuum of sports, we're starting to realize how big of a role they play and how cathartic they are," says Woods. "The good thing about these videos is they still have, at their heart, the most common characteristics of sports."
A MAN OF MANY TALENTS
Woods gained broadcast radio experience in high school and also provided sports play-by-play commentary for Drake University, including men's and women's basketball, football, and the Drake Relays, while completing a bachelor's degree in neuroscience. He then completed two years of medical school and gained a master's in public health at the UI.
Now as a project specialist for the Iowa Chapter of the Alzheimer's Association, he provides resources and public health outreach programming in North Central Iowa to those affected by the disease. Additionally, Woods serves as one of the association's two spokespeople in the Midwest and hosts a Fort Dodge, Iowa, radio show, The Mind Boggles, where he discusses the latest science on aging and the brain with various experts, including UI College of Nursing researcher Chooza Moon.
MORE THAN MARBLES
A lifelong sports fan and experienced commentator with a passion for public health, Woods' varied interests have unexpectedly come together this spring. Many people seeking escape during an uncertain time are turning to a lighthearted yet competitive sport that's unaffected by social distancing.
As the Bakkers continue to construct more elaborate races and events to capture fans' attention, Woods embraces his role to provide entertainment as the voice of marble racing. Says Woods: "If we can help out and spread some joy or bring some normality back to things, then we're thrilled to do that."
---
Sixteen marbles compete in a recent 10-lap Marbula One race.