At more than 100 years old, University of Iowa radio station WSUI is one of the oldest continuously operating radio stations in the U.S. and considered the first educational radio station west of the Mississippi.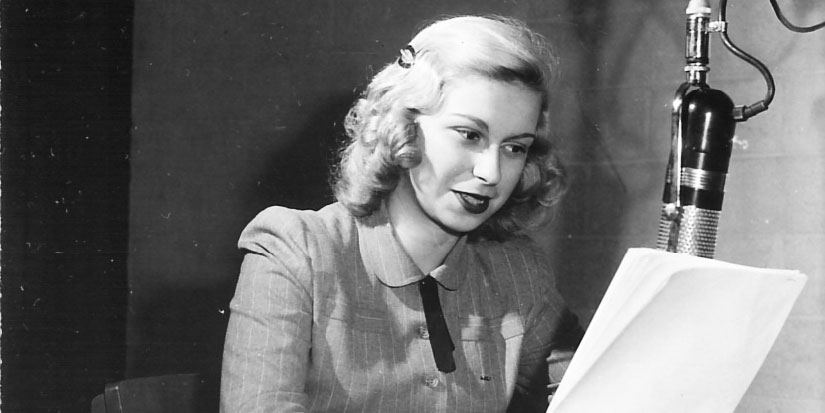 PHOTO: RECORDS OF WSUI-KSUI BROADCAST SERVICES, UNIVERSITY OF IOWA ARCHIVES
Marcia Kuyper Schneider (49BA) broadcasts on WSUI in the 1940s.
"History is written by victors" is a quotation often attributed to former British prime minister Winston Churchill, though its origin is uncertain. At times, history—whether accurate or not—is also written by effective public relations departments. Take Westinghouse Corporation, for example.
For decades, Westinghouse has claimed to have started the nation's first radio station, KDKA in Pittsburgh, which premiered on Nov. 2, 1920, broadcasting the Warren G. Harding and James M. Cox presidential election returns. However, other entities have evidence to support their claims to that title, including the University of Wisconsin's WHA in Madison and station KQV in San Jose, California.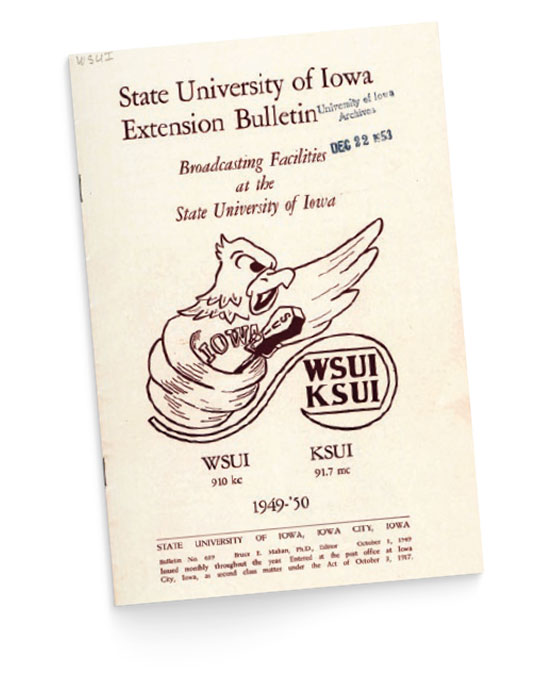 Though not the nation's first, the State University of Iowa's WSUI predates KDKA by about one year—1919—when it commenced voice and music broadcasts on a regular basis. For at least eight years prior, the station was the site of experiments in wireless telegraphy by students in the UI College of Engineering.
Like many inventions, radio evolved before gaining traction as a popular medium in the early 20th century. In its early stages, WSUI's call sign was 9YA, an experimental license issued by the U.S. government. The station's roots can be traced to as early as 1911, when The Daily Iowan provided our earliest known evidence of code transmissions from campus.
By 1913, the College of Engineering offered formal training in the newly emerging field of wireless communications. During this time the university's station broadcast in Morse code, but scheduled voice and music broadcasts intended to reach a larger audience were introduced in 1919. By that measure, WSUI is more than 100 years old. It is one of the oldest continuously operating radio stations in the U.S. and considered the first educational radio station west of the Mississippi. In 1922, station 9YA was granted the call letters WHAA, switching to WSUI in 1925.
Carl Menzer (1921BE, 22MS, 25EE), one of the engineering students who experimented with code transmission in the station's early days, became WSUI's first general manager, a position he held for over 40 years until retiring in 1968. A service of University Extension for many years, the station brought classroom instruction into the home, along with news, music, features, dramatic productions, and play-by-play broadcasts of the Hawkeyes' football schedule.
The station is a charter member of National Public Radio and today is part of Iowa Public Radio's news network. Just as in its early days, WSUI continues in its mission to enrich civic and cultural life in Iowa through popular radio programs such as the state-focused "River to River" hosted by Iowa alumnus Ben Kieffer (86BA) and the NPR flagship news show "All Things Considered."