More than 80 years ago, a pair of lions lived at Iowa City's City Park Zoo. Now the University of Iowa Museum of Natural History is ready to tell their story through a renovated exhibit made possible by the support of a UI GOLDrush crowdfunding campaign and the family of former sociology professor George McCall.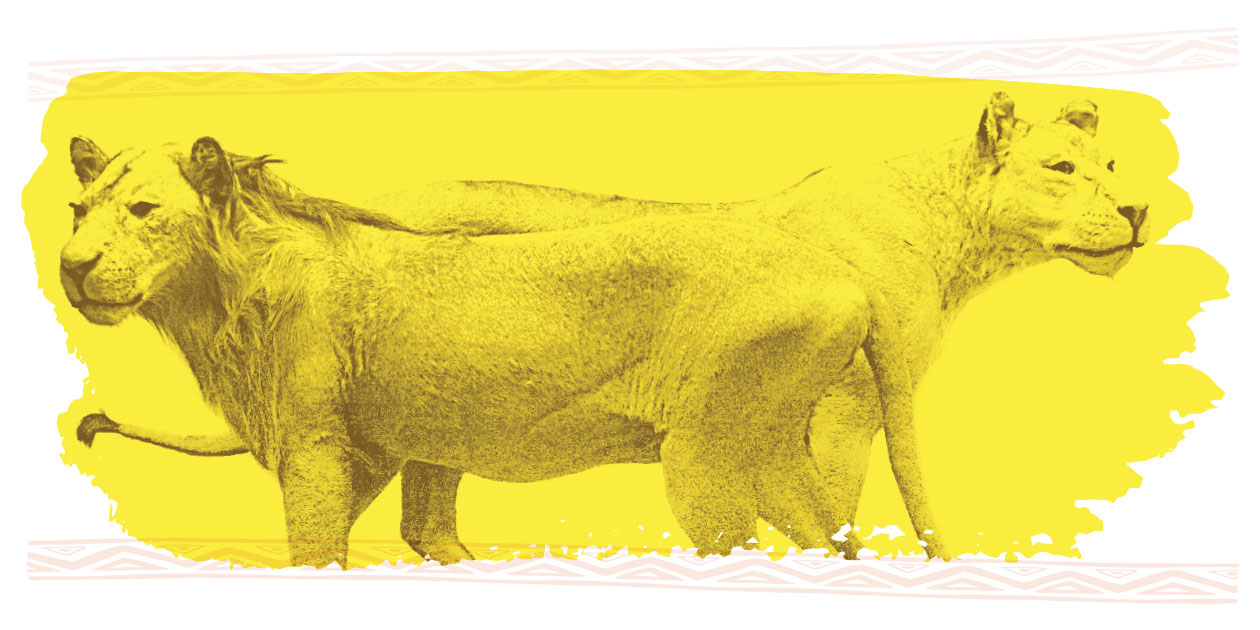 PHOTO COURTESY UI MUSEUM OF NATURAL HISTORY
These former City Park Zoo lions will soon receive an exhibit fit for a king at the UI Museum of Natural History.
On a trip to South Africa in 1929, Iowa City business owner Harry Bremer purchased a lion and lioness. The pair briefly lived in his carriage house on the east side of Iowa City before moving to City Park Zoo. The male lion, Harry, died in 1931 at just 2½ years of age, while the female, Josephine, died in 1939 at age 10.
The taxidermy lions have since spent decades in a nondescript case in the University of Iowa Museum of Natural History's Mammal Hall. Sixty-eight donors to a UI GOLDrush crowdfunding campaign, along with gifts from the family of former sociology professor George McCall (61BA), recently helped the museum fund a renovation to the exhibit to better preserve the memory of the lions.
Thanks to the money raised, the lions' new home will debut at the museum later this year. It will feature the museum's first permanent mural in more than 30 years—a South African savanna painted by Thomas Agran, a UI adjunct assistant professor and director of public art for the Iowa City Downtown District.
The exhibit also will provide information about the lions. "Their story is quite tragic; it highlights how much our cultural standards have changed," says Liz Crooks, director of UI Pentacrest Museums. "They were brought here as oddities, and at the time that was perfectly normal. They highlight a changing attitude about animals and zoos, and the need for appropriate enclosures and enrichment that allows animals that live on exhibit to live a life as normal as possible."
The McCall family donated to the exhibit to honor George's 80th birthday in April 2019 and as a memorial gift when he passed away this past October. "George always respected the dignity of nature and the world," says Connie Lee McCall (98MSN), George's sister. "It's overdue to give the lions a permanent home that represents where they would have grown up."
George, who frequented the UI Museum of Natural History throughout his life, took several classes in Macbride Hall as a student and held an office there during his teaching career. The sociologist and naturalist—who specialized in conflict resolution and justice for South Africans during apartheid—had a love for nature fueled by more than 45 trips to the country. "George touched the lives of so many young people in South Africa," says McCall's wife, Linda. "The lion exhibit is a reminder for us all of George and his tremendous contributions to that part of the world."
Linda also believes her late husband's curiosity and affinity for nature will live on through the lion exhibit. She says: "George would hope that museumgoers could expand their perceptions of the world and develop a respect for the many marvelous creatures that live among us."
---
To learn more about UI crowdfunding projects like this one, visit goldrush.uiowa.edu.