College of Nursing student and Alpha Phi member Rylee Petitgout finds support from the UI community after a devastating accident.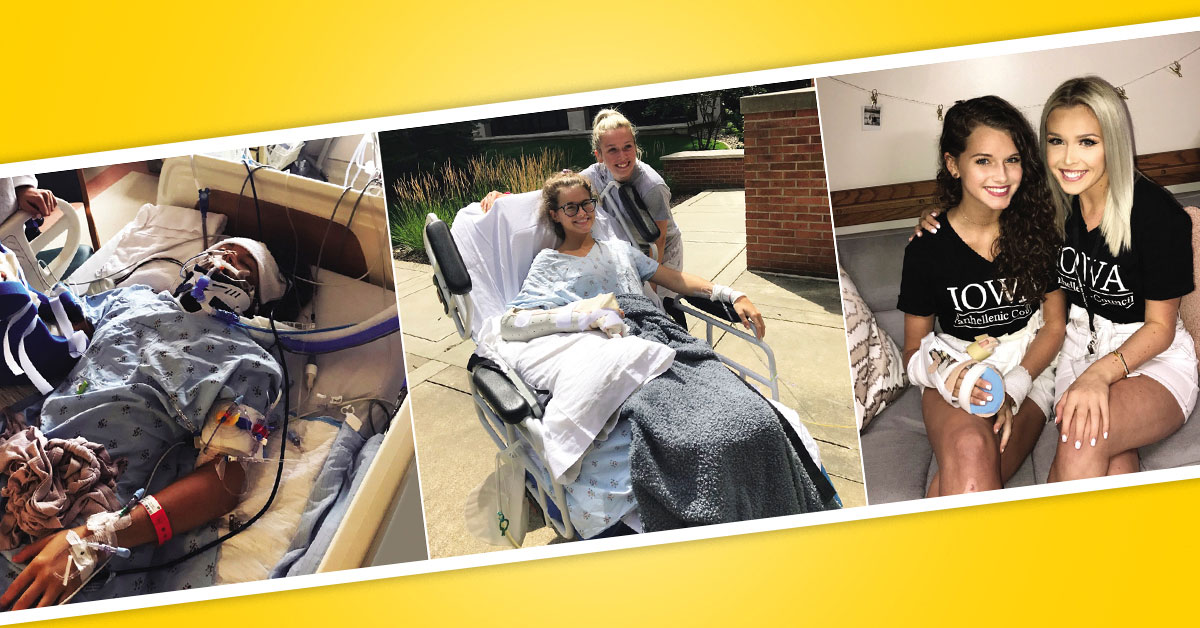 Photos courtesy Rylee Petitgout
Left to right: Rylee Petitgout spent seven days in the intensive care unit at Mayo Clinic, Petitgout receives a visit at Mayo from best friend and roommate Belle Parker, and Petitgout and Parker gear up for round one of sorority recruitment.
Preparing for bed on June 24, 2018, Janine Petitgout (90BSN, 94MA, 14DNP) received the call every mother fears.
Her daughter, Rylee, was involved in a serious boating accident, and her condition remained uncertain. Struck by a propeller that severed muscles, tissues, and nerves, and broke bones on her right side, Rylee was taken to the emergency room at UI Hospitals & Clinics and flown to Mayo Clinic, where she spent seven weeks and underwent 26 surgeries.
The Iowa City native returned home one week before the start of her first year at the UIódetermined to proceed with her plan to pursue a nursing degree and rush for a sorority. "For seven weeks, she lost full control of her life," says Janine. "As parents we felt the only way to give her control back was to have her follow her dreams and go to college as if nothing happened. She guided us to help her become successful."
Undergoing daily physical therapy, Rylee started the semester with a catheter inserted into her left arm, where antibiotics were administered every day by her mother, a nurse practitioner at UI Stead Family Children's Hospital. Rylee's right arm was stabilized by a metal fixator with pins that held her bones in place, while she used a crutch under her left arm to get around. As Rylee worked to regain functionality in her dominant hand, the former dancer learned to use her left hand for writing, eating, and brushing her teeth.
Numerous people at the UI eased her transition, including best friend and roommate Belle Parker, who carried her dinner tray, assisted her on walks, and helped her process everything that happened. Rylee's College of Nursing advisor, Linda Myers, tailored her class schedule, allowing her to take online courses in her Catlett Hall dorm room, complete tests at Student Disability Services, and receive notes from her classes. At rush that fall, Rylee joined Alpha Phi after many sororities accommodated her needs, including by placing ramps near their house entries.
Balancing a full class load with additional surgeries at Mayo and many hours of therapy, Rylee made the Dean's List that fall and continues to excel academically and socially. She completed her first in-the-classroom course in spring 2019 and has grown more active in her sorority as a sophomore. Rylee walks around campus without a crutch, runs a couple miles regularly, and has progressed in therapy to be able to pinch together her pointer finger and thumb on her right hand. Nearly through a school year that's "a lot more normal," she believes her decision to attend Iowa only weeks after the accident sped her recovery.
"I don't think I would have healed as fast, because I wouldn't have had all the support of the people around me, as well as something to keep my mind off of what I was going through," says Rylee.
Rylee's interest in nursing stemmed from her volunteer involvement at UI Stead Family Children's Hospital and her mother's career. As she approaches clinicals in fall 2020, Rylee believes her experience over the past couple years has strengthened her fortitude, adaptability, and compassionóand will deepen her ability to connect with patients.
"I've learned that I can pretty much do anything that I want to and that I used to; it just might be in a different way," says Rylee. "My determination and recovery thus far could not have happened without my faith, family, friends, and community."