For Alumni Band members, nothing lifts the spirits quite like belting out "On Iowa" or "Hey Jude"—especially alongside old bandmates.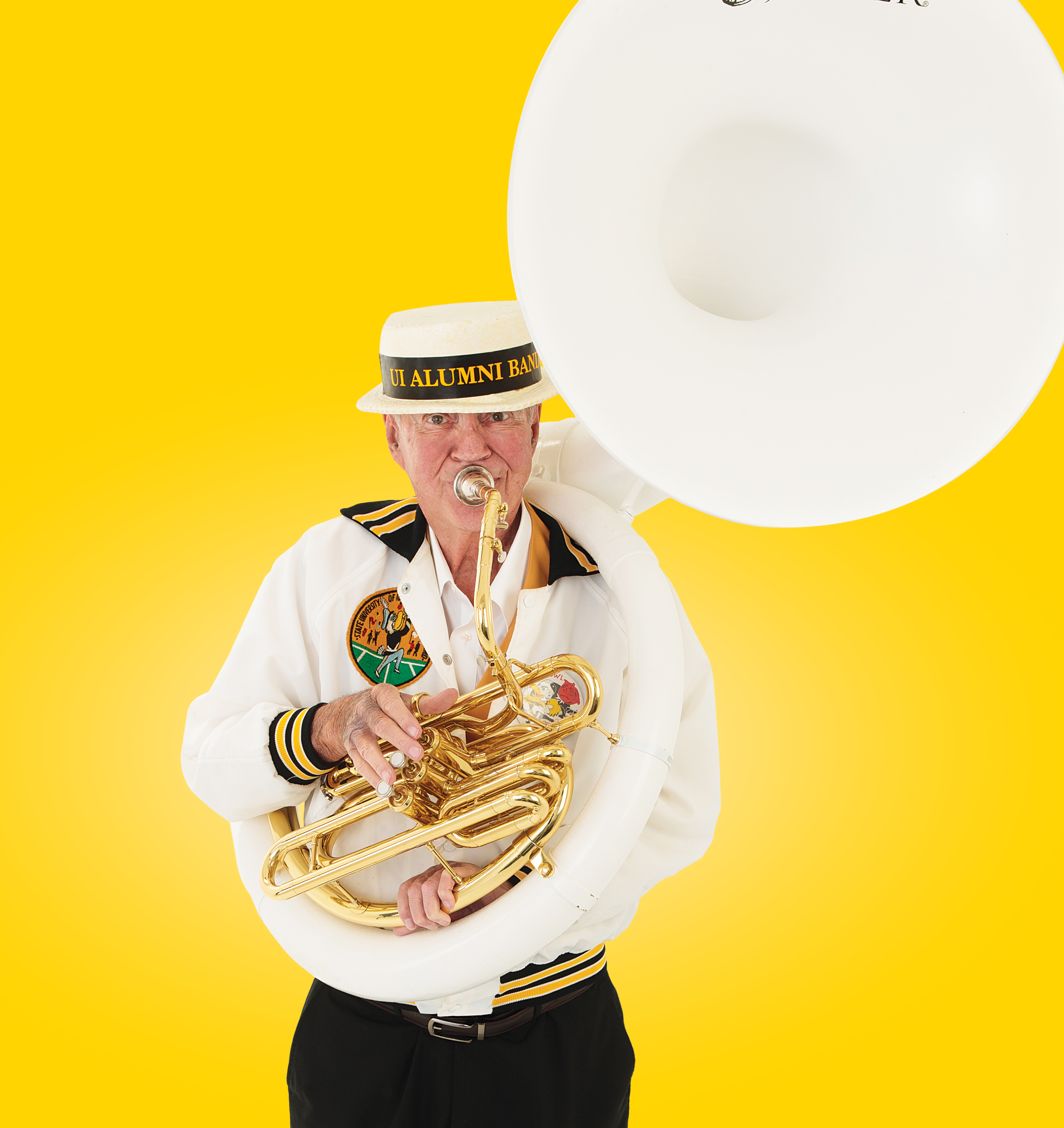 PHOTO: JOHN EMIGH
Jared Hills (59BSME) was among the nearly 250 members of Alumni Band who returned for homecoming this past fall. Hills, who played sousaphone in the Hawkeye Marching Band from 1955 to 1958, has marched in every homecoming parade since the alumni group formed in 1973.
Dave Naughton (69BA) made a happy discovery recently in his home in Nevada, Iowa. Tucked away on a shelf near his computer was Naughton's long-forgotten marching band flip folder containing the "Iowa Fight Song" and other favorites from his college days.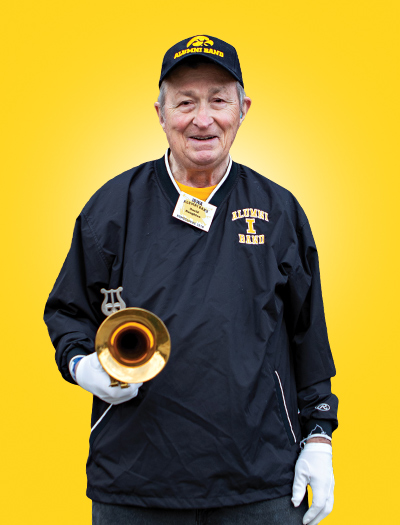 PHOTO: JOHN EMIGH
Dave Naughton
Although he can play those tunes by heart, the sheet music brought back welcome memories. For the lifelong trumpet player and former Hawkeye Marching Band member, nothing lifts the spirits quite like belting out "On Iowa" or "Hey Jude"—especially alongside his old bandmates. "Even if you've had a lousy day, it can make you feel good," says Naughton. "That's the important thing about music—it's good for the brain."
That's why Naughton has returned to Iowa City nearly every fall for the past 50 years for homecoming. As one of the original members of Alumni Band, Naughton has been a mainstay for a group that began in 1973 and has become one of the university's largest alumni affinity organizations. This past October, nearly 250 Alumni Band members marched downtown for the homecoming parade and regaled fans at Kinnick Stadium.
Beyond the traditional homecoming festivities, it's been an eventful year for Alumni Band. With the goal of enhancing the lifelong relationship between the UI and its marching band alumni, a new eight-person leadership board formed this past summer, led by president Kirk Phillips (02MS, 05PhD) and vice president Arlene Houk (84BBA). "This is an opportunity for all alumni members to have a stronger voice in the direction that our alumni band takes over the next several years," says Phillips.
Alumni Band also conducted a successful fundraising effort through the UI's crowdsourcing site, GOLDrush. The group raised more than $3,000 to purchase a replica of the Sudler Trophy, which has been called "the Heisman Trophy of the collegiate band world." While Iowa won the award in 1990, a permanent trophy was never purchased. The alumni group hopes to present the new trophy to the band during homecoming 2020, marking the 30th anniversary of winning the award.
For alumni like Naughton, marching with Alumni Band this past fall brought back memories of shoveling snow on the old practice field, rocking the Field House with the pep band, and going to the Iowa Memorial Union to see musicians like Louis Armstrong.
Naughton's lifelong connection to the UI runs deeper than music. For years Naughton has traveled to appointments at UI Hospitals & Clinics for vision and other health issues. In 2016, he underwent cataract surgery—a procedure he calls life-changing.
Today, thanks to his dramatically improved eyesight, Naughton can read music clearly and performs regularly at his church. And now that he's found that old marching band sheet music, he's already warming up for his next Alumni Band reunion.
---
To connect with the Alumni Band and other Iowa alumni groups, visit foriowa.org/groups.