Spend a day with Hawkeye swimmer Hannah Burvill, who reveals the unusual health drink that powers her record-breaking performances.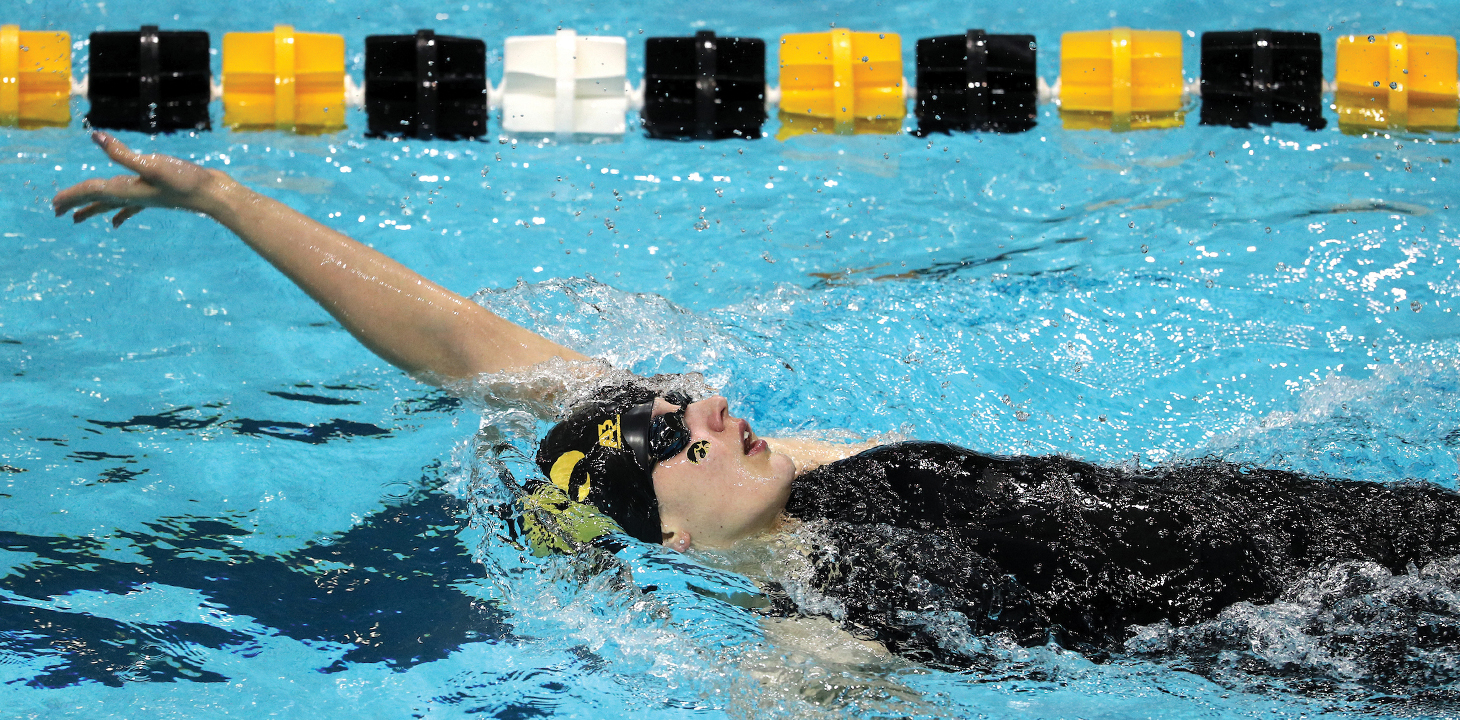 PHOTO: BRIAN RAY/UI ATHLETICS
Hannah Burvill, a senior on the University of Iowa women's swimming and diving team, has been busy rewriting the Hawkeye record books. Through her first three seasons, Burvill broke eight school records and has qualified for the past two NCAA Championships.
A unique race-day superstition may be fueling her remarkable Hawkeye career. About an hour before her first race of the day, Burvill takes a shot of concentrated beetroot juice, which she says dilates her blood vessels and allows for more absorption of oxygen into her muscles. "If you can get past the earthy taste, then you can do it," she says. "I love beets."
Burvill's pre-race custom started in her native Great Britain, where she began taking swim lessons at age 4. She found her way to Iowa thanks to the team manager of her home swim club. The manager's son, Stewart Carroll (93BS), swam for the Hawkeyes and twice earned All-American honors.
Burvill hopes to continue her stellar Hawkeye career by qualifying for the NCAA Championships again this winter and competing in April's Olympic Trials. Here's a typical training day on campus for one of Iowa's most successful swimmers.
A day in the life of Hannah Burvill
5:20 a.m.
Wake up and have scrambled eggs, toast, and a protein shake for breakfast.
6 a.m.
Lift weights for an hour, then swim laps at the Campus Recreation and Wellness Center.
8:30 a.m.
Attend a human development and human lifestyle class, which is part of her health and human physiology major track.
11 a.m.
Take a quick nap, do homework, and eat a turkey sandwich and salad.
1:20 p.m.
Return to the pool for a two-hour practice.
5 p.m.
Head to Elements of Art class, her last general education course at Iowa.
7 p.m.
Eat fish, rice, and vegetables for dinner.
10:30 p.m.
Lights out.