After creating a cultural phenomenon, Iowa Writers' Workshop alumnus D.B. Weiss heads to a galaxy far, far, away.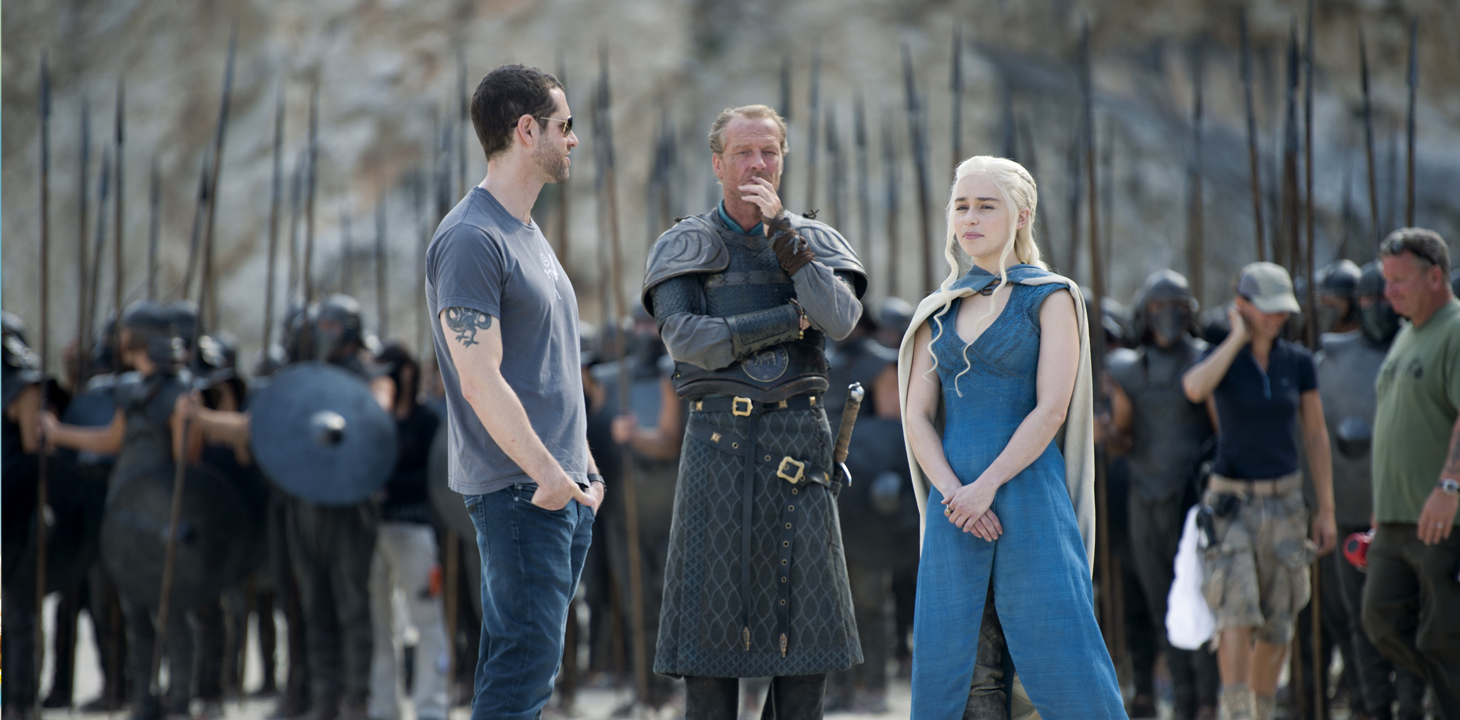 PHOTO: MACALL B. POLAY/HBO
D.B. Weiss, left, talks with actors Iain Glen and Emilia Clarke on the set of Game of Thrones.
This past May, 19 million viewers tuned in to learn, at long last, who would seize the Iron Throne in the HBO megahit Game of Thrones. Yet the true rulers of Westeros over its eight ratings-smashing seasons were behind the camera: Iowa Writers' Workshop alumnus D.B. Weiss (98MFA) and his longtime creative partner David Benioff.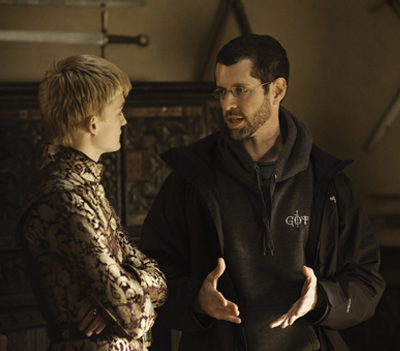 PHOTO: HELEN SLOAN/HBO
Weiss and actor Jack Gleeson
Together, Weiss and Benioff—the series' co-creators, executive producers, showrunners, and writers—adapted author George R.R. Martin's epic fantasy novels into one of the most-watched shows in television history. The series earned a record-breaking 32 Emmy nominations in its final season, and May's series finale—divisive as it may have been among fans—shattered its own HBO record for viewership. In November, Weiss and Benioff will be presented with the 2019 International Emmy Founders Award at the 47th International Emmy Awards Gala in New York.
Weiss, who grew up in the Chicago suburbs, came to the Iowa Writers' Workshop after studying at Wesleyan University in Connecticut and Trinity College in Dublin. He met Benioff in the mid-1990s while studying literature in Ireland, and the two reconnected on the West Coast after Weiss earned his MFA from Iowa. Weiss published a well-received novel called Lucky Wander Boy in 2003, but found his calling in a different brand of storytelling. Weiss and Benioff, who initially collaborated on a script for a horror movie that never panned out, became enamored with Martin's A Song of Ice and Fire series and approached the author in 2006 about developing it into a TV series. Five years later, Game of Thrones debuted on HBO and changed the course of television history.
Now Weiss and Benioff are heirs to an even bigger Hollywood kingdom. Disney has tapped the duo to write and produce a new Star Wars trilogy scheduled to hit theaters in 2022, 2024, and 2026. Last month, Weiss and Benioff signed a multiyear film and TV deal to develop new programming for Netflix.
---
Watch our "Hollywood U" feature trailer, starring D.B. Weiss and other notable UI Hollywood screenwriters.