Iowa Voyagers take an emotional journey across Normandy on the 75th anniversary of D-Day.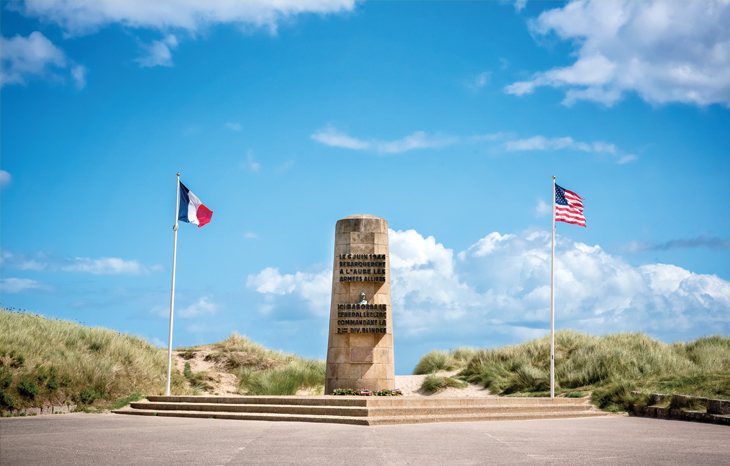 Flowers lay at the base of a memorial on Omaha Beach.
Murry "Jimmy" Brenner never spoke about the earth-shattering events he witnessed firsthand as a captain with the 102nd Calvary during World War II.
His squadron landed on Omaha Beach, became the first American unit to enter Paris, and fought with distinction in the Battle of the Bulge. Brenner earned a Bronze Star and Purple Heart for his valor.
"My dad was an honest-to-goodness war hero," says his son, Donald Brenner (70BA), "but he wouldn't talk about it."
For the first time this past spring, Donald Brenner traced his father's footsteps across Normandy during an Iowa Voyagers trip commemorating the 75th anniversary of D-Day. The military veteran joined many other Hawkeyes on the emotional journey, where they paid tribute at sites such as the D-Day beaches, Normandy American Cemetery, and Caen Memorial Museum.
Laurel Erichson Gruhn (69BA) took the trip in honor of her father, Captain Reynold Erichson of the 30th Infantry Division, who liberated many German-occupied towns across Europe, including Mortain, France. "My dad died at the age of 57, never getting back to Mortain, which I know he always wanted to do," she says. "His wartime legacy is with me now, and, with the help of my French friends and Iowa Voyagers, I got to see it all in real-time."